'The Boys' Star Erin Moriarty Recalls Filming 'Herogasm': 'Never Been in a Room With So Many Dildos'
TL;DR:
The Boys Season 3 Episode 6 features the show's take on Herogasm.
Erin Moriarty recalled filming the event, describing it as "pretty wild."
Other members of The Boys cast also had a memorable experience on set.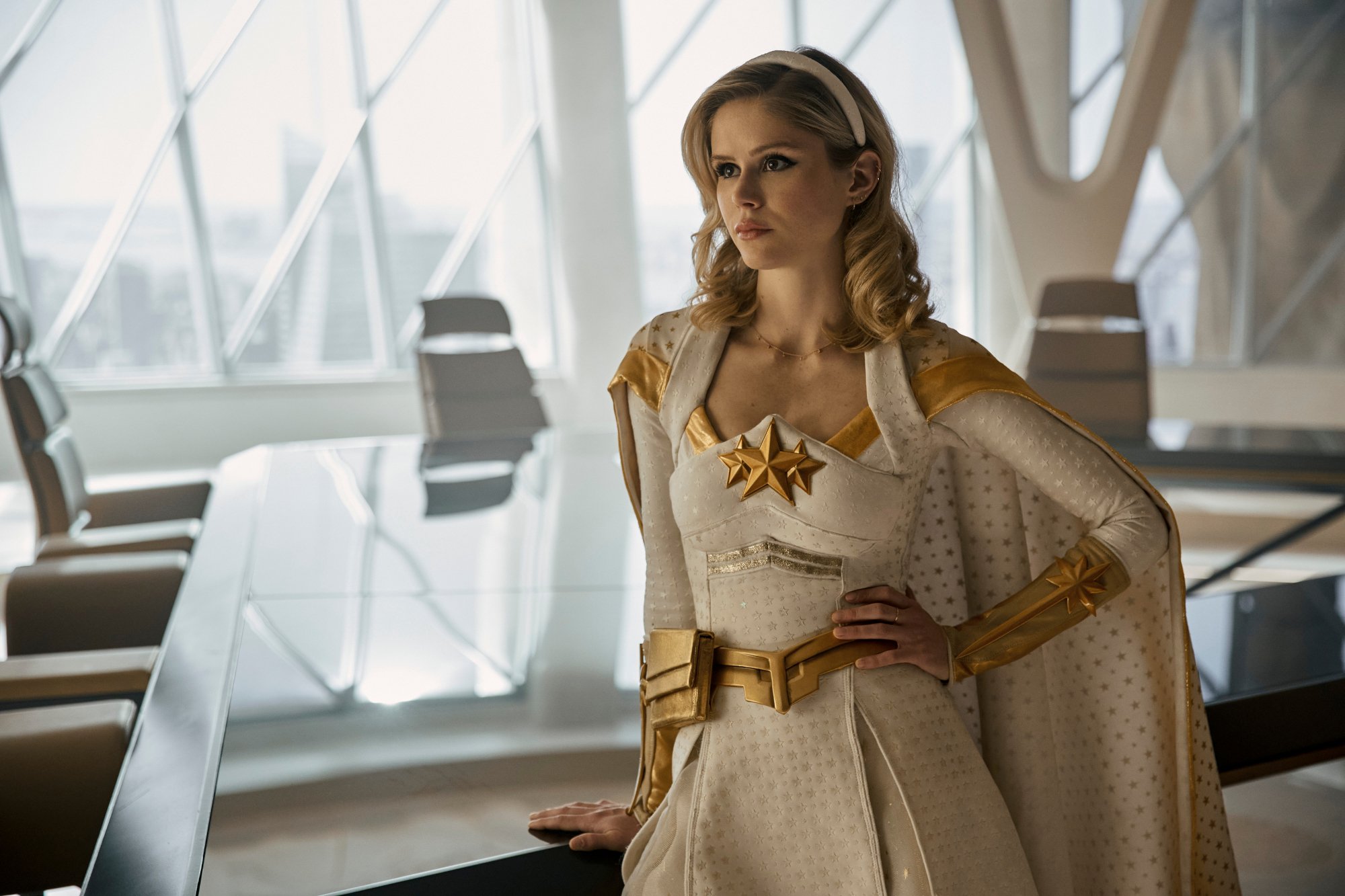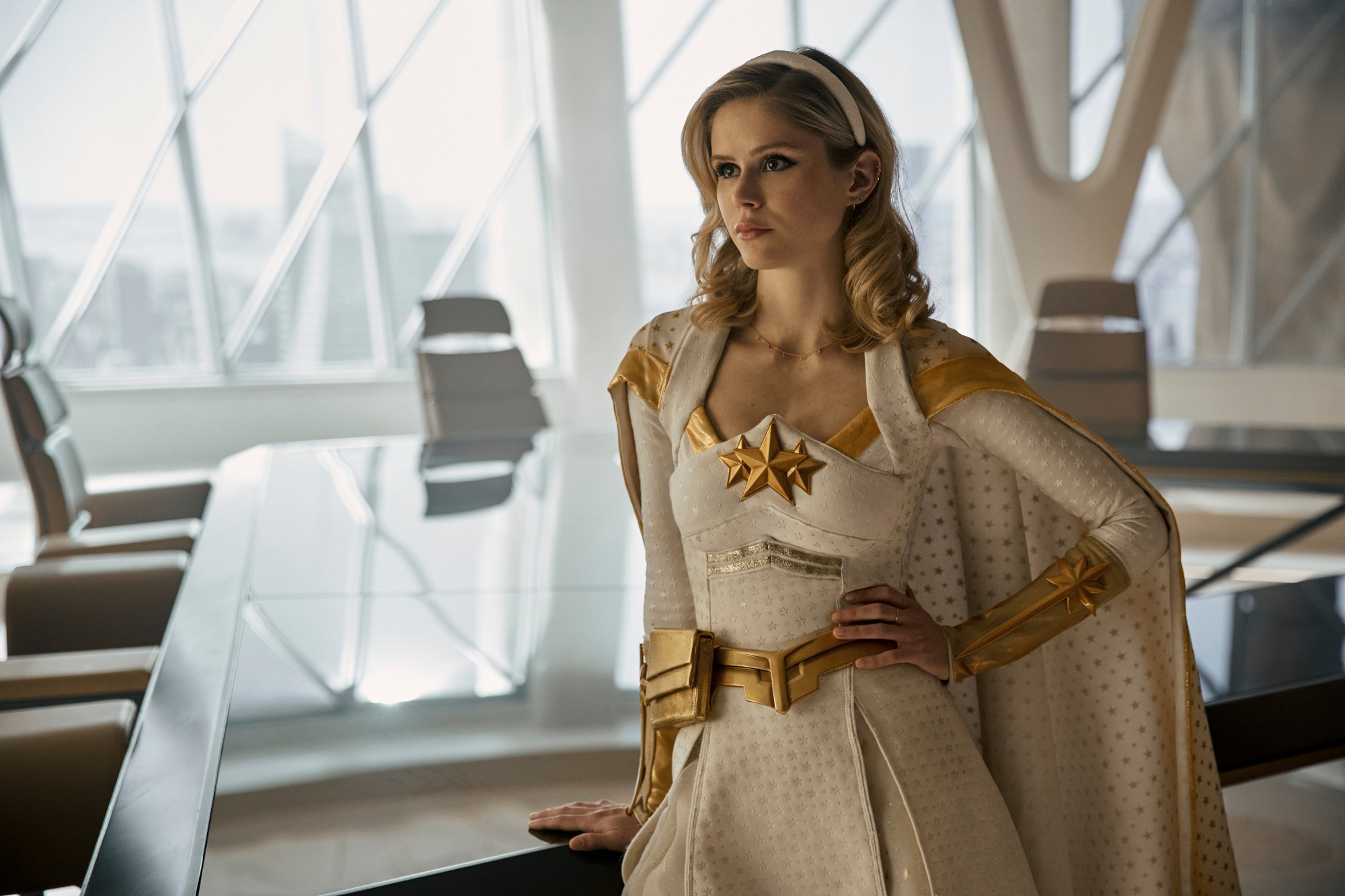 The Boys Season 3 finally delivered its take on the comics' Herogasm storyline. And although there were differences between the source material and the on-screen adaptation, both feature chaos and debauchery. Starlight actor Erin Moriarty recalled filming the episode, admitting the environment took some getting used to. Apparently, the cast spent a lot of time "surrounded by nudity" and sex toys.
[Warning: This article contains spoilers for The Boys Season 3 Episode 6, "Herogasm."]
'The Boys' Season 3 Episode 6 features Herogasm
The Boys Season 3 Episode 6 brought Herogasm to the small screen at long last, after weeks of the cast and crew hyping it up. Pulled from the pages of The Boys comics, Herogasm sees Vought's finest involved in a giant orgy.
As one might expect from the Supes, things get extremely weird. Even the characters who weren't involved in the big event had to see all the sex and nudity. And the chaotic nature of Herogasm extended behind the scenes as well.
Erin Moriarty recalls the 'wild' experience of filming 'Herogasm'
RELATED: Jensen Ackles Says Jeffrey Dean Morgan Wanted Him to Spoil 'The Boys' Season 3
With Herogasm proving every bit as explicit as fans expected, The Boys cast and crew were in for a wild ride while filming it. Erin Moriarty recently recalled the experience during an interview with /Film. According to the actor, the production process for Herogasm involved a lot of nudity. Naturally, that took time to adjust to:
"It was five days in a row, 12-plus hours a day, well over 12 hours, of just being surrounded by nudity. And it was pretty wild. I'd never been in a room with so many dildos, so many sex toys, so much nudity, so much simultaneous sex going on in all different ways. I had to do one scene with one character where I'm talking to him and he's totally nude. So I'm trying to maintain eye contact with him because that was on the first day and I'm still getting used to working around so many naked people."
That certainly makes for a memorable — and potentially uncomfortable — experience. However, Moriarty told /Film that it proved "amazing, hilarious, and scarring at the same time." She's not the only cast member to describe The Boys Season 3 Episode 6 that way. Her costars offered similar reactions, ranging from awe to mild disgust.
All of 'The Boys' cast members had a memorable time filming the episode
As you might imagine, Erin Moriarty isn't the only actor from The Boys who had a memorable (and "scarring") experience filming "Herogasm." Her costars also shared their thoughts on the big event. And while many of them seem satisfied with the end result, they shared similar sentiments.
Homelander actor Antony Starr admitted he planned to "fast-forward through" episode 6 during an interview with GQ. Meanwhile, Jack Quaid told Lifehacker that the installment qualifies as his "favorite episode."
Showrunner Eric Kripke also spoke to the challenges of filming "Herogasm" during the COVID-19 pandemic.
"When you have dozens of naked people simulating sex acts during COVID [while] also making sure that it's a completely locked down, professional, safe, and appropriate set, is really scary and challenging," he told SYFY WIRE.
Fortunately, the cast and crew got through the big installment. And their hard work paid off, with fans offering high praise. Hopefully, the remaining two chapters in The Boys Season 3 continue on an upswing.
The Boys Season 3 Episode 6 is currently streaming on Prime Video.
RELATED: 'The Boys': Eric Kripke Reveals What It Would Take to Push Homelander Over the Edge