'The Boys': What Stormfront Said In German During the Season 2 Finale
Find out what Vought's latest Supe Stormfront was saying in German during the season 2 finale of the Amazon Prime series 'The Boys.'
Stormfront (Aya Cash) is the latest addition to The Seven, Vought's hand-selected collection of Supes. She made for an exciting season, thanks to her long history with the company. Here's what the ancient Superhero says in German during The Boys Season 2 finale. 
[SPOILER ALERT: Spoilers ahead for The Boys Season 2, Episode 8.]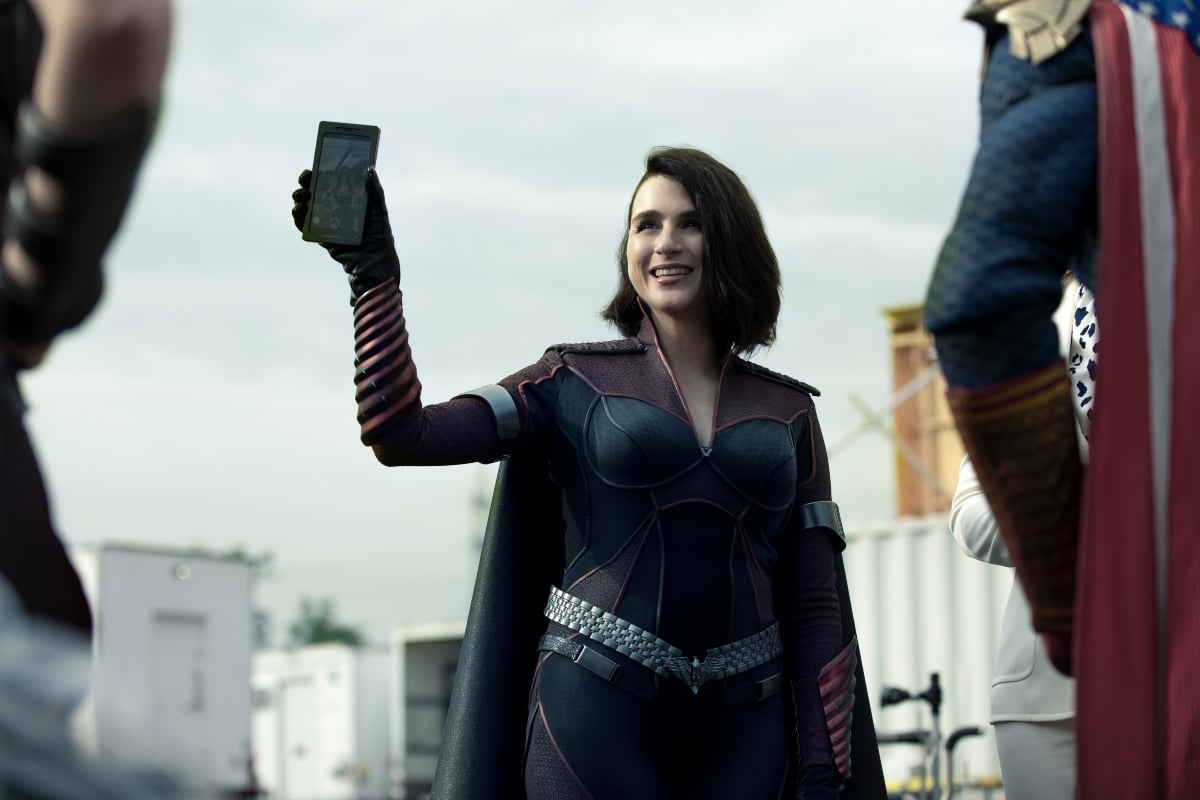 Stormfront isn't responsible for the head-popping
Throughout season 2, an unknown force was going around popping the heads off of characters. Initially, some fans thought Stormfront could be responsible for these attacks. But it was revealed in the finale that Congresswoman Victoria Neuman (Claudia Doumit) was to blame for the brutally violent and seemingly random exploding heads. 
At this time in The Boys story, it's unclear what Neuman's motive is. Still, fans have their theories. Is she working for Vought, the "pharmaceutical company" responsible for weaponizing heroes and Compound V, or is there something else motivating the corrupt politician?
While the mystery head-popping villain was a fascinating aspect of season 2, other fans were focused on the elusive Stormfront and what happened to her in the finale.
'The Boys' Season 2 introduced a new Supe 
Homelander's (Antony Starr) struggle with self-confidence and abuse of power was made worse with the arrival of Vought's latest hire, Stormfront. Formerly known as Liberty, Stormfront replaced Translucent (Alex Hassell), the Supe who was killed at hands of Billy Butcher (Karl Urban) and his boys in season 1. 
At first, Vought was a big proponent of Stormfront's social-media heavy tactics, which seem fresh and edgy. But underneath her viral popularity, Stormfront was pushing a racist, sadistic agenda that rivaled that of Adolf Hitler. 
As explained in season 2, Stormfront is nearly a century old. Compound V preserved Stormfront's outward appearance, but in her youth, she mingled with the likes of Nazi's like Goebbels and Himmler. What's more, she was married to Frederick Vought, Nazi and founder of the Vought empire. 
Eventually, Homelander realized he could benefit from working with Stormfront instead of against her. That worked for a bit — until Homelander realized Stormfront was no match for his son.
Homelander's son Ryan put an end to Stormfront's reign 
In the finale of season 1, fans were shocked to learn that Homelander shared a son with Billy Butcher's wife, Becca (Shantel VanSanten). Throughout season 2, it's revealed that their son, Ryan (Cameron Crovetti), possesses some of the same powers as his Supe father.
Against Homelander's wishes, Ryan avoided using his powers at all costs — that is, until his mother was threatened. To protect Becca from Stormfront's grasp, Ryan used his heat vision powers to create a powerful blast that not only injured Stormfront but ended up killing Becca. 
As Butcher and Ryan tended to Becca, Stormfront's charred and limbless body lay elsewhere. When Homelander found her, Stormfront seemed to have reverted to a version of her former self, uttering something in German.
Stormfront's final words translate to a memory 
As Stormfront lay dying in the woods, she said something repeatedly many fans wanted desperately to understand. It turns out she was speaking to her deceased husband, Frederick.
Fans on Reddit were able to decipher what Stormfront was saying. "It was so beautiful," Stormfront started: 
How the three of us sat there in the shade of an apple tree. Do you remember the day Frederick? Chloe's arms out of the car window. We found the perfect spot by the river, in the shade of an apple tree. It was the first time Chloe ate fresh apples. [I] was so happy. It was wonderful. I wanted it to never end.