The Braxton Sisters Address WeTV Trailer on Sister Tamar's Suicide Attempt
Season 7 of Braxton Family Values is set to arrive on Nov. 5, and it's already causing controversy.
While the upcoming episodes will follow Trina Braxton's wedding and a "surprise" that divides the family, the show will also address Tamar Braxton's attempt to take her life. This is in spite of the youngest Braxton sister severing ties with WeTV back in July.
The network released several trailers and a first look video for the new season, and the family speaks on the incident. Sisters Trina, Traci, and Towanda Braxton recently addressed why they included that in the show.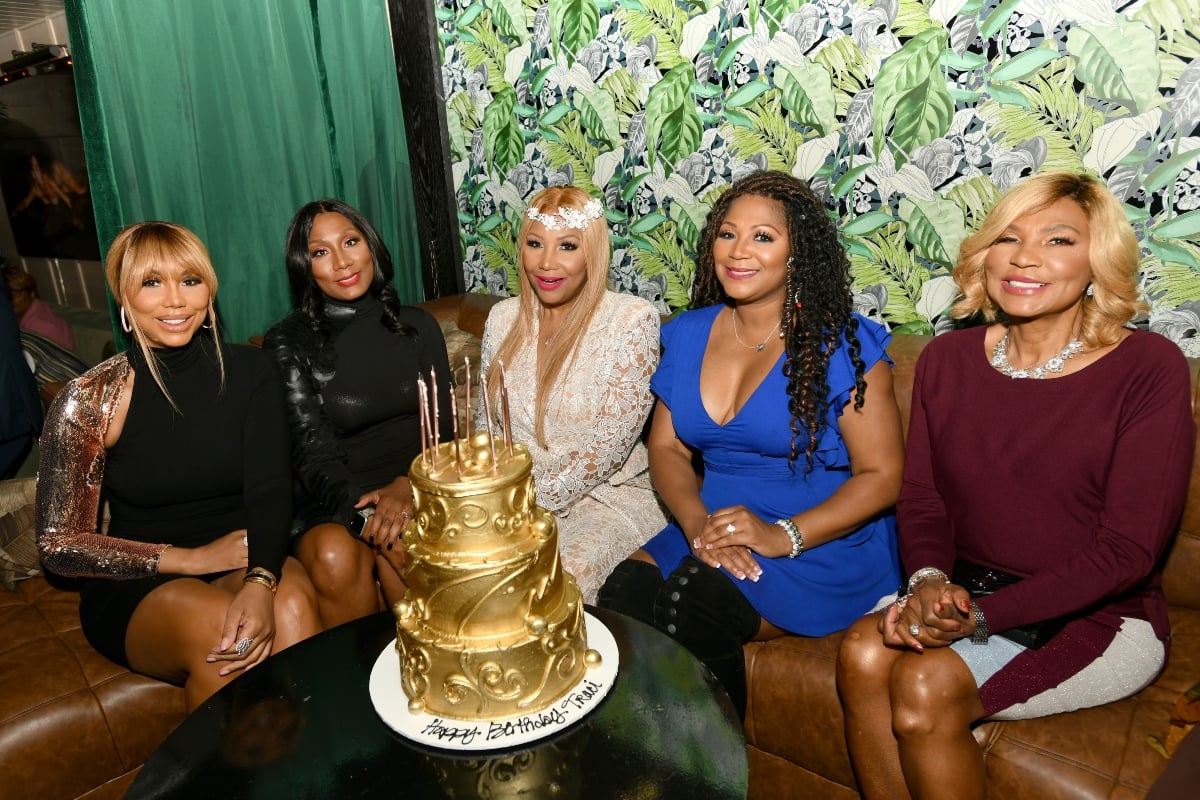 'Braxton Family Values' trailer upset Tamar Braxton
When WeTV aired first look footage for the new season, the Braxton women were shown speaking on Tamar's hospitalization and suicide attempt. Considering that Tamar wanted to keep things somewhat private and her working relationship with WeTV is defunct, she was stunned.
In a series of tweets, Tamar indicated that her family's reactions to the crisis were filmed after the fact for TV.  She wrote, "After waking up to that disgusting trailer… F*CK @wetv and whomever else is participating in using my pain for their pleasure and ratings."
She appeared on Tamron Hall's show on Oct. 30 and said she was not present during filming and doesn't understand why the incident is included in the show. Tamar questioned the motivation behind it. She also unfollowed her family on social media.
Traci, Trina, and Towanda Braxton address Tamar's reaction to the trailer
Three of the Braxton sisters—Traci, Trina, and Towanda—appeared on Claudia Jordan's Out Loud series to discuss the show and the family's ups and downs.
They mentioned they found out about Tamar's hospitalization via social media. Trina said it was "very disheartening" that someone else told her the story, and all three expressed that they didn't know what happened before or during the 911 call.
None of them acknowledged David Adefeso as someone whom they respect or interact with, but they did address Tamar's response to season 7 using her story and the ensuing criticism.
"During season 7 of Braxton Family Values, we do not talk about Tamar's physical or mental health," said Trina Braxton. "We talk about how it affected us. But we do not physically address Tamar's hurt, pain, or experience. We can't speak to that. Tamar has her own story to tell and it's very important for Tamar to tell her story in her way whenever she decides to tell it."
The other two sisters agreed, and Towanda added that she doesn't think anything is wrong with them talking about how the situation impacted them. She further defended the show by stating the producers asked them how they felt, and they answered the question.
She stated it wasn't a reenactment and they simply responded to a question.
The sisters insinuated it could have remained private
Jordan posited that perhaps Tamar's emergency would have stayed within the family if "someone" never released the 911 call to the media.
The Braxton sisters didn't name names, but stated that information was not released by her family. The agreed with Jordan that the situation could have possibly stayed within their group had it been handled differently.
Braxton Family Values premieres on Nov. 5 at 9 p.m. EST.