'The Breakfast Club': Angela Yee Reveals Where She and Charlamagne Tha God Stand After Gucci Mane Drama
Angela Yee did not hold back when asked about her current relationship with Charlamagne Tha God.
Power 105.1's The Breakfast Club is regarded as one of the best urban morning shows. Hosted by DJ Envy, Angela Yee, and Charlamagne Tha God, the show features interviews with the world's most popular figures and sees the hosts offer their uncut perspectives on various subjects. It's been on the air since 2010 and shows no signs of slowing down.
But in October 2019, Yee and Charlamagne became embroiled in some drama that seemed to put their working relationship at risk. The two clashed after Charlamagne failed to defend Yee in an attack by Gucci Mane and had a bit of a falling out.
In the months that followed, the co-hosts barely addressed the state of their relationship. On the air, things seem fine. But are they really? In a new interview, Yee opened up and revealed where she and Charlamagne now stand.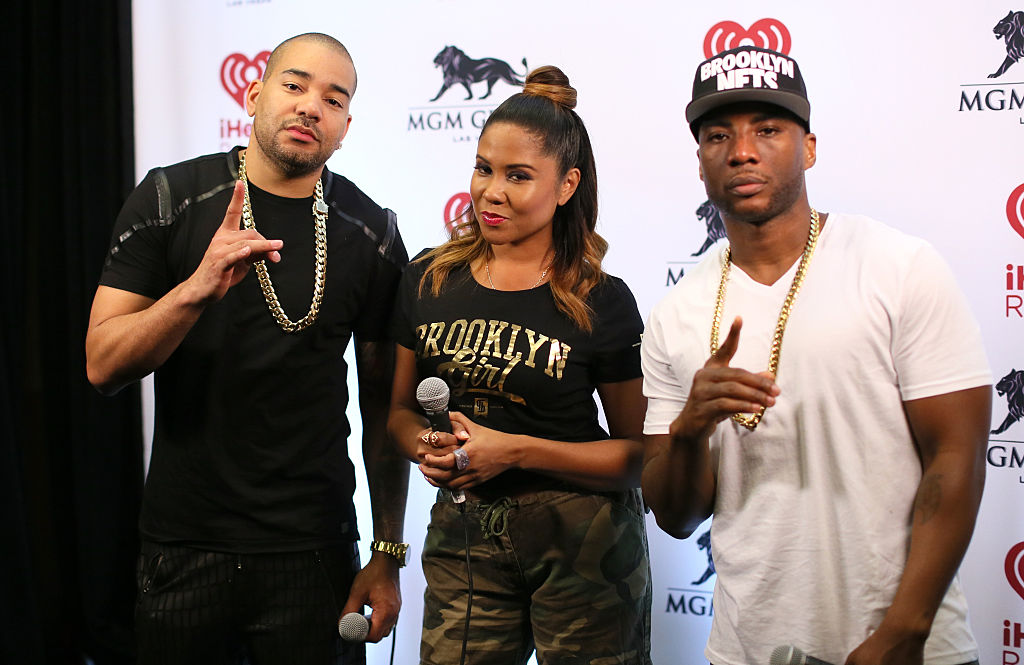 What exactly happened between Angela Yee and Charlamagne Tha God?
The co-hosts fell out after Charlamagne did a one-on-one interview with Gucci Mane on Oct. 17, 2019. During the interview, the "Icy" artist slammed Yee for allegedly banning him from The Breakfast Club.
Gucci Mane claimed that he was barred from the show after his 2016 appearance, in which he accused Yee of trying to hook up with him — something she strongly denies. (Yee also denies that he's ever been banned from the show.)
The "Wasted" rapper went on to call Yee a "b*tch" and refused to apologize for anything he'd said about her. As he sounded off on the host, Charlamagne sat idly.
Some fans believed that Charlamagne should not have conducted the interview out of respect for his co-host or that he at least should have spoken up and defended her. But others rallied behind him, saying that he and Yee aren't friends — just co-workers. According to HipHopDX, Charlamagne allegedly "liked" one of these comments.
Yee subsequently unfollowed her colleague on social media and went on to address their rift in an October 2019 appearance on the radio program, The Quicksilva Show.
Angela Yee's latest update on her relationship with Charlamagne Tha God
Yee opened up about their relationship in a Jan. 3 interview with Variety. When asked how she and her colleague were doing, Yee offered a nonchalant response.
"We've always been the same," she said. "We work together, it is what it is. Like he said, we're co-workers. A lot of people have jobs where they don't necessarily love the people they work with, it's just a part of life. That's not the person you'd hang out with in real life…"
In regards to whether they've had other rifts, Yee admitted, "There's been a lot of experiences."
"The important thing is I've always been a responsible person," she continued. " … Things are always happening that if you let it bother you, you'll be mad all the time. It's hard not to [take things personally]. It sucks because sometimes you feel so numb. You used to get so upset over things and feel so much, after a while sh*t keeps happening, you're just numb to it now."
One thing that's bothered her in the past is being overtalked.
"Sometimes, it's hard to even speak," Yee continued. "Sometimes being the only woman on the show, I have to always try to cut in. … Because I'm also the person who's doing the research; watching the shows; reading the books. I'm always trying to get validity and points across. There's not enough room for me to do that and express my feelings, you have to figure one or the other."
But at the same time, Yee noted, "If we got along all the time, it probably wouldn't be as interesting."
It's a good point.
Despite their personal issues, at least Yee and Charlamagne are keeping cordial and putting on a united front at work. Here's hoping things remain this way.