The 'Breaking Bad' Cast Has a Bizarre Connection to 'Seinfeld'
Breaking Bad follows Walter White as he becomes a science teacher-turned drug dealer over the course of five seasons. Throughout filming, the cast of the show grew close to one another due to spending so much time together. And surprisingly, several of them have another bizarre connection — and it has to do with the 1990s sitcom, Seinfeld.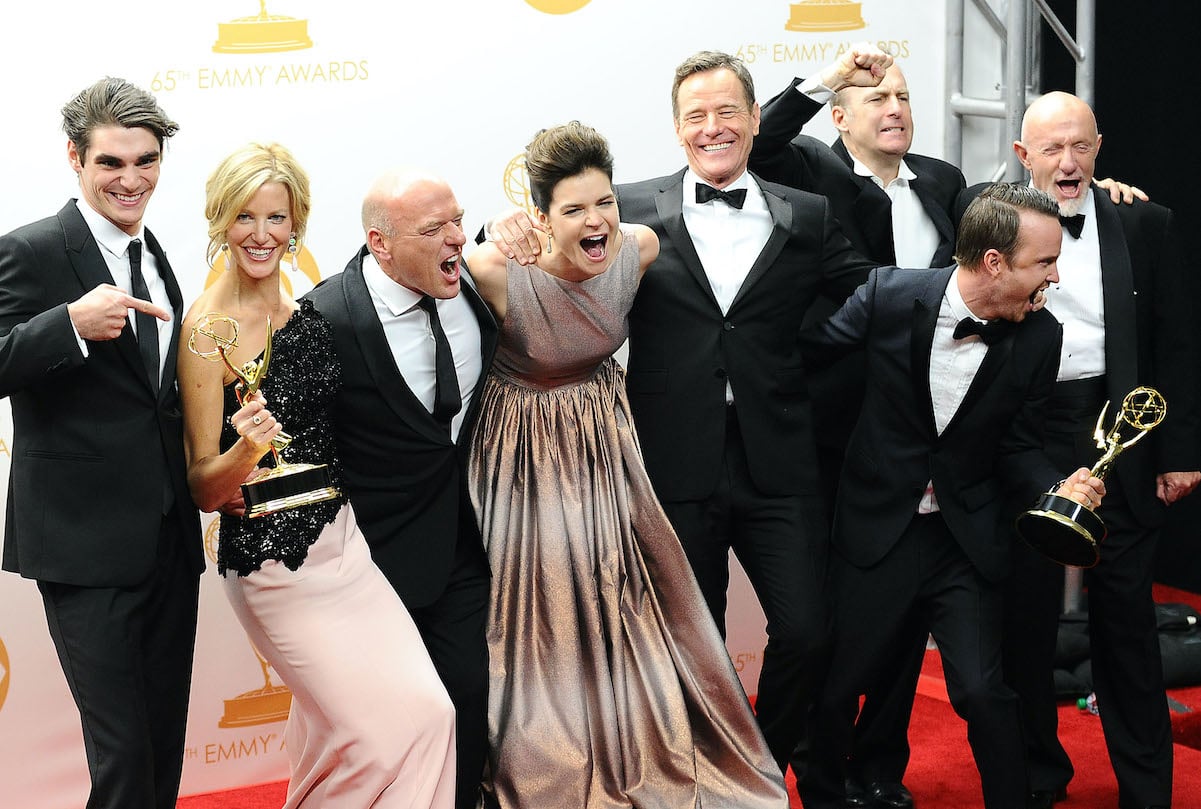 Bryan Cranston previously had a recurring role on 'Seinfeld'
Before Cranston played Walter White, he had roles on several other television shows. Cranston was known for his role as Hal on Malcolm in the Middle (the father of Frankie Muniz's character, Malcolm). Cranston has made various appearances in numerous shows both before and after his time on Breaking Bad, but he also had a recurring role on the popular 1990s show Seinfeld.
The actor appeared as Tim Whatley, Jerry Seinfeld's dentist on the show. Cranston made five appearances, and Tim and Jerry had an interesting relationship. They seemed to get under each other's skin, such as when Tim converted to Judaism in order to make jokes about the religion. Tim later put off doing dental work on Jerry to get back at him for joking with the priest. Cranston might not have been the star, but appearing on one of television's most popular sitcoms of all time certainly helped his career.
RELATED: 'Breaking Bad': Tuco Salamanca Was Meant to Be a Major Villain Until Raymond Cruz Demanded To Die — 'I Asked Them to Kill Me'
Several other 'Breaking Bad' stars have appeared on 'Seinfeld' as well
The Breaking Bad cast has an interesting connection to the sitcom: Several Breaking Bad stars, besides Cranston, once appeared on the show. Anna Gunn, who played Walter White's wife, Skylar White, on Breaking Bad, also had a Seinfeld role. According to Independent, Gunn appeared as Jerry's girlfriend, Amy; she was supposedly cheating on him, and she was only featured in a single episode, so she was easy to miss.
Other actors to appear in both shows include Bob Odenkirk and Jessica Hect. On Seinfeld, Odenkirk played Elaine's boyfriend; he also appeared in only one episode. In Breaking Bad, Odenkirk appears as Saul Goodman, the sketchy but charismatic lawyer (who eventually received his own spinoff). And Hecht guest-starred on Seinfeld as Lindsay, George's girlfriend.
There were other Breaking Bad actors who made even smaller appearances on the show, such as Nigel Gibbs and Larry Hankin.
Is the 'Breaking Bad' cast still close?
Though the series ended back in 2013, many of the cast members have still kept in touch. Bryan Cranston and Aaron Paul (Jesse Pinkman) have remained close friends since the show stopped filming. According to Insider, Cranston used to joke with Paul that he was getting kicked off the show, convincing him that with each new screen script, his character was going to be killed. The two even partnered to create their own brand of mezcal.  
Though the cast hasn't jumped on the reboot bandwagon of 2020, the show's stars still seem to all have a close relationship. The cast reunited in 2018, 10 years after filming started, to discuss their favorite scenes and episodes.