The Brellies Keep it Weird and We're in Love with Season 3
'The Umbrella Academy' Season 3 returns with a wilder, and yes, weirder story, but that doesn't change how much we love the show.
The Umbrella Academy Season 3 premieres on June 22, 2022, and it's been two long years since we last caught up with our favorite dysfunctional heroes. When we last saw the members of the Umbrella Academy, they returned to an alternate timeline. In this one, Reginald Hargreeves (Colm Feore) chose a different set of babies with supernatural powers to raise as his own. So, once again, Luther, Diego, Allison, Klaus, Five, and Vanya are tasked with fixing one of their own mistakes to save the world.

'The Umbrella Academy' Season 3 introduces us to the Sparrow Academy
If our 'Brellies were hoping for a warm welcome home, they were sorely disappointed. When they arrive back at their childhood home, the Sparrows meet them with downright anger. (Of course, the original Hargreeves didn't exactly exude friendliness either.) Plus, while the Sparrow Academy introduces the siblings' first hurdle of the season, it's far from the last.
The Sparrow Academy includes Marcus (Justin Cornwell,) Ben (Justin H. Min,) Fei (Britne Oldford,) Alphonso (Jake Epstein,) Sloane (Genesis Rodriguez,) Jayme (Cazzie David,) and Christopher, a floating cube that speaks an alien language. Audiences quickly learn each of the Sparrows' special abilities, and even though Marcus and Luther (Tom Hopper) have similar powers, the rest of the group's is decidedly refreshing.
Jayme's power causes wild hallucinations in the minds of those she faces off against. She uses her abilities to set off one of the most fun scenes in The Umbrella Academy Season 3. The rest of the Sparrows demonstrate their powers in one way or another, and it appears as if the Umbrella Academy has finally met its match.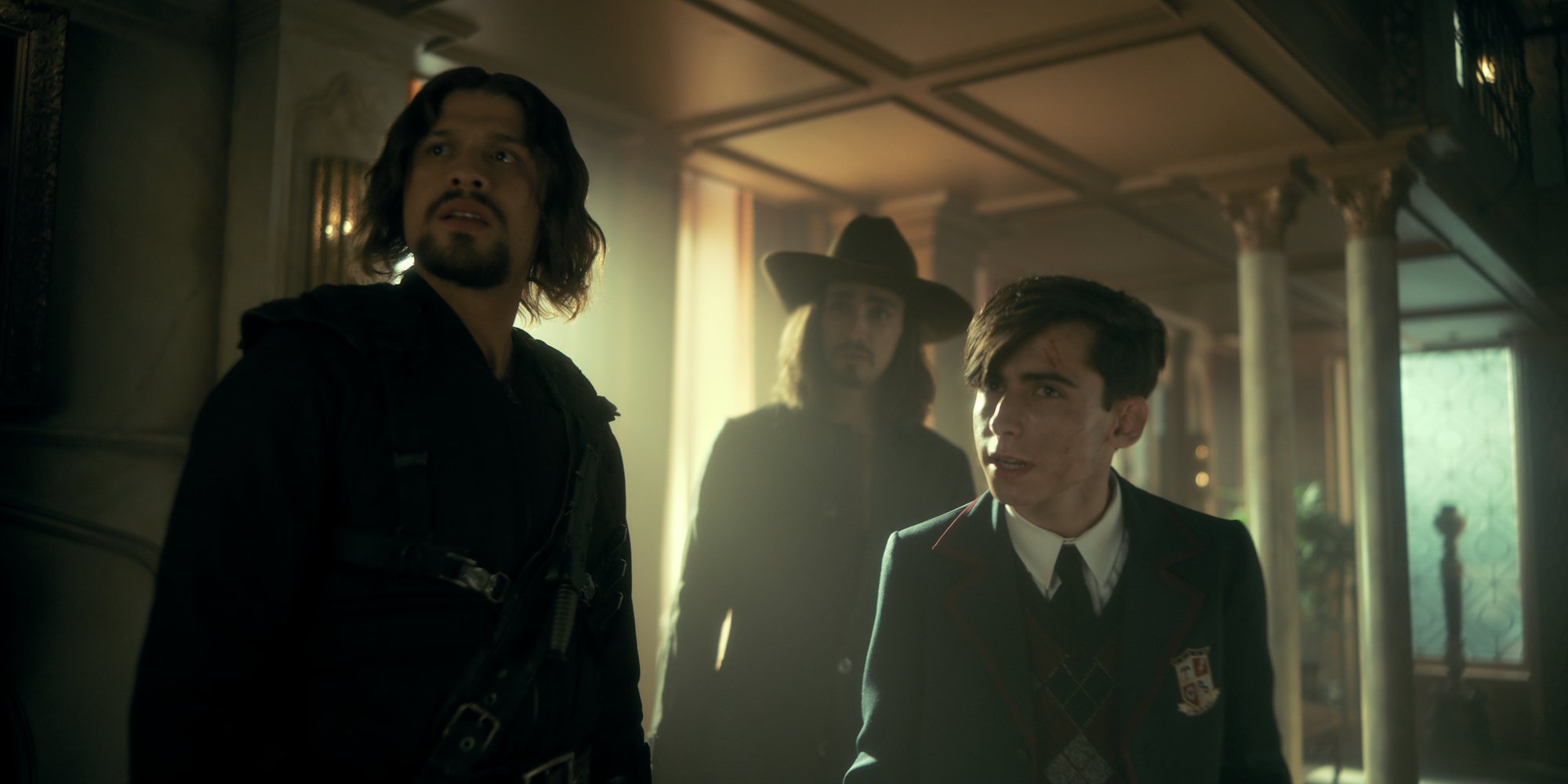 Aiden Gallagher and David Castañeda are this season's standouts
Poor Number Five. Aiden Gallagher's character can't get a break from saving the world for more than 30 minutes. Unfortunately, things don't change in The Umbrella Academy Season 3. As he works to save the world yet again, with sporadic help from one sibling or another, Gallagher successfully manages to expertly portray the role of a middle-aged man in the body of a 13-year-old kid. Five's exhaustion from his tasks and dysfunctional family radiates off the screen.
David Castañeda's role as Diego sees a shift in personality in The Umbrella Academy Season 3. It's nice to see the character relax a bit when he takes on an unexpected role. Castañeda's performance elicits more than a few laughs throughout the season, with Tom Hopper's take as Luther coming in at a close second. Robert Sheehan still nails the role of Klaus, the family's hilariously sweet but sometimes dimwitted brother. It's easy to understand why he remains a fan favorite.
'The Umbrella Academy' Season 3 gets weird, but it's more than enough to keep us coming back for more
When you watch a show that deals with talking monkeys, time travel, and a dysfunctional family with supernatural abilities, you don't go into it hoping for a nice, down-to-earth story. However, not everyone wants the over-the-top cinematic experience Marvel often provides. The Umbrella Academy Season 3 leans into its weirdness. However, it still manages to make the characters relatable with the struggles they face. So, embrace the weirdness, enjoy the characters, and settle in for another bizarre story involving the Hargreeves siblings.
The Umbrella Academy Season 3 premieres on June 22, 2022.