The 'Bridesmaids' Food Poisoning Scene Originally Included a Fantasy Sequence With Christian Bale
A memorable moment in Bridesmaids is the food poisoning scene. The bridesmaids — save for Helen (Rose Byrne) — and the bride get sick after having lunch at a Brazilian restaurant. The timing couldn't be worse because after their lunch they head to an exclusive bridal shop to try on dresses.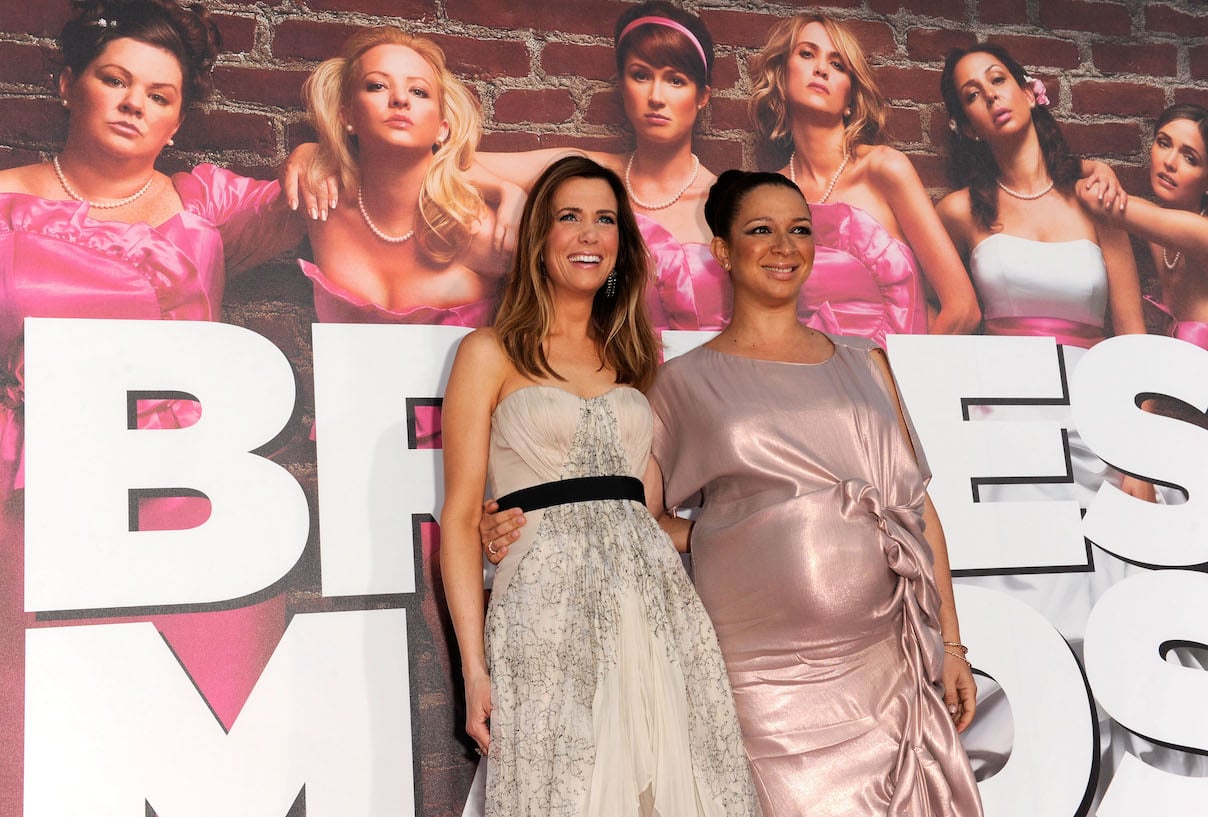 There they proceed to ruin not just the bridal shop's bathroom but a wedding gown and multiple bridesmaid dresses. Since Bridesmaids hit theaters in 2011 the scene's become a standout moment. However, it wasn't part of the original script. 
'Bridesmaids' food poisoning scene replaced a 'fantasy sequence'
When Annie Mumolo and Kristen Wiig wrote the screenplay for Bridesmaids there was no food poisoning scene. Wiig's character, Annie, was supposed to try on a dress and daydream instead. 
"She wears this dress, she's all of a sudden in a castle," Mumolo told Rotten Tomatoes. "And all the men at the wedding are fawning over her. There's so many of them wanting her so badly [that] just to escape from the castle she goes running out into this field and runs into the forest." 
Mumolo continued, saying it involved Christian Bale. 
"She naturally sees Christian Bale there, who's chopping wood without a shirt on. And they end up on a bearskin rug, and he was combing her hair, and it was this expansive sequence of her little love affair with Christian Bale," Mumolo said. "In the meantime, [back in the real world] Helen gets the women to get the dress she wants because Annie is caught up in her fantasy."
The scene got cut from 'Bridesmaids' for multiple reasons
As Mumolo told Rotten Tomatoes Bridesmaids producer Judd Apatow had concerns about getting Bale to be in the scene. They considered asking Matt Damon but thought the chances of him agreeing would also be slim. That coupled with the fact that Apatow wanted what Mumolo described as "harder comedy" she and Wiig removed the fantasy scene. 
"[The scene] was very funny but when we were in the re-write process, we all kind of felt like well maybe there's something that's a little more real-world that we can do with this that doesn't involve a fantasy sequence," Paul Feig, the director of Bridesmaids, told Rotten Tomatoes. 
He continued, saying there were conversations about Annie's central problem in the film.
"It just came from a lot of talk about, 'Well, what is her problem?' Her problem is she doesn't have any money but she's trying to keep up with Helen and trying to look like she can outdo or match Helen and all these opulent things that Helen is doing for Lillian [Maya Rudolph]," he said.
"And it just became, 'Well what if she overextends herself and takes them to a restaurant that's cheap but she passes it off as being a great place?'"
Kristen Wiig and Annie Mumolo wrote the food poisoning scene in 1 weekend
Apatow gave Mumolo and Wiig only a little to go on with the food poisoning scene. 
"He said, 'Go write something that ends with they all get food poisoning and Megan [played by Melissa McCarthy] s**ts in the sink,'" Mumolo recalled Apatow telling her and Wiig. 
That happened on a Friday evening and they had until Monday to write the scene. In doing so they had to "bring the female perspective into how a woman would deal with having food poisoning and trying to cover it up," she explained. 
Initially unsure about the scene any doubts she or Wiig had were gone once filming began. And now it's one of the most memorable movie scenes in recent years.