The California Band George Harrison Said Inspired 'If I Needed Someone'
In 1965, The Beatles started on a new path. After racking up No. 1 hits with songs like "Love Me Do" and "She Loves You" in '64, the Fab Four began digging deeper. John Lennon, resolving to turn the lens on himself, had his most introspective moment to that point with "Help."
Though he charted a path in a different direction, Paul McCartney was also growing rapidly as a songwriter. After delivering the masterpiece "Yesterday," he followed with more clever work like "Drive My Car" and "You Won't See" me on Rubber Soul (released later in '65).
By then, John was turning out classics like the sitar-infused "Norwegian Wood" as well as "Nowhere Man" and "Girl." To George Harrison, the prospect of matching this work must have been daunting. He didn't have someone to bounce ideas off of and had little experience writing on his own.
But George dove in and came up with a winner of his own on Rubber Soul. On the track "If I Needed Someone," he incorporated two new influences: Indian music and the Los Angeles band, The Byrds.
George said he was indebted to 'Bells of Rhymney' by The Byrds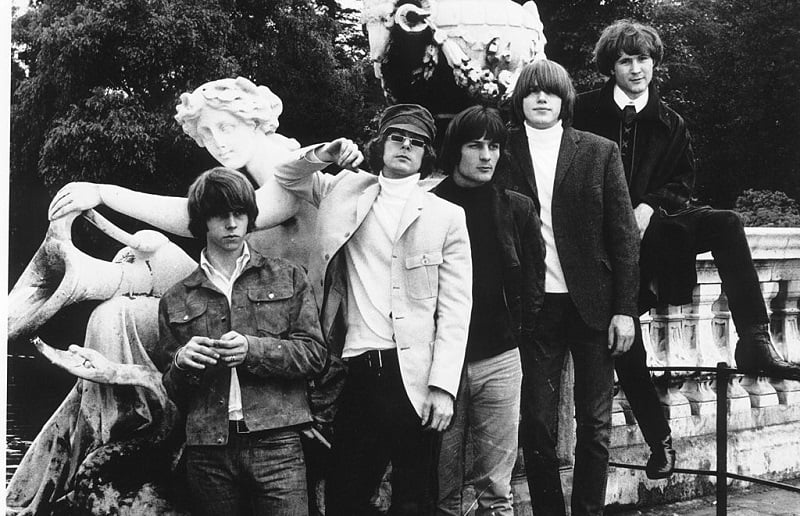 When The Byrds' cover of "Mr. Tambourine Man" hit No. 1 on the U.S. and UK charts in '65, "folk rock" or the "California sound" became known by everyone on the music scene. A year earlier, the group had formed when L.A. musicians wanted to combine the depth of folk with the energy of The Beatles.
After watching A Hard Day's Night, Roger McGuinn went out and bought the 12-string Rickenbacker guitar George played. On their first album (Mr. Tambourine Man, 1965), The Byrds played three more Bob Dylan covers along with a track by Pete Seeger called "The Bells of Rhymney."
While The Byrds freely acknowledged the influence of The Beatles on their early sound, this track would go on to influence George's best track on Rubber Soul. George made sure to let McGuinn and his bandmates know about it.
When Derek Taylor (a Beatles press officer) moved to California in '65, he brought a recording of "If I Needed Someone" and a message from George for McGuinn. "[Taylor] said George wanted me to know that he had written the song based on ["The Bells of Rhymney"]," McGuinn said in 2004. "It was a great honor."
The Beatles called The Byrds their favorite band around this time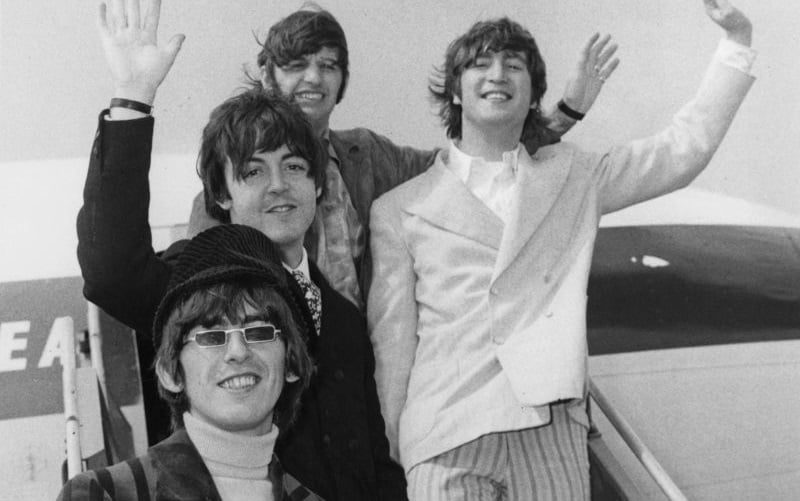 In '65, The Byrds went to London to play some shows and capitalize on the success of their top-10 UK hits. Even though the tour wasn't an overwhelming success, at least McGuinn, David Crosby, and the rest of the band got to meet both The Beatles and the Rolling Stones.
It wasn't only a musical exchange. After seeing McGuinn's signature rectangular "granny" glasses, George got himself a pair, which you see him wearing in photos from that era. (McGuinn claimed John's small round glasses were based on these, too.)
At one point during these years, The Beatles even called The Byrds their favorite new band. So there was a lot of mutual respect between the two. As McGuinn said in '04, "It was kind of a cool cross-pollination in a way."
For George, that period stood as a high point for him in The Beatles. He called Rubber Soul his favorite album. "The most important thing about it was that we were suddenly hearing sounds we weren't able to hear before," he said in the '90s. "Everything was blossoming at that time — including us."
Also see: The Rocking Beatles Song John Lennon Said Sounded Good but 'Means Nothing'