'The Carol Burnett Show': What Carol Burnett Said on Harvey Korman's Last Show
Carol Burnett became a pioneer for women breaking into comedy when she launched The Carol Burnett Show in 1967. Recruiting Harvey Korman, Vicki Lawrence, and Lyle Waggoner (later replaced by Tim Conway in 1974) to join her ensemble cast, the variety show delighted fans with laughter for 11 seasons.
Korman was a beloved member of The Carol Burnett Show team. When he left the series in season 10 after being offered his own show, Burnett gave him a heartfelt sendoff.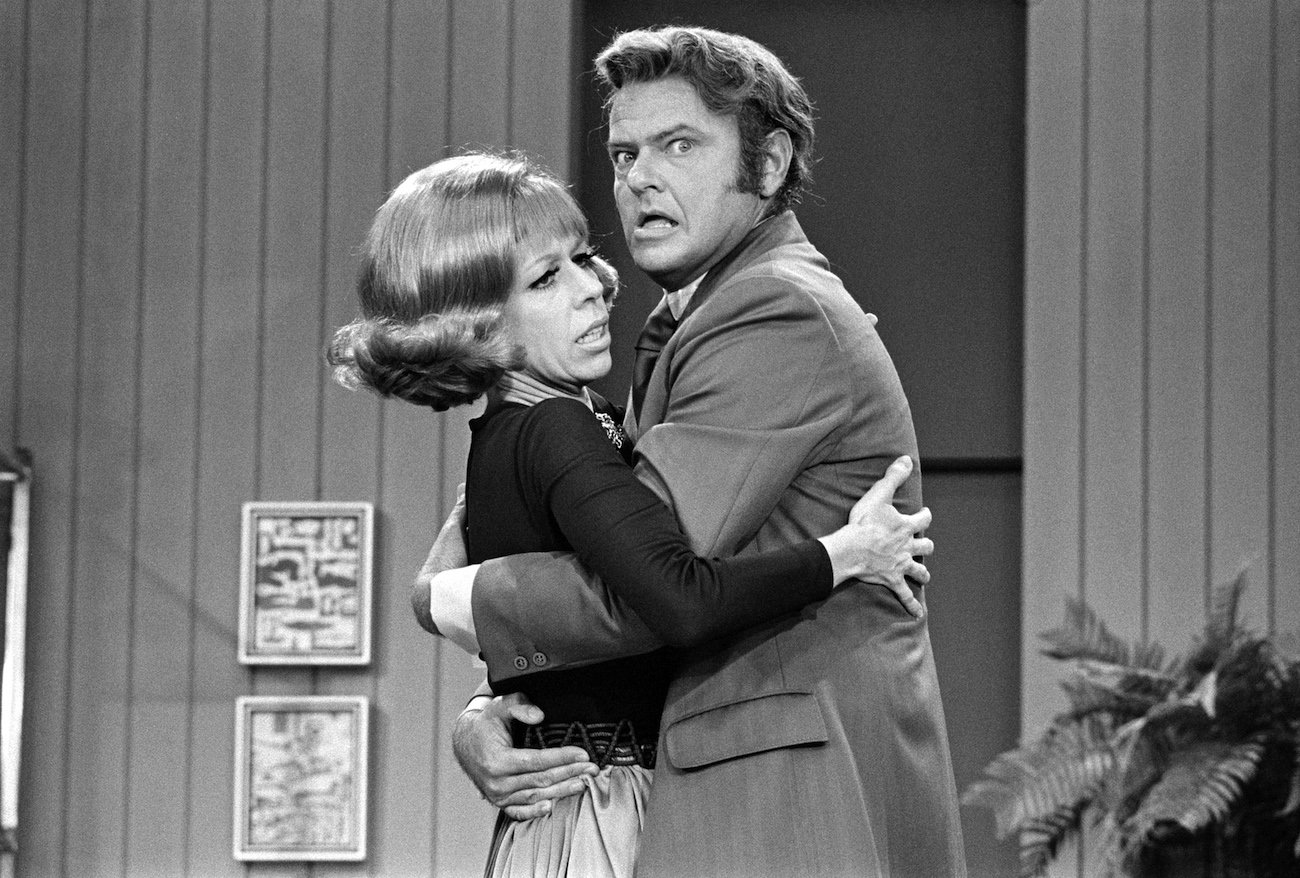 Harvey Korman got an offer he couldn't refuse
Burnett recalled when Korman broke the news to her that he had been given a very inviting opportunity.
"As our tenth year was coming to a close, Harvey asked [Burnett's husband] Joe and me to have dinner with him," Burnett wrote in her 2016 memoir In Such Good Company: Eleven Years of Laughter, Mayhem, and Fun in the Sandbox. "He told us he had an offer from ABC to star in his own sitcom, and he wouldn't be coming back next year. My heart sank. An eleventh year without Harvey? I couldn't wrap my head around it."
Despite her personal sadness, Burnett gave Korman her blessing and wished her longtime friend nothing but the best.
RELATED: 'The Carol Burnett Show': Why Carol Burnett Rescinded Her Invitation to Bette Davis
"There was no way I was going to rain on his parade," Burnett remarked. "I said, 'Honey, I'm sad for our show, but I'm happy for you. … Of course, you have to do your own thing, and now's the time.' I hugged him, and he and Joe shook hands. Harvey had tears in his eyes, and I'm sure he was relieved that the dinner ended on a positive note."
Season 10 finale of 'The Carol Burnett Show' featured a decade of memories
Wanting to close out the tenth season with some of their funniest highlights, Burnett rounded up her co-stars of The Carol Burnett Show for a compilation of some of their funniest skits from the series.
"For our final show that tenth year, we did a 90-minute recap of some of our favorite moments over the past decade," Burnett wrote. "Tim, Harvey, Vicki, and I sat on director's chairs and reminisced while we showed a bunch of clips."
Burnett wanted to make sure viewers knew Korman would not be returning, and planned some parting words.
"At one point, I felt I had to address the fact that Harvey was going to leave us," the famous redhead explained. "And yes, I had a mega lump in my throat."
Carol Burnett called Harvey Korman the most 'versatile, talented actor'
In her book, Burnett recalled what she said about her longtime friend and co-star on his final appearance of The Carol Burnett Show.
"'I'm sure most of you know this is Harvey's last show with us,'" Burnett shared with viewers. "'He's going to have a show of his own next season on ABC and we're very, very proud of him. I have mixed emotions. I've been with the most versatile, talented actor I've ever known, and I feel kind of like a parent.'"
Burnett went on to give her parenting analogy of feeling both joy and sadness about Korman's leaving the nest.
RELATED: 'The Carol Burnett Show': How An Earthquake Interrupted Carol Burnett's Scene With The Jackson 5
"'You know, when your kids get married, you wish and pray for them to have every success and happiness, but you're going to miss them like hell,'" Burnett remembered saying. "I turned to Harvey, and we hugged. 'I love you,' I said."
Korman responded to Burnett: "'I love you, darling.'"