'The Carol Burnett Show': Why Carol Burnett Fired Harvey Korman in Season 7
Harvey Korman left 'The Carol Burnett Show' in season 10, though Carol Burnett gave him his walking papers in the series' seventh season.
Comedy legend Carol Burnett launched her own variety show in 1967. Casting Harvey Korman, Vicki Lawrence, and Lyle Waggoner as her co-stars, Burnett recruited Tim Conway to take Waggoner's place when he left the series in 1974.
Korman was a key member of the The Carol Burnett Show ensemble. The actor left the show in season 10 after landing his own series, though Burnett actually gave him his walking papers in the seventh season.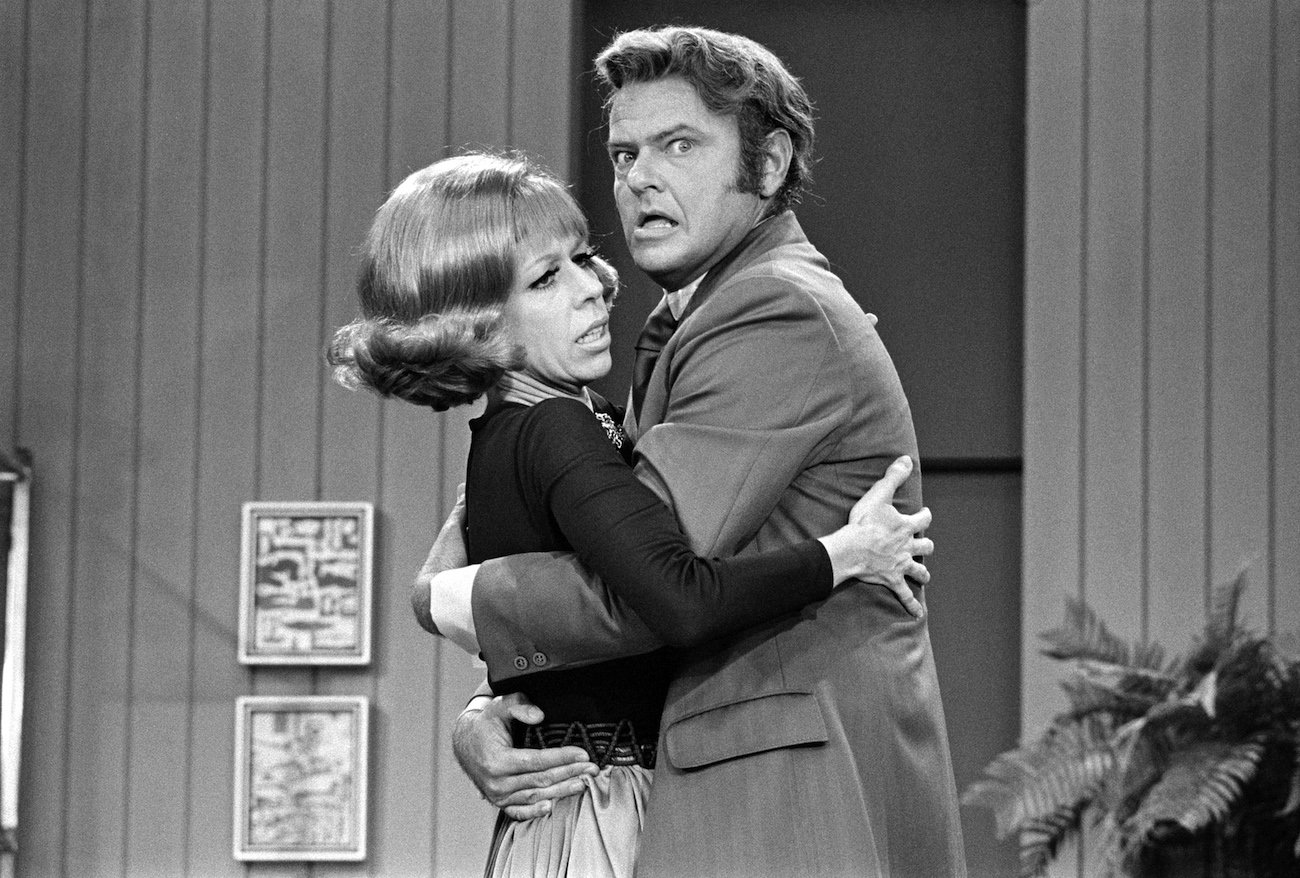 Harvey Korman could 'get into a mood'
Burnett recalled the incident with Korman in her 2016 memoir In Such Good Company: Eleven Years of Laughter, Mayhem, and Fun in the Sandbox, describing how their heated conversation transpired after a rehearsal in season 7.
"Our guests that week were Tim [Conway], who had not yet joined the cast as a regular, and Petula Clark, two of the nicest people in showbiz," Burnett wrote. "Something was wrong with Harvey. Now, at times he could get into a mood. He was in an Elvis getup this particular morning and this was one of those times. … He was scowling at everybody, and at one point he was actually rude to Tim and Petula."
When Burnett visited Korman in his dressing room to find out what was wrong, he told her to mind her own business. When the comedy icon reminded Korman that what upset her guest stars and the show fell under the umbrella of "her business", Korman dug in his heels.
"He told me I couldn't dictate how he should feel or act, and that he'd just as soon go home and never come back after tonight's show," Burnett explained. "He walked me backwards out into the hall, and he closed the door on me. I didn't know what to do, I was stunned. … It is not in my makeup to be confrontational, but I knew this situation called for it and I was going to have to step up."
Carol Burnett told Harvey Korman to leave
Burnett personally called Korman's agent and told him her co-star would be done with The Carol Burnett Show after that evening's performance. When the show was over that night, Burnett paid Korman another visit in his dressing room to tell him the news.
"Well, you got your wish," Burnett told Korman. "I called your agent, and he's aware of the situation. … You were rude to our guests, and because of your behavior I was screwing up all over the place tonight during the show. I can't work like that, so if you want off, you're free to go."
As Burnett was about to leave, Korman stopped her and asked what he could do to make amends.
"This coming Monday, I want to see you cheerful," the Emmy winner told her co-star. "Not only Monday, but the whole week! And you are never, ever to be nasty to one of our guests or anyone on our crew. We all have moods, but we don't bring them to work. … In fact, it would tickle me pink to see you skipping around and hear you whistling in the hall!"
Korman agreed and the two shook hands on the deal.
Harvey Korman remained on 'The Carol Burnett Show'
When the following Monday rolled around, Burnett wasn't sure if Korman was going to stick to their agreement. She soon discovered he was completely on board.
"The elevator doors opened and there stood Harvey," Burnett recalled. "For a split second, neither of us knew what to do. Then he gave me a great big smile and took off, skipping, dancing, and whistling down the hall to my office. I doubled over with laughter."
Apparently, Korman commended Burnett for her reprimand and went out of his way to share his respect of the comedy icon.
"Later, I heard from some of the crew that Harvey had gone across the street to the local watering hole after our little discussion that night," Burnett revealed. "This was a place where many in the crew went for a drink or three after the show. They said he stood on top of the bar and gleefully told everyone what had happened. Then he lifted his glass and toasted me!"
Burnett added, "The following week I had a plaque put on his dressing room door: MR. HAPPY GO LUCKY."