The Cast of 'The Handmaid's Tale' Can't Wait to Film Season 4
Once production of season 4 of The Handmaid's Tale began, actors from the show posted photos celebrating the return of the show. On March 15, it was reported filming is currently postponed due to the coronavirus (COVID-19) outbreak. While filming is temporarily halted, fans can be rest assured the cast and crew of The Handmaid's Tale can't wait to finish filming for season 4.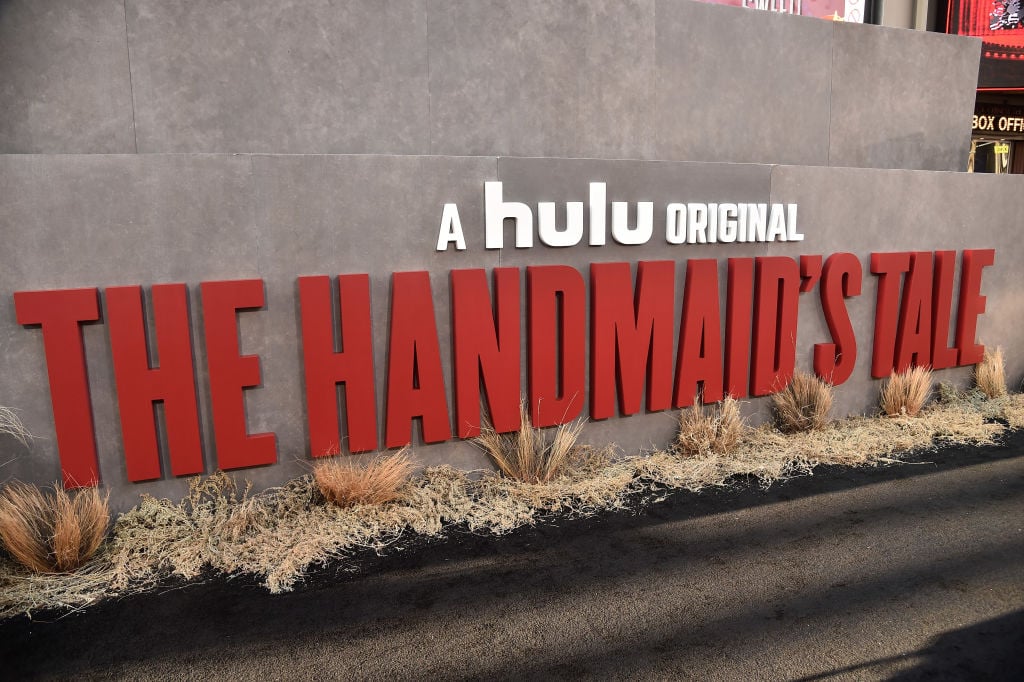 Actors have posted about season 4 of 'The Handmaid's Tale'
At the beginning of March, actors from The Handmaid's Tale posted about returning to the show. The actors referenced wardrobe fittings and filming, signaling how excited they were for production to begin.
"This poster hangs in our wardrobe office. Which means, I'm in wardrobe. Which means, we READY. Hey Season 4, nice to finally meet you, girl.
#fitting #whatshalliwear," wrote Amanda Brugel, who plays Rita, on Instagram.
O-T Fagbenle, who plays Luke, posted a photo on Instagram with Max Minghella and Joseph Fiennes.
The caption of the photo read: "Handmaids season 4 is here! Love seeing these talented fellas @maxminghella n #josephfiennes so much. @elisabethmossofficial is DIRECTING, and killing it. I'm a little to excited. Any predictions/hopes for this season? @handmaidsonhulu @hulu."
Max Minghella posted a similar photo with the two actors and revealed actress Elisabeth Moss took the photo. Since production for the show began, Moss has posted multiple photos. In one photo, Moss revealed she is directing in season 4 of The Handmaid's Tale.
"Dream come true thank you for this incredible opportunity and for every partner that is by my side @dainajreid @stuartdop @handmaidsonhulu PS thank you @meredithbugden for this slate #handmaidstale," she wrote on Instagram.
Filming is currently postponed
Days after the cast posted about their excitement on social media, Deadline reported that filming for season 4 of The Handmaid's Tale is postponed due to coronavirus.
"Hulu's Emmy-winning dystopian drama series The Handmaid's Tale is shutting down production amid escalating coronavirus pandemic and a national emergency declared in the U.S," reads the report. "The drama has been filming its fourth season, which marks the directorial debut of Emmy-winning star Elisabeth Moss. It is produced by MGM Television, whose shows are all in various stages of winding down, as are virtually all Hollywood productions."
Brugel posted a comforting message to fans on Instagram, writing, "We are going to be alright, my loves. Hope you are all safe and calm and finding ways to let the light in. Much love to all of you."
Details about season 4 of 'The Handmaid's Tale'
So far, not much is known about season 4 of The Handmaid's Tale. Fans knew filming was set to begin in March 2020 and that filming was expected to conclude in July 2020. Because of this, the new season was expected to have a fall release date.
There's no word on how long filming will be postponed, but this could push back the release date of season 4 even more. It's also been reported the fourth season will only have 10 episodes like the first season.
"Some storylines just seem to shake out as a 10-episode story, in my eyes," said showrunner Bruce Miller. "I feel like it gives us a little more freedom because you can rely more on one propulsive element."