'The Chair' Recreated That Memorable 'X-Files' Speedo Scene With David Duchovny
No, it's not an episode of The X-Files it's The Chair. The Netflix original series starring Sandra Oh has David Duchovny wearing a Speedo just like he did all those years ago in The X-Files Season 2.
[Spoiler alert: This article contains spoilers from The Chair Season 1 Episode 3: "The Town Hall"]
David Duchovny plays a version of himself on 'The Chair'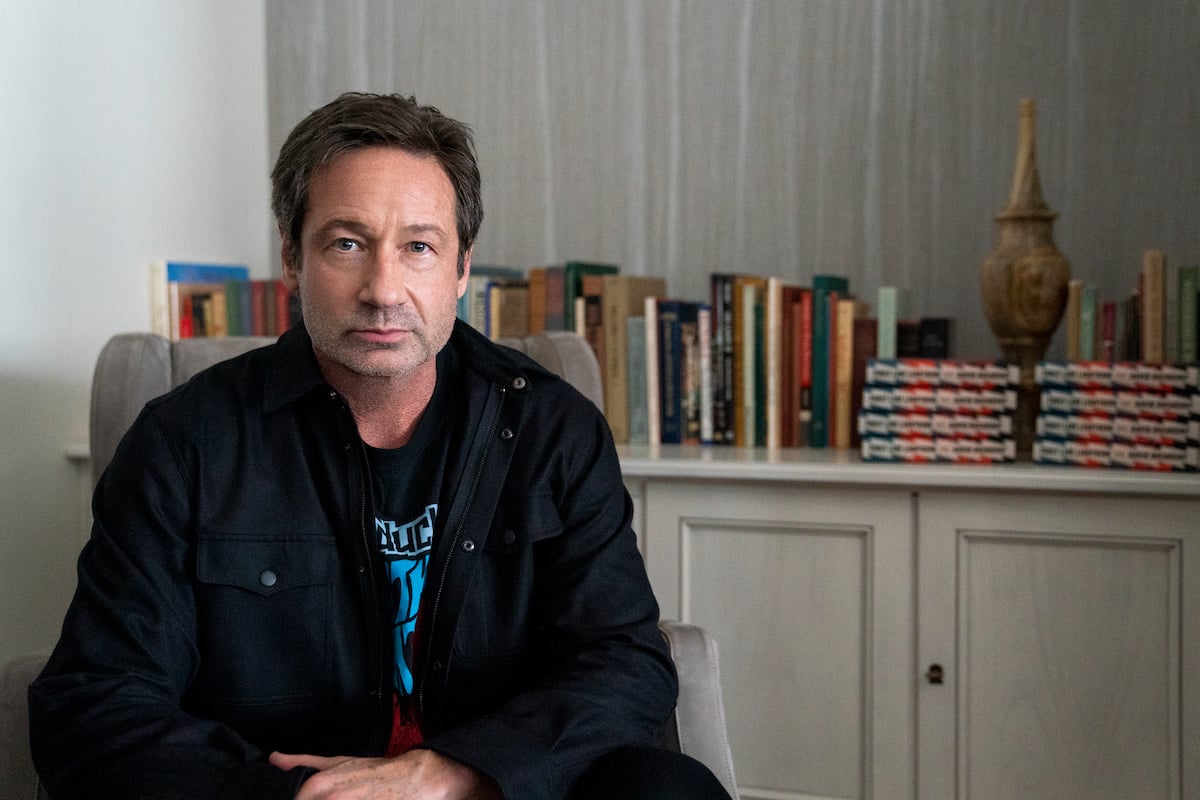 Where does Duchovny fit in on The Chair? He plays a version of himself who crosses paths with Oh's Dr. Ji-Yoon Kim. Duchovny gets his first mention halfway through season 1 in the episode titled "The Town Hall."
Kim discovers while having dinner with Dean Paul Larson (David Morse) and his wife, that much to her disappointment, she's not going to be picking the person who will give the English department's distinguished lecture. Instead of giving the honor to Professor Yaz McKay (Nana Mensah) like Kim planned she has to go along with the dean's wife's idea about giving it to Duchovny.
The dean then tells Kim she's responsible for getting Duchovny set up with an office at the fictional Pembroke University. So Duchovny comes along, playing a version of himself, while Oh's character has to oversee his time at the university.
Amanda Peet had the idea to recreate 'The X-Files' Speedo scene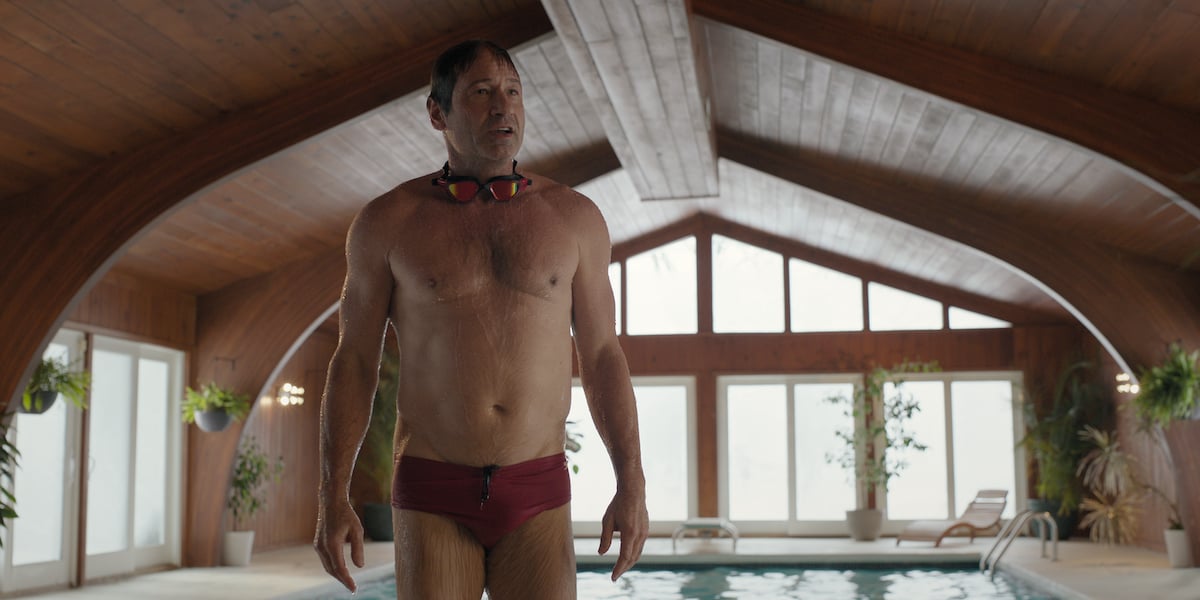 RELATED: 'The Chair' Is Sandra Oh's Own Form of 'Activism'
So when does the nod to X-Files and Mulder's Speedo come in? When Oh's character meets Duchovny. She stands by the pool as Duchovny gets out of the water. Thinking he's naked, Kim panics and proceeds to shield her eyes. 
Within seconds it becomes an embarrassing and hilarious moment because Duchovny has on what appears to be something closely resembling the Speedo from The X-Files. Kim explains that she thought he was naked, hence her reaction.
As showrunner Amanda Peet told Entertainment Weekly in August 2021, it was her idea to have Duchovny recreate his X-Files scene. 
"I loved the idea that he replays his iconic moments at home by himself," she said. "Like a crazy Hollywood schmuck."
"I knew from The Larry Sanders Show — and also from knowing David personally for many years — that he's able to take the piss out of himself on a fairly massive scale," Peet added. "He has these serious academic credentials, but he's willing to come off as a jackass. I was like, 'You understand you're playing a version of yourself … You don't have the protection of hiding behind a character.' And he was like, 'Where are we doing this? Pittsburgh?!'"
David Duchovny says he feels 'lame' recreating 'iconic things' from his career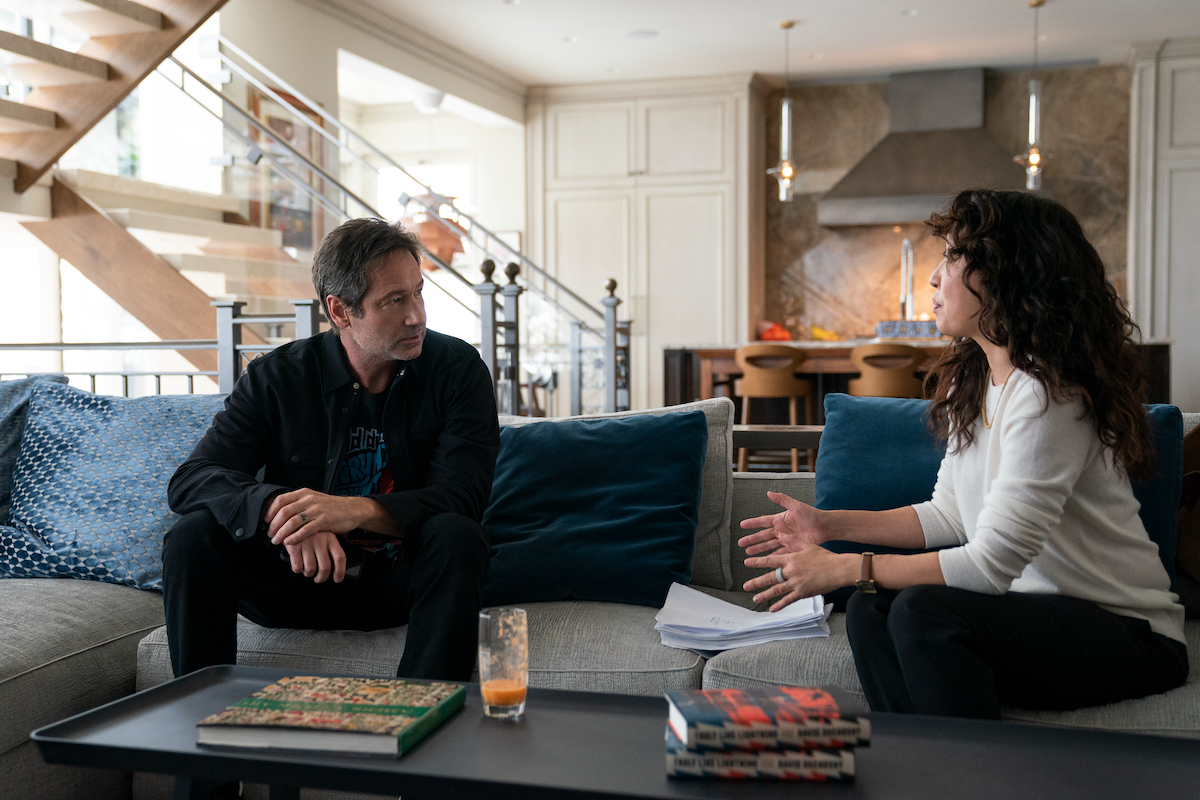 RELATED: 'The Chair': Professor Bill Dobson's Jay Duplass Calls 1 of His Co-Stars' the Netflix Series' 'Secret Weapon'
Duchovny admitted he has hesitations about recreating memorable moments from his acting career. 
"I think I shy away from trading on certain iconic things in my career," he told Entertainment Weekly. "I feel lame doing it, plus I think nobody remembers this s— from so long ago."
Duchovny continued, saying that his confidence in Oh and Peet calmed dispelled any reservations.
"Sandra is fantastic and funny, and Amanda is brilliant and funny and a good person, and she's written this great, smart show that's she's running. I'm so proud to be with her on it," he said. "If she says, 'David, jump,' I say, 'How high do you want me to jump in a red Speedo?'"
See Duchovny recreate his Speedo moment from The X-Files on The Chair by streaming the series on Netflix. All six episodes of season 1 premiered on Aug. 20, 2021.