'The Challenge 35': Kaycee Clark's Girlfriend Responds to Nany González Flirting With Clark
In The Challenge 35: Should I Stay or Should I Go? Nany González partied hard after her first daily challenge win. The inebriated Real World star then began flirting with rookie Kaycee Clark, who is in a serious relationship. Her live-in girlfriend, model Tayler Jiminez, responded to the flirting situation on Twitter.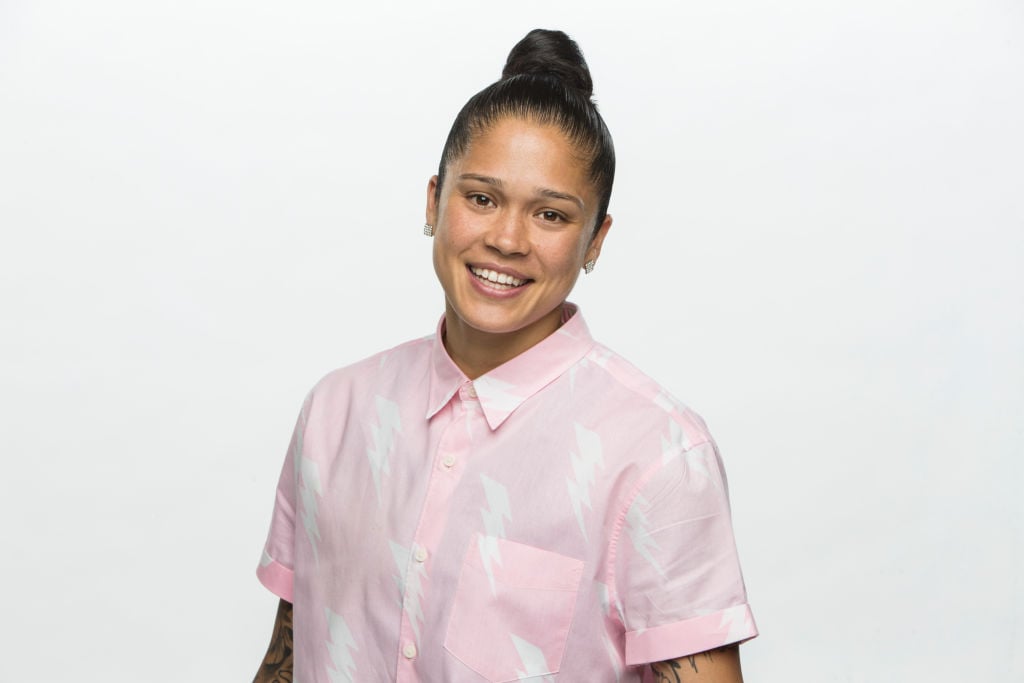 Nany González on 'The Challenge 35'
In 2011, then 21-year-old New York-based criminal justice major Nany González made her reality debut as a cast member on MTV's The Real World: Las Vegas.
Shortly after her appearance, she competed on The Challenge, a competition spinoff, alongside three of her original castmates. She returned for the following season, Rivals II, and partnered with former close friend, Jonna Mannion, who chose a relationship over the friendship with Nany.
The Real World star reached the finals in Free Agents and finished second, earning $35,000. She returned for five more seasons and has yet to make the finals again, as she barely missed out last season.
RELATED: 'The Challenge' Fans Are Worried Nany González Is Giving Up Her Friendship With Jenna Compono for Kailah Casillas
Nany came back for The Challenge 35 and allied with Jenna Compono and Kailah Casillas, creating the Holy Trinity. She also developed an attraction for rookie Asaf Goren, but he went home in the first episode.
The nine-time competitor pulled out her first daily challenge win alongside Jordan Wiseley, placing her in the Tribunal, and she celebrated hard that night.
Nany González flirted with Kaycee Clark on 'The Challenge 35'
When the challengers went to the local club, an extremely drunk Nany began flirting with rookie and BB20 winner, Kaycee Clark. The Real World star drunkenly whispered into Kaycee's ear that she makes her "feel so weird" and gives Nany a feeling she's "never felt before."
Fellow competitor Tula "Big T" Fazakerly saw the two and asked if they were making out, to which both empathetically denied. When Big T walked away, Nany repeatedly asked Kaycee to follow her to the bathroom, but the BB20 champ rejected the advances.
RELATED: 'The Challenge 35': Fans Are Calling Aneesa Ferreira's Facial Expressions the 'MVP of the Season'
Aneesa Ferreira also saw the interactions and thought she should say something to Kaycee because she has a girlfriend back home. The rookie promised she wouldn't do anything to disrespect her relationship before Nany went off on Aneesa for blowing up her spot.
Kaycee Clark's girlfriend responds
In a May 11 promo tweet, MTV showed a preview of the upcoming episode with a 2-minute clip of Nany and Kaycee flirting at the bar. The rookie's girlfriend of six months, model Tayler Jiminez, quote tweeted it and wrote, "I mean… A for effort."
In follow up tweets, she claimed she didn't care because she knows her girlfriend is "fine," and other girls will attempt to "shoot their shot." According to Tayler, she deals with women flirting with Kaycee "on a weekly basis" and insisted Nany's advances didn't bother her.
RELATED: 'The Challenge': Nany González Revealed She FaceTimes Paulie Calafiore 'For Hours'
Additionally, she claimed she and Kaycee already talked about the situation "months ago" when filming wrapped and has since "chatted with Nany" a couple of times. The model says there's "no bad blood" with Nany and thinks the "whole scene is funny."
The Challenge 35: Total Madness airs Wednesdays at 8 p.m. EST on MTV.