'The Challenge 35': Rogan O'Connor and Jay Starrett Received Love From Home Before Elimination in Deleted Scene
In a deleted scene from 'The Challenge 35' before Rogan O'Connor and Jay Starrett elimination matchup, they received love from home.
Before Rogan O'Connor and Jay Starrett competed against each other in a cliffhanger elimination, they, as well as Nelson Thomas, received love from home in a deleted scene.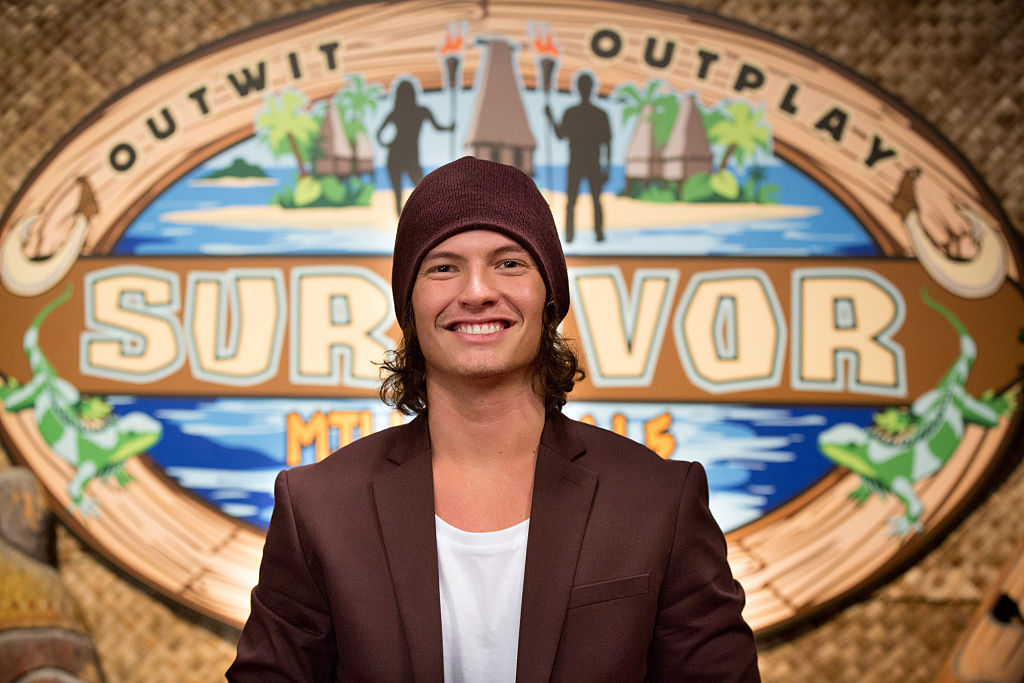 Nelson Thomas called then-girlfriend Angela Babicz
Bad Girls Club star Angela Babicz and The Challenge six-time competitor Nelson Thomas met and fell in love while filming MTV's Ex on the Beach in October 2018. The two continued their relationship outside of the house, and Thomas moved across the country to live with his girlfriend.
However, the Bad Girl felt they had a "toxic relationship," she sought the help of Dr. Phil in a September 2019 episode. While she recognized she needed to leave The Challenge star to be happy, the Bad Girl chose to continue the relationship.
A month later, Thomas competed on The Challenge 35: Total Madness. Before the third guys' elimination, the six-time competitor Facetimed his girlfriend in a deleted scene.
After greeting her dog, Queen Nala, the MTV star told Babicz he missed her, to which she responded, "you look like s**t" and asked if he competed on Survivor instead. Thomas explained it's "been hell" for them this season.
However, he feels "lucky" that he has his longtime friend, Cory Wharton, with them. Thomas asked his girlfriend to pray for him before they exchanged "I love you's," and ended the call.
In a confessional, the six-time competitor explained he plans on traveling the world with his "ride or die" if he wins the million-dollar prize. However, shortly after Thomas returned from the show, he and Babicz chose to part ways.
Jay Starrett spoke to his sister
Rookie Jay Starrett competed in the first guys' elimination due to his prospect status and lack of existing connections with the others. However, he sent another rookie, Asaf Goren, home, earning the first red skull of the season.
His fellow competitors did not think he proved himself and voted him into the following elimination. CT Tamburello, a member of the Tribunal, mistakenly believed he could easily get his ticket to the finals against the rookie and chose to compete against him in Purgatory.
However, the Survivor star shocked his co-stars and viewers by eliminating by the veteran. Again, the house selected the rookie to go into the next elimination as they believed he was an easy vote.
Wanting to compete against the prospect because of the "cheeky kiss" he shared with ex-fling Dee Nguyen and sending his closest ally home, Rogan O'Connor eagerly volunteered.
Before their elimination, the Survivor star called his sister, Melanie, who gave him a "solid boost" and a "good reminder" of why he came to compete as he plans on taking care of his family with the prize money.
Rogan O'Connor received love from best friend, Joss Mooney
The returning champ initially pursued rookie Jennifer Lee despite his ex seemingly watching their every move. However, Jenny West singlehandedly sent the prospect home during the first girls' elimination, quickly ending their fling.
He then started paying more attention to his ex, Nguyen, and admittedly became jealous when she kissed Starrett in front of him. Therefore, he wanted to face the rookie in elimination and "get his hands on him."
The Tribunal honored his wishes and the former rugby player immediately body slammed the prospect, possibly injuring him. Before their matchup, he spoke to best friend and The Challenge star, Joss Mooney.
The two developed a bromance during last season, and Rogan admittedly missed him "dearly." They mainly talked about how "shredded" Mooney has gotten and how much weight the returning champ gained before O'Connor hung up to call his mother.
The Challenge 35: Total Madness airs Wednesdays at 8 p.m. EST on MTV.