'The Challenge' Star Johnny Bananas Has a Surprising Dating History That Includes Gold Medalist Hannah Teter
Johnny Bananas has been a fixture on MTV's The Challenge for 20 seasons because of his big personality, his skillful gameplay, and his love for targeting players he doesn't like. The one thing the six-time winner doesn't do very much on the show is talk about his relationship status, but he actually has an interesting dating history.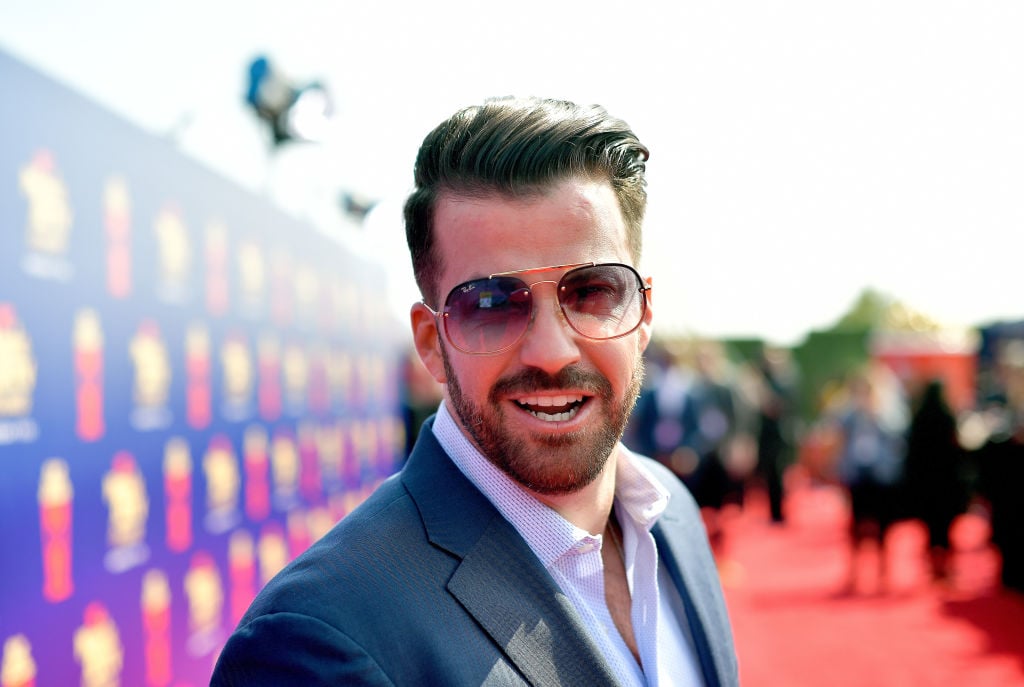 Johnny Bananas and Hannah Teter
For five years, Devenanzio was in a serious relationship with a woman he called "Hannah," and it turns out that the mysterious Hannah is Olympic snowboarder and gold medalist Hannah Teter.
According to Yahoo in 2018, Johnny Bananas and Hannah Teter were even targeted by Celebrity Jihad, who released a sex tape that they claimed starred the couple. Neither Bananas nor Teter ever commented on the tape, but fans of The Challenge claim that those look like Johnny Banana's tattoos in the video.
The relationship lasted from 2012 to 2017, and on Vendettas he mentioned their breakup.
"This is the first Challenge I've come on as a single man. The Banana has left his bunch," he said during his confessional. "Me and my girlfriend for five years called it quits. So here I am: single and naked as the day I was born."
Behind his hookups on 'The Challenge'
Bananas has also hooked up with other Challenge contestants, including Camila Nakagawa, who he won the Battle of the Exes with in 2012 after they had a brief hookup on Cutthroat. Johnny and Camila seemed like an odd match from the beginning, he seems pretty laid back and Camila is known to fans of The Challenge for her extreme freakouts, usually while heavily intoxicated. In fact, rumor has it that Johnny only hooked up with Camila to keep her happy on Battle of the Exes.
Johnny Bananas also had a fling with Nany Gonzalez, his partner on the second Battle of the Exes season. When they were paired up, came a surprise to even the biggest fans of The Challenge, who assumed they had always just been friends.
On a War of the Worlds after show, Nany finally confirmed their more than platonic relationship and why it ended.
"[We] just started talking. I was living in Arizona and he's in Southern California. So we just had this cool relationship… it is what it is." She did say it was more than platonic but did not give details about how serious they got.
After a little while, "I cut him off and stopped talking to him because I didn't trust him. Then, he and I didn't speak or see each other until our first season of The Challenge together, which was Rivals 2."
Johnny Bananas and Morgan Willett
Now, his recent partnership with Challenge newbie and Big Brother winner Morgan Willett in the first War of the Worlds has seemingly blossomed into a romance. They only competed together for three episodes before losing and going home, but that's all it took for them to form a connection.
The two also traveled the world together after their elimination, and Willett says it was nice getting to know someone outside of the reality TV world.
The rumors of a romance began at the reunion when fellow cast members asked if they were together. Johnny Bananas said that he and Willett were more than friends, but less than lovers, and Willett later admitted on Ex On the Beach that she kissed Bananas while filming.
Johnny Bananas and Morgan have since confirmed their relationship on social media, although unlike other Challenge couples, Morgan is not competing on this season of The Challenge: Total Madness.