'The Challenge': Tori Deal Addresses Racism Allegations Surrounding Fiancé Jordan Wiseley
After MTV fired Dee Nguyen and Taylor Selfridge for their previous racially insensitive comments, fans began calling for the network to part ways with Jordan Wiseley for his behavior on The Real World. His fiancé and The Challenge star Tori Deal has largely remained quiet. However, she recently addressed the racism allegations in an Instagram Story.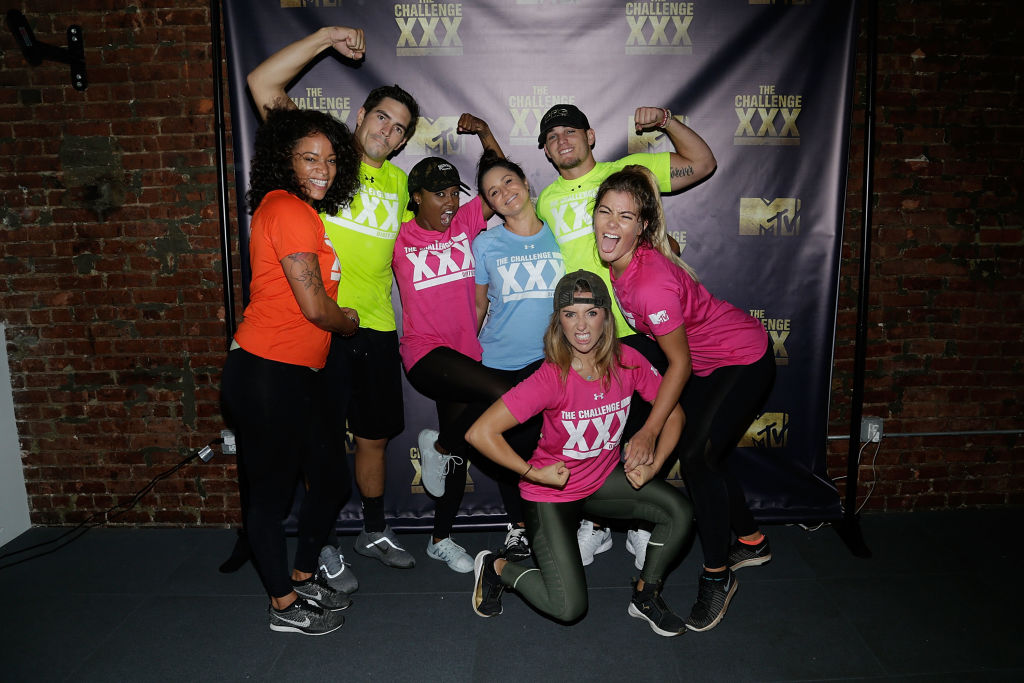 Jordan Wiseley accused of being a racist
In 2012, then 22-year-old Jordan Wiseley made his reality television debut on The Real World: Portland. After a night filled with alcohol, he and his new roommate Nia Moore got into a heated argument after she poured cereal on his bed. Jordan put some of the Cheerios in his mouth and spit it in her face.
The two continued arguing, and he repeated the "n-word" multiple times as well as mocked his black roommate with monkey noises. The following day, Marlon Williams, one of their roommates, also Black, confronted Jordan over his offensive actions.
RELATED: 'The Challenge' Fans Want Jordan Wiseley Fired Next for Past Racially Insensitive Comments
But, the Oklahoma-native cut him off and insisted he was only drunk. The two ended up getting into a verbal altercation that almost turned physical and resulted in their pairing for competition spinoff series, The Challenge: Rivals II. They placed third, earning $7,500 each with Jordan taking home an extra $500 for a solo challenge he won.
The now 29-year-old has continued competing on the series, winning three more seasons, bringing his total earnings so far to $833,000.
Jordan Wiseley and Nia Moore talked about their experience
In June 2020, Jordan and his fiancé Tori Deal had the opportunity to present at the 7th annual Reality TV Awards. However, the ceremony cut the couple out due to fans asking for his removal because of his racially charged comments from The Real World.
Therefore, Jordan and Nia went on Instagram Live together to address what happened between them. She explained the two are currently good friends and have gotten past the "painful experience." The 30-year-old claimed she also did and said things to provoke Jordan that night and didn't attach his remarks to anything racial.
However, she let him "take the fall" when Marlon confronted him because they hadn't made up, and she was still angry at him. Additionally, she noted he used the "n-word" with an "a" not an "er" and only because she called him it first.
RELATED: 'The Challenge': Fans Are Slamming Jordan Wiseley for His Past Racist Remarks on 'The Real World'
Nia also pointed out that they were both coming from a "hurt place" when they argued and didn't believe Jordan made his remarks out of hate. She closed by telling the viewers that she and the three-time champ have "grown" from the experience.
Jordan called people retweeting the clips of his behavior "trolls" and said fans should instead focus on how everyone can also grow from it.
Tori Deal addresses racism allegations surrounding Jordan Wiseley
As fans expressed their opinions on the situation as they weren't pleased with the explanation and wanted an apology, Tori flooded the comment section with hearts, annoying many.
She then explained her "stance" on the situation in an Instagram story the following day, as she's previously dated Black men. The Are You the One? star started by saying she saw the clips of Jordan and Nia last year, and "it made me incredibly uncomfortable."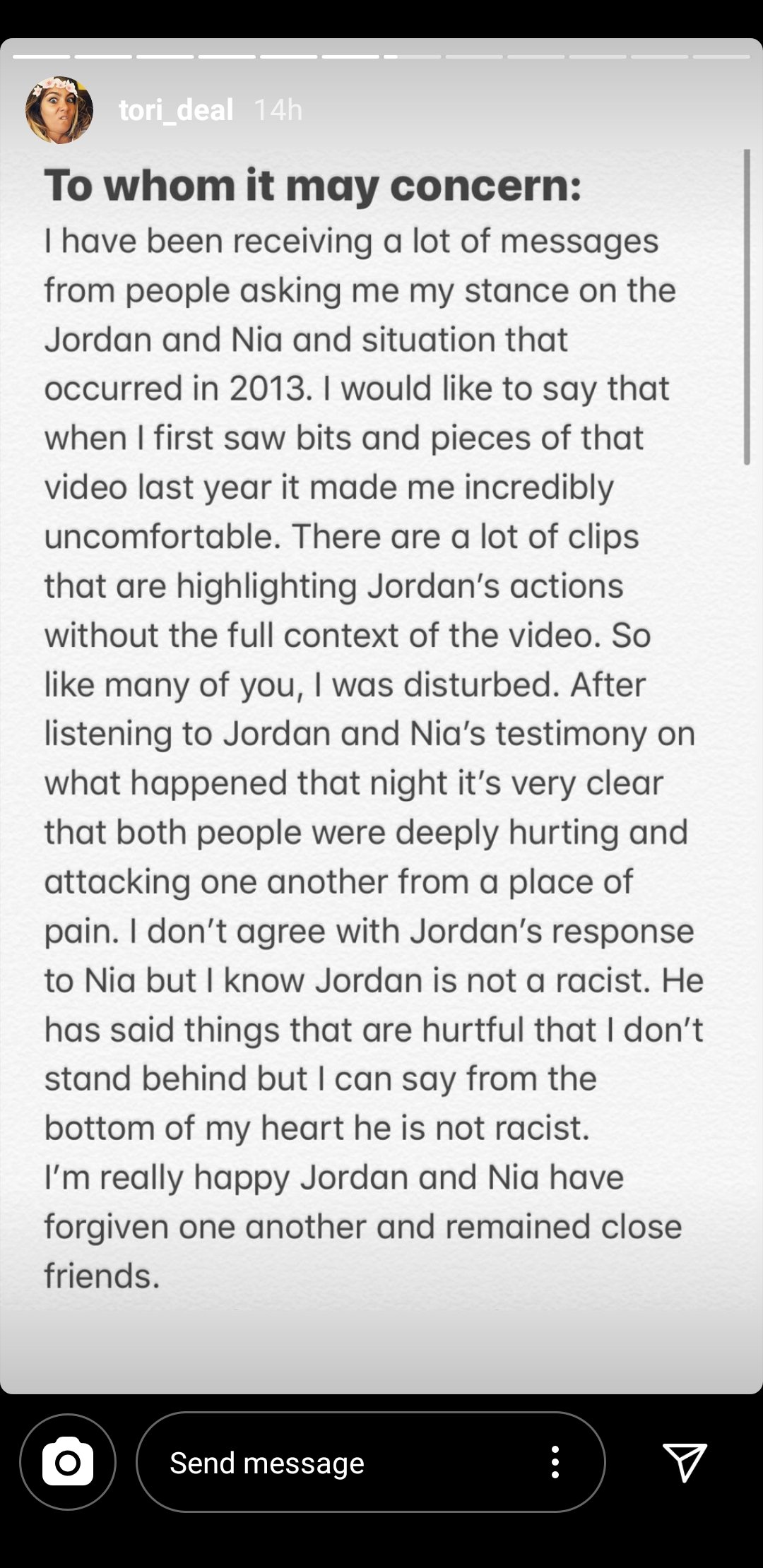 RELATED: 'The Challenge 35': Are Jordan Wiseley and Tori Deal Becoming the New Cara Maria Sorbello and Paulie Calafiore?
She also claimed she was "disturbed" after watching them "without the full context of the video." However, the AYTO star said she realized "that both people were deeply hurting and attacking one another from a place of pain."
Tori denounced Jordan's response and insisted she "doesn't stand behind" the "hurtful" things he said. However, "from the bottom of my heart," the MTV star knows he's not a racist. She continued, writing, "I hope you see the growth and transformation he has undergone since that situation occurred." However, she understands if people choose not to forgive him.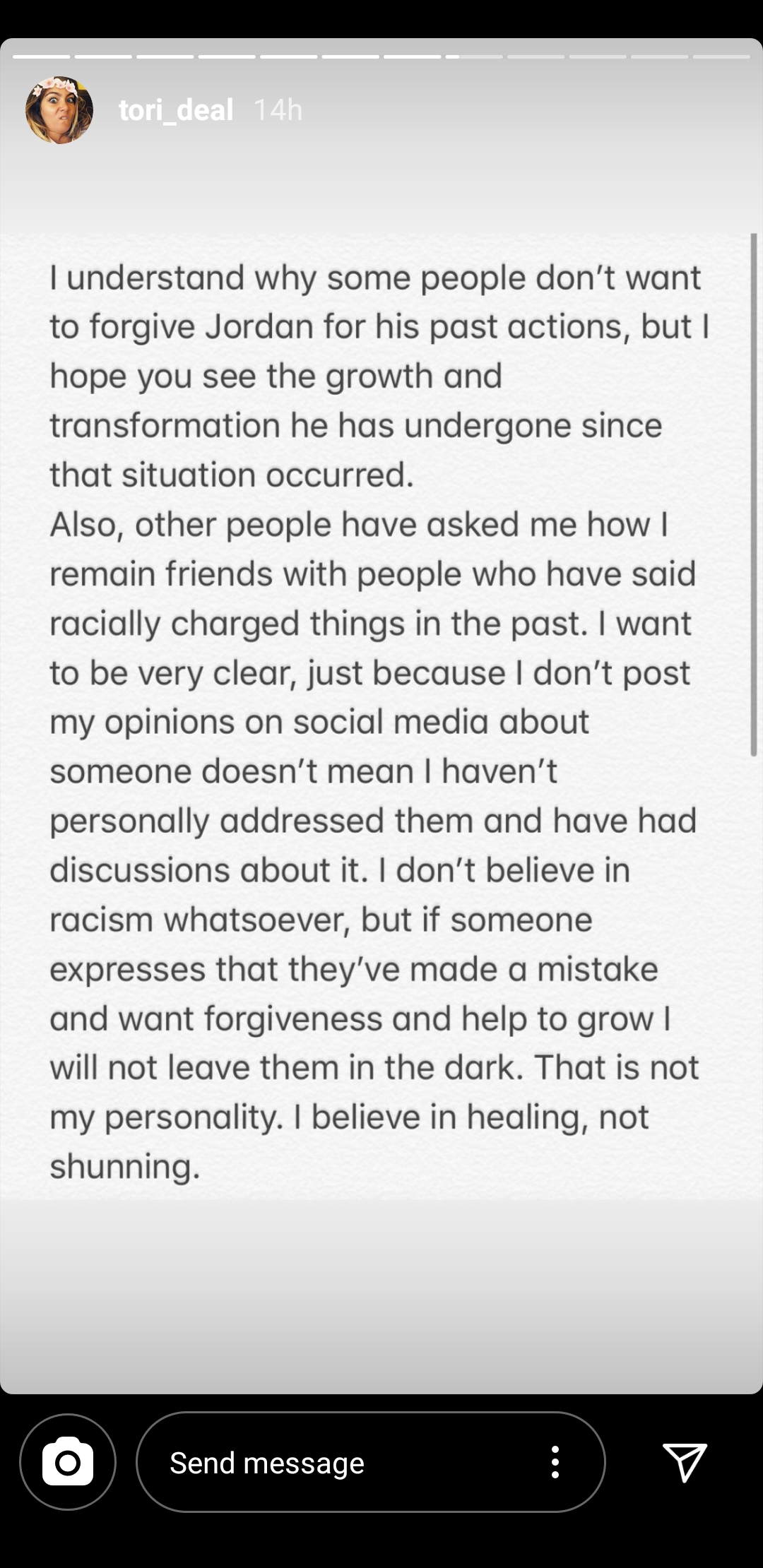 RELATED: 'The Challenge': Fans Are Calling Out Dee Nguyen for Hating On Jordan Wiseley and Tori Deal
The Challenge star also addressed why she's stayed friends with co-stars who have said "racially charged things in the past," and explained she's "personally addressed them." Additionally, Tori noted that if someone "wants forgiveness and help to grow" she "will not leave them in dark" as she "believes in healing, not shunning."
The AYTO star ended her statement by affirming her stance behind the Black Lives Matter movement and asking followers to forgive her fiancé, if they can "find it in our hearts."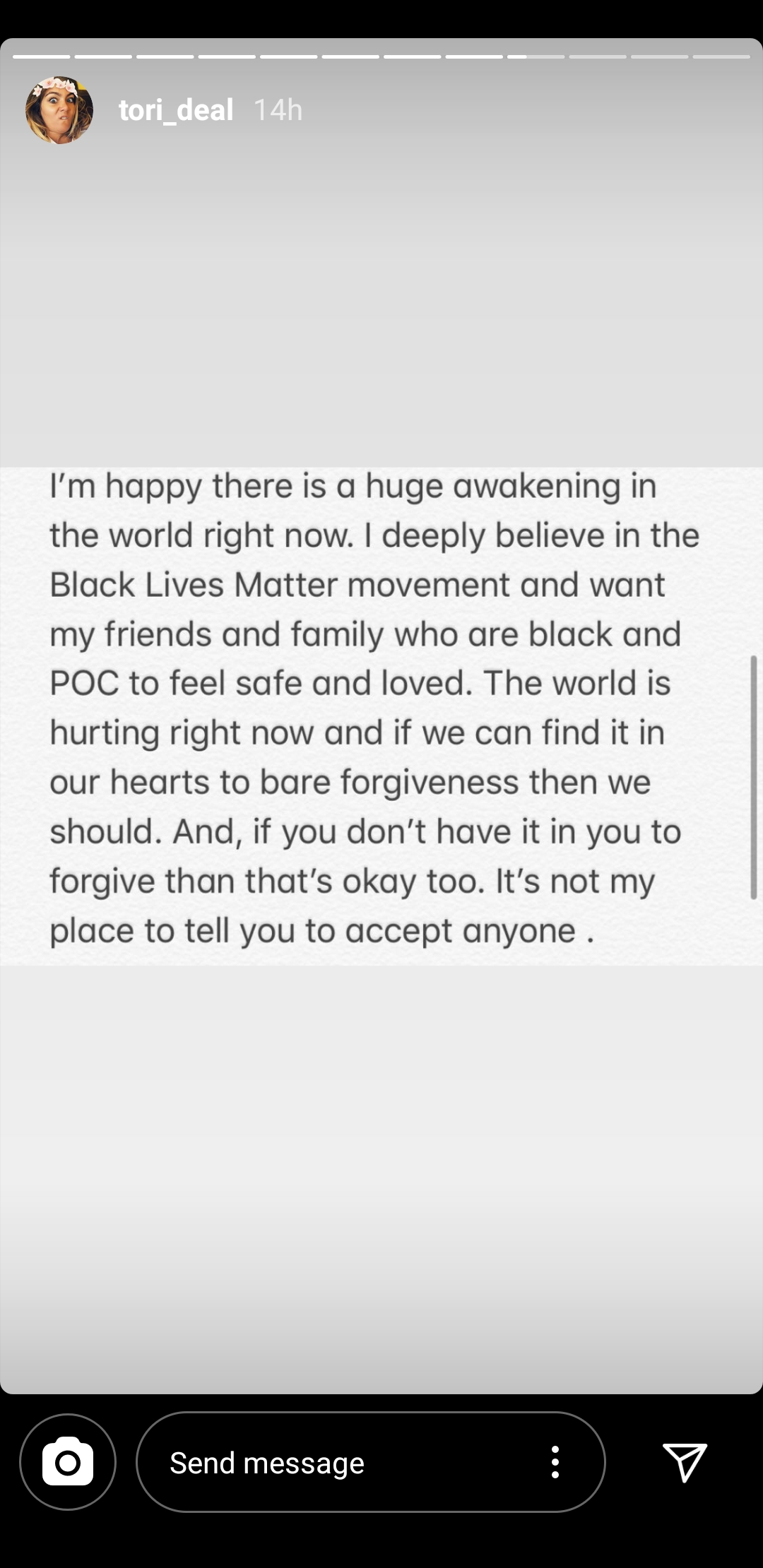 RELATED: 'The Challenge': Fans Think Tori Deal Is 'Insecure' in Her Relationship and Fears Jordan Wiseley Will Leave Her