The Christians Criticizing And Standing With Bachelorette Hannah Brown After 'Men Tell All'
Religion has been a central theme in Hannah Brown's season of 'The Bachelorette.'
Throughout her season, Hannah Brown's been a proud Christian. On her first night at the mansion, viewers watched her take a moment to pray for strength and peace. As the season went on, she repeatedly referred to herself as a woman of God.  

During Monday's "Men Tell All," Brown said that she felt Parker used their shared ideals as a way to control her.  

"I wanted a man of God that had those same values. But then that was almost weaponized against me. I was, at the end, threatened by the shared faith that we had. Unfortunately, the people that believe the same thing I do, do that a lot sometimes, using the same words and the same things that we believe to call out specific things and poke," she said.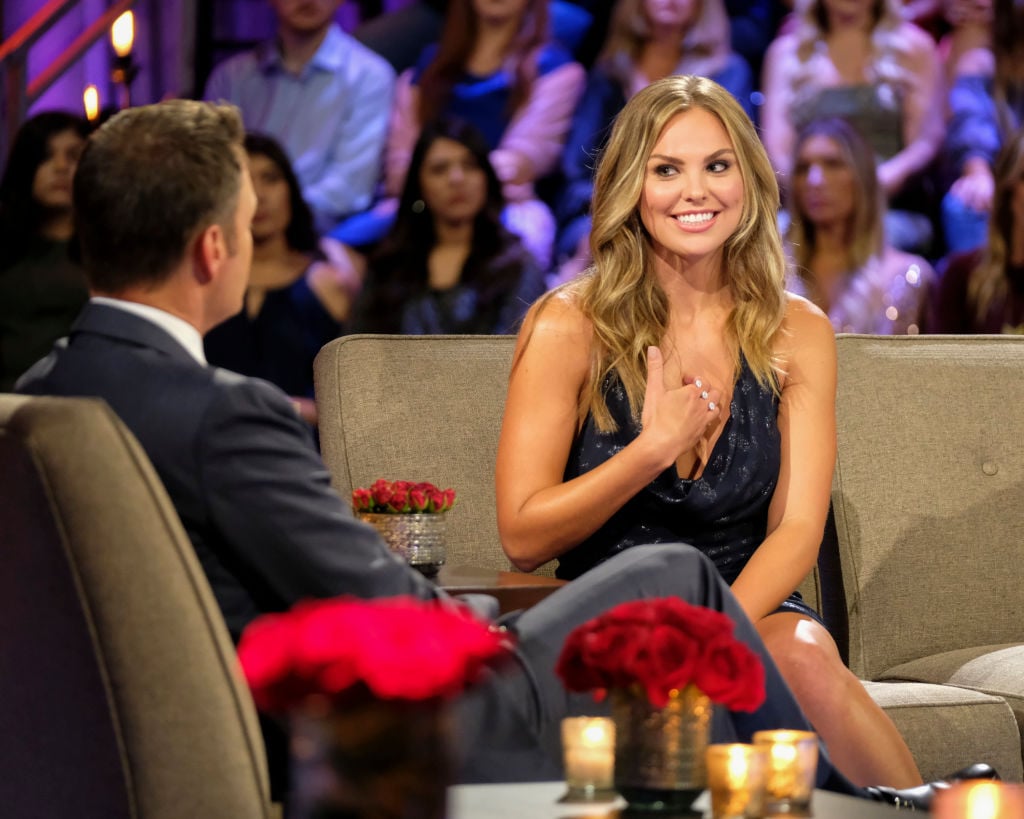 She went on to explain the difference in the Christianity she believes in and Parker's version of faith.  

"The basis of what I believe is love and loving others and understanding and not shaming. His love was contingent on if I did the things that he wanted me to do as he thought a wife should do, not an unconditional love," she said. 

Brown also spoke about how her sexuality doesn't make her any less of a woman of faith. 

"I'm so over being slut-shamed and feeling like that makes me not a woman of faith because oh my gosh, I live my life and make mistakes and sin every single day and so do you, and so do you, and so do you, and so do you. That's what grace is for. I'm also not gonna say that me having sex in a windmill was just like the scarlet letter on my chest. I'm not gonna stand here and feel that way. You're not gonna make me feel that way," she said.  

Christians are criticizing Hannah Brown after she stood up to Luke P. 

After the "Men Tell All" episode aired, several Parker fans and proclaimed Christians took to social sites to critique Brown. 

"So cruel to Luke P! Southern Baptist church doesn't teach that," writes one person on Twitter in response to Brown's post about 'clarity.'

"It's a shame the Southern Baptist Church isn't teaching ya'll Bible basics. Shameful!"

"Perhaps Roman 6:1-6 can give you some perspective."

"She continues to take God's grace for granted or is not a real "christian." It's one thing to slip and fall, it's another to DIVE IN and say: yeah, I did that & will do it over & over again."

"The worse episode ever. Talk about Christians in the Lions Den."

The women thanking Hannah Brown after 'Men Tell All'

But among the criticism are countless women (many of whom identify as Christians) coming to Brown's social pages to thank her for her strength. 

"You are  a strong woman! Idk why they keep referring to Christianity in this situation when he has to change his narcissistic behavior. Dated one and totally relate, takes a strong woman to move away from that situation! Keep being you," wrote one fan.  

"I am SO TIRED of "Christians" like @luke_parker777 giving us a bad name! I am so proud of you and EVEN PROUDER TO CALL YOU MY SISTER IN CHRIST!!! Jesus loves you and SO.DO.I!!!"

"Cheers to you!  Your showed how it's done to all the woman being captive in a destructive, physically, emotionally abusive relationship Hannah!"

"If my granddaughter went on The Bachelorette and behaved the way you did, I would be so proud of her! You are AWESOME!"

"I want every young woman to watch your monologue from tonight. You totally shifted the franchise to a healthy look at dismantling toxic masculinity and a healthy reaction to being shamed for your faith. I Stan!"

Read more: Bachelorette Hannah Brown Reveals The Sad Reason She Held On To Luke P. For So Long During 'Men Tell All'