'The Circle' Week 1 Roundup: Who Was Blocked, Power Rankings and More
The American version of the buzzy reality series, The Circle, has landed on Netflix and it is captivating viewers. The four episodes of the Big Brother-like show will drop on the streaming giant every week for three weeks. The first week saw two players go home and two more enter the competition.
Spoiler warning: This article contains spoilers for The Circle season 1 episodes 1-4.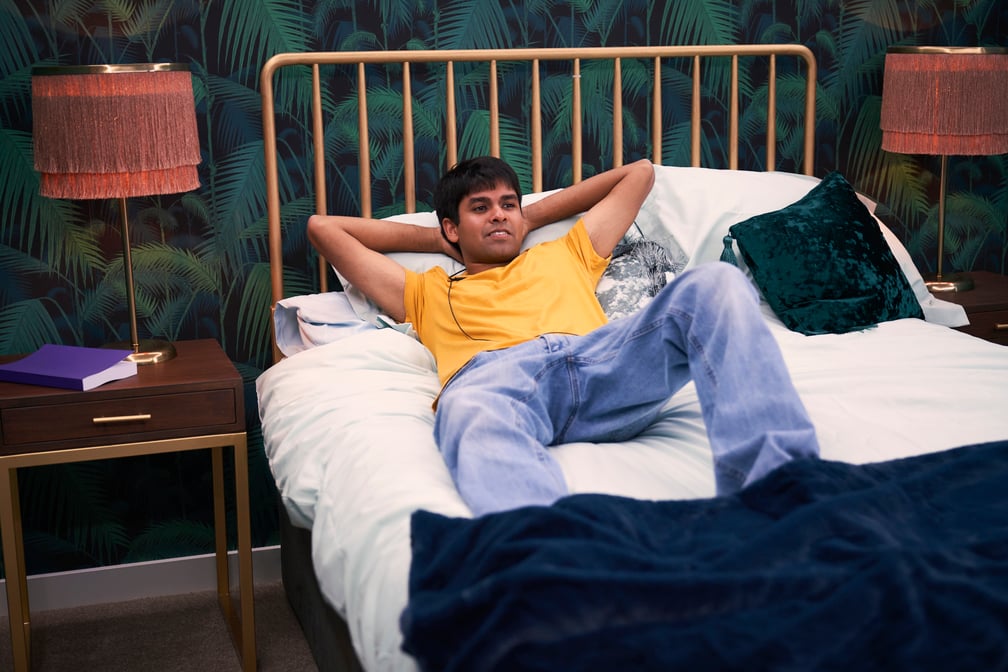 What happened during Week 1? Who was blocked and who were the influencers?
The first four episodes of The Circle were eventful. The first seven players entered the competition: Alana Duval, Antonio DePina, Chris Sapphire, Joey Sasso, Karyn Blanco (playing as Mercedeze), Sammie Cimarelli, Seaburn Williams (playing as Rebecca, his girlfriend), and Shubham Goel.
For the first two episodes, Sammie Cimarelli and Antonio DePína were the influencers. They chose Alana Duval as the first player to be blocked from the competition. Cimarelli and DePína dominated gameplay for their two episodes. Alliances were formed, mainly between the girls in the game and the guys in the game. A lot of duos were also formed, including Sapphire and Blanco and Williams and Goel.
For the second two episodes, Shubham Goel (who was ranked last in the first ranking) and Chris Sapphire were the influencers. They chose Antonio DePína to be the second player to be blocked from the competition. After being an influencers during the first two episodes, his power quickly dwindled after getting into heated conversations with both Sasso and Blanco. Goel, who was DePína's closest ally, also chose to not save him at the end. With DePína out of the competition, Goel's "bromance" with Sasso strengthened.
By the end of this week's new episodes, a new player, Miranda Bissonnette entered, and she developed strong relationships with Blanco and Sasso. She came in after Duval's departure. Another new player, Alex Lake, entered after DePína's departure and will be shown in the next week.
Week 3 Power Rankings
Not eligible yet: Sean Taylor
7. Joey Sasso
Sasso has several good relationships in the house, including with the top two players, Sapphire and Goel. However, both of them may not rank him as their top player, and he may be in the middle of the pack for most other players. Until her truly makes a mark, he is in danger.
6. Karyn Blanco (Mercedeze)
Though she's near the bottom of this week's ratings, Blanco is doing very well in the competition to be a catfish. Blanco, like fellow catfish Williams, struggled early on but she's now gelling as well. But Blanco rubbed a few folks the wrong way early in the game and people still have lingering feelings that Mercedeze is a catfish due to filters, which is why she comes in near the bottom of this list. But if her strong relationships with folks like Sapphire continue, she should be fine.
5. Sammie Cimarelli
After being a top performer at the beginning of the series, she hasn't quite rebounded from sending Duval home. Targets were immediately put on their backs and her co-influencer that ended up getting blocked the next time. However, she has a few strong relationships that can allow her to regain her footing in the game.
4. Miranda Bissonnette
Bissonnette has come into the game strong as a newbie. She's already got two very close allies and turned what would have been an enemy in Sammie to a friend as well. We'll really see how Bissonnette can perform in this competition once the latest ratings take place.
3. Seaburn Williams (Rebecca)
Out of the two catfishes, Williams is playing better than Blanco. After a mistake during the first episode that almost drew too much attention, he seems to have gelled into pretending to be Rebecca.
2. Shubham Goel
Goel is in a very good position in this game so far. After coming in last during the first rating, he has improved his social game incredibly and has no enemies in The Circle right now. If he continues to maintain a great degree of influence with new players on the block, he will likely make it far.
1. Chris Sapphire
Sapphire is in the best position in the game so far. Like Goel, he also has no enemies but his social game seems to be operating higher degree. He has strong relationships with both the girls and the guys and everyone feels like they can go to him and talk. Right now, it is his game to lose.