The Classic 'Abbey Road' Song That Featured Solos From All 4 Beatles — Even Ringo
While The Beatles didn't go into Abbey Road (1969) declaring it to be their final album, it certainly felt that way to the band members (and producer George Martin). In the previous year and a half, they'd had so many battles in the studio it was difficult to keep track of them.
If Ringo walking out on the band wasn't a giant red flag, then John Lennon and Paul McCartney's near-brawl had to be. Then there was the actual fight between John and George Harrison, as well as the fact the band's Grammy-winning engineer quit during The White Album (1968) sessions.
In short, no one could have been shocked when John told the other Beatles he was quitting a month after they completed Abbey Road. As far as the band's final statement went, the Fab Four had already made one with the medley on the second side of its last studio album.
After the well-orchestrated collection of song fragments, the band delivered "The End." On that track, you hear something incredibly rare: All four Beatles took a solo.
Ringo's lone drum solo came at the very end of the Beatles' run.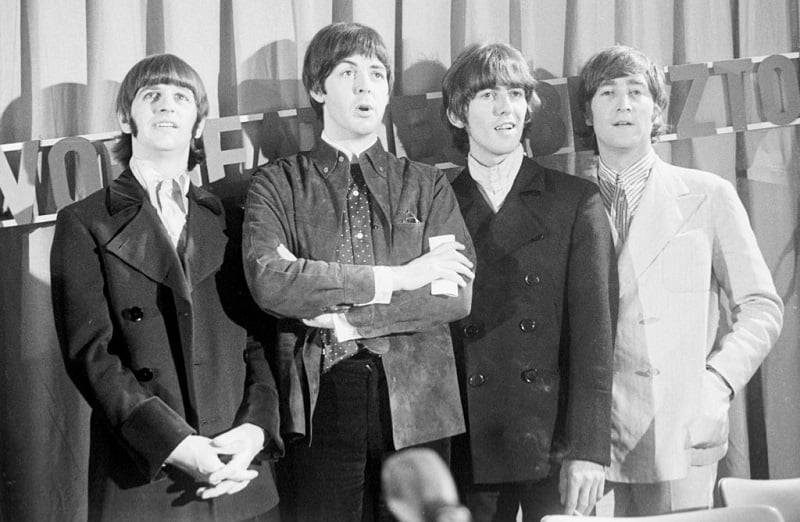 Behind the drums, Ringo was about the opposite of John Bonham, the force of nature who set the beat for Led Zeppelin. Whereas Bonham played furiously and was always ready to take an extended solo — which could last as long as 30 minutes live — Ringo shied away from the spotlight.
In fact, he never took a solo on a Beatles record prior to the band's final group track. "Solos have never interested me; I was opposed to it," Ringo said in Anthology. "'I don't want to do no bloody solo!' [But] George Martin convinced me. Anyway, I did it, and it's out of the way."
Geoff Emerick, who returned to engineer Abbey Road after the White Album debacle, recalled Ringo requiring a lot of convincing to play alone on "The End." Only after John, Paul, and George leaned on him did he agree to do a short solo.
Emerick described how it took some work to get the solo on record in his book, Here, There and Everywhere. "We had to do a lot of takes. The final solo he played was actually considerably longer than what eventually made it onto the album … I edited it down significantly, using only the best bits."
Paul, George, and John the played dueling guitar solos on 'The End.'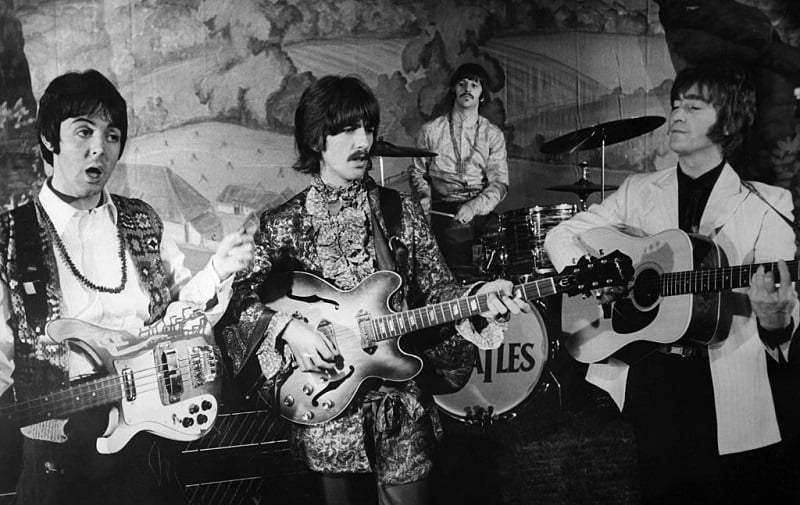 Once Ringo's brief solo is through on "The End," Beatles fans get a real treat: guitar solos from Paul, George, and John (in that order). According to Emerick, the idea came from John, who at first wanted to be the one taking the solo by himself.
But, since John was the least technically skilled at guitar of the three, Paul and George initially laughed it off. When John suggesting dueling guitar solos, Paul got excited and agreed. After some convincing, George did as well.
Since each Beatles guitarist played a different guitar and used different amps, Emerick didn't have to work too hard to get a unique sound for each one. He described how happy they seemed in that moment.
"John, Paul, and George looked like kids again, playing together for the sheer enjoyment of it," Emerick wrote. John sensed what a special moment it was for the three of them. When Yoko Ono started to enter the studio with him for the recording, he stopped her.
"Wait here, luv. I won't be a minute," Emerick recalled him saying to her. "It was almost as if he knew she would put a damper on things if she were in the studio with them."
Also see: The 'Outrageous' Beatles Song Paul McCartney Wrote in John Lennon's Style