The Classic Beatles Song George Harrison Wrote for Eric Clapton
If you want to know how close George Harrison and Eric Clapton were, start with George's first wife, Pattie Boyd. In 1966, Harrison married Boyd, a model he'd met on the set of Beatles film A Hard Day's Night two years earlier. By all accounts, they were very happily married in the early years.
But by the end of the '60s, Clapton had fallen madly in love with Boyd. Maybe George didn't notice it at first, because he asked Clapton to play the guitar solo on "While My Guitar Gently Weeps" in 1968.
Later, he couldn't help but notice. After George and Boyd split up in 1974, she began a relationship with Clapton and married him five years later. George remained friends with the two and attended their wedding. He even jokingly referred to himself as "the husband-in-law" on occasion.
Needless to say, the two had a friendship that was built to last. George even wrote a song for his pal that appeared on the Beatles' White Album.
George wrote 'Savoy Truffle' for Clapton because of his sweet tooth.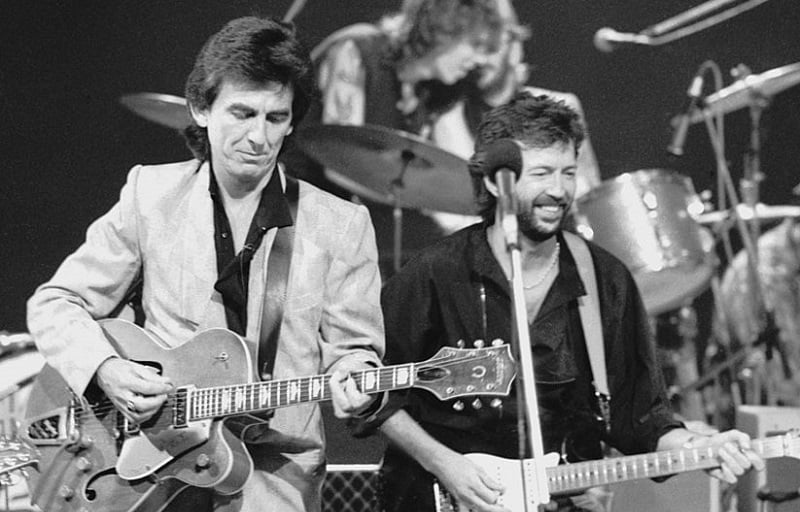 When White Album listeners come to "Savoy Truffle," they hear a rollicking organ part, horns, and George's tongue-in-cheek vocal about some exotic sweets. George calls out creme tangerine, montelimar, and
a ginger sling with pineapple heart before he gets out of the first verse.
From there, he sings about coconut fudge, apple tarts, and more. It certainly sounds like he's ready for dessert. However, despite all the "good news," he warns "you'll have to have them all pulled out." All the while, George was referring to Clapton's sweet tooth — and subsequent dental problems.
"Eric's got this real sweet tooth and he'd just had his mouth worked on," George said in 1977. "His dentist said he was through with candy. So as a tribute I wrote, 'You'll have to have them all pulled out after the Savoy Truffle.'"
Clearly, George was having fun with the idea, and his Savoy Truffle was some sort of ultimate treat. You can eat it, but you'll lose all your teeth afterward.
Clapton had a rough time giving up sweets. Hence George's needling.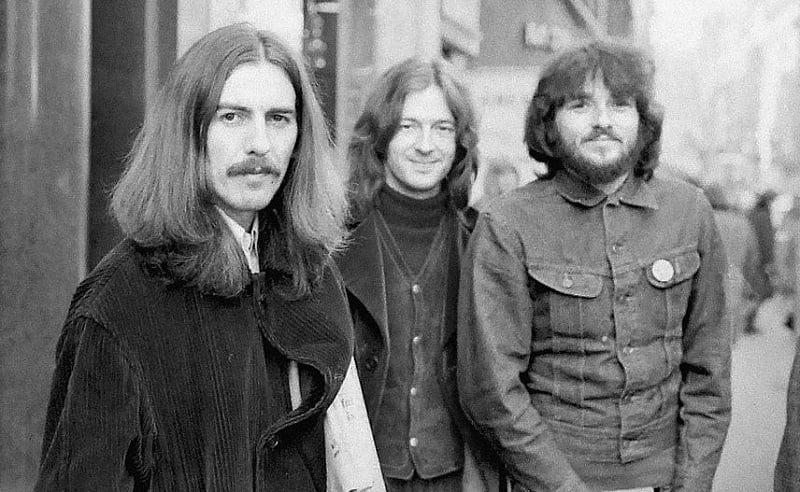 In a 1980 interview, George elaborated on Clapton's weakness for cakes, candies, and the like. "Eric always had a toothache but he ate a lot of chocolate," George said (via Beatles Interviews). "He couldn't resist them, and once he saw a box he had to eat them all."
As for the unusual names for some of the sweets, George didn't have to do much research. "Eric was over at my house, and I had a box of 'Good News' chocolates on the table and wrote the song from the names inside the lid."
Lyrically, George had another treat for Beatles listeners. In the fourth verse, he sings, "We all know 'Ob-La-Di, Bla-Da' / But can you show me, where you are?" That was a reference to the White Album song of (almost) the same name.
All in all, the song was a blast, unless you prefer to hear your brass section without distortion — or you're Eric Clapton and still had those toothaches.
Also see: The George Harrison Song The Beatles Thought Wasn't Good Enough for 'Sgt. Pepper'