The Classic Beatles Song George Harrison Wrote in Eric Clapton's Backyard
By 1968, Eric Clapton had become an important figure in the Beatles' orbit. During the White Album sessions, George Harrison felt close enough to Clapton that George asked him to play the guitar solo on his new song, "While My Guitar Gently Weeps."
And that wasn't the classic record's only connection to Clapton. In George's "Savoy Truffle," he was ribbing Clapton for his sweet tooth (and frequent need for dental work). In short, the two were well on their way to becoming great friends.
Eventually, that friendship would get tested when Clapton fell in love with George's wife Pattie. But in the early days they were simply two of rock's top lead guitarists who understood one another and liked playing together.
And their musical bond didn't stop at jam sessions. For the last Cream album (1969's Goodbye), George helped Clapton write "Badge." Later that same year, George wrote "Here Comes the Sun" on a visit to his pal.
George wrote the classic 'Abbey Track' while playing hooky from Apple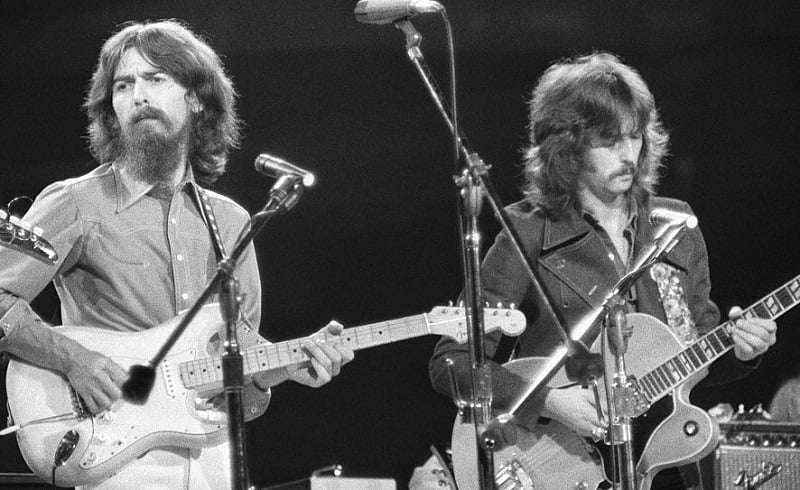 In the documentary Living in the Material World, Clapton fondly recalls the early days of his friendship with George. He speaks about George walking up to his house with a guitar already slung over his shoulder.
George clearly considered Clapton's house a refuge circa 1969. "'Here Comes The Sun' was written at the time when Apple was getting like school, where had to go and be businessmen: 'Sign this' and 'sign that, " he wrote in I Me Mine.
"One day I decided I was going to sag off Apple and I went over to Eric Clapton's house," George said. "The relief of not having to go and see all those dopey accountants was wonderful. I walked around the garden with one of Eric's acoustic guitars and wrote 'Here Comes The Sun.'"
As you probably guessed, it happened at the end of a "long, cold, lonely winter." That would place the writing sometime around May of '69. As George said, "It seems as if winter in England goes on forever. By the time spring comes you really deserve it."
Along with 'Something,' 'Here Comes the Sun' made George the equal of Lennon/McCartney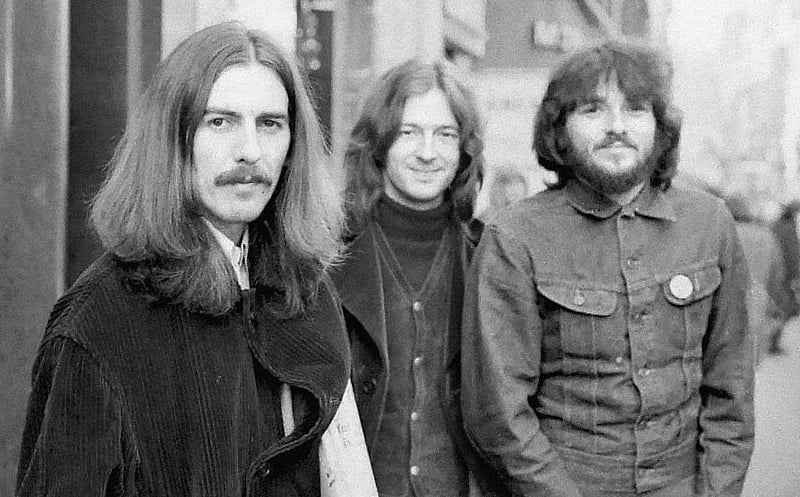 While George's growth as a songwriter took longer than that of Paul McCartney and John Lennon, no one could deny his ability by the late '60s. After peaking with his Indian compositions on "Within Without You," George took a leap forward with his White Album work.
By Abbey Road, you could argue he was the equal of John and Paul, both of whom marveled at George's latest work. John thought "Something" was the best song on Abbey Road, and Paul considered it the finest track George ever wrote.
"Here Comes the Sun" wasn't far behind. Even producer George Martin, who'd been critical of George's work on several occasions, praised the track. "I think there was a great deal of invention," Martin said.
"It was the first time George had really come through with a brilliant composition and musical ideas — the multiple odd rhythms that came through. They really became commercial for the first time on that one."
Also see: Why The Beatles Scrapped This George Harrison Song After 100 Takes