The Classic Beatles Song That Eric Clapton Played the Guitar Solo on
By 1968, George Harrison and Eric Clapton had become great friends. On the White Album released that year, listeners heard a track titled "Savoy Truffle." That tune, which references all sorts of candies and chocolates, was written by George about his friend Clapton's sweet tooth.
In those days, the pair of guitarists got along much better than George and Paul McCartney — or George and John Lennon. After years of playing a supporting role to the Lennon-McCartney machine, George had built up a great deal of resentment toward the pair.
The situation came to a head the following year when George temporarily quit the band. However, in mid-'68, he already harbored many of the feelings that would force his hand. At the top of the list, George couldn't stand the way Paul and John dismissed his songwriting efforts.
When he came up with "While My Guitar Gently Weeps" for the White Album, he tried something different. George asked Eric Clapton to play lead guitar on the track so John and Paul would give the song the attention it deserved. It worked.
Clapton agreed to play the solo on 'While My Guitar Gently Weeps.'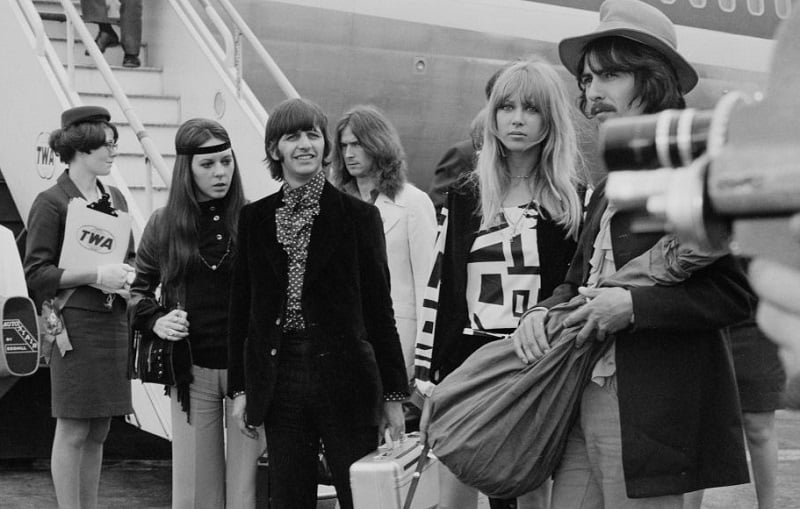 In Beatles Anthology, George recalled how he got his friend (who was one of rock's great guitarists at the time) to play lead on his song. He knew it would grab the attention of John and Paul in the studio.
"We tried to record it, but John and Paul were so used to just cranking out their tunes that it was very difficult at times to get serious and record one of mine," George said. "I went home thinking, 'Well, that's a shame,' because I knew the song was pretty good." But he soon found his solution.
"The next day I was driving into London with Eric and I said, 'What are you doing today? Why don't you come to the studio and play on this song for me?' He said, 'Oh no, I can't do that. Nobody's ever played on a Beatles record and the others wouldn't like it.'"
In fact, it was unheard-of for The Beatles to welcome another rock 'n' roller into the studio. However, George convinced Clapton to come in and play on the song. John and Paul didn't balk.
George loved how Clapton's presence changed the band's dynamic.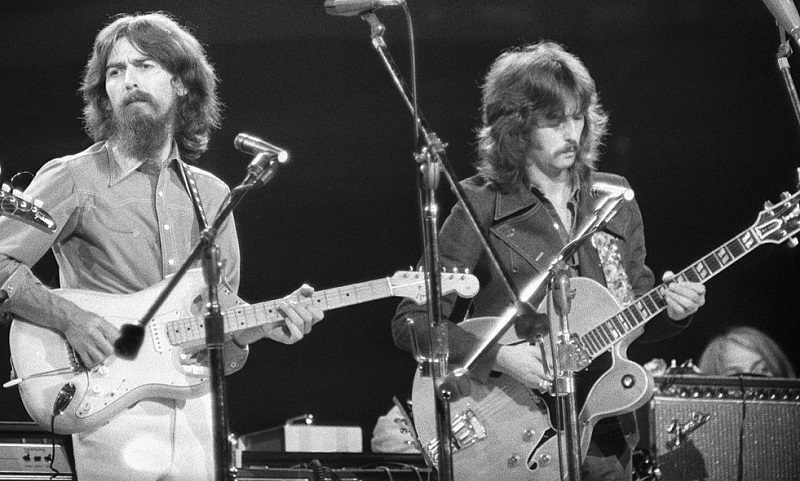 Having Clapton solo on your song will always offer a boost, and George definitely got great work from his friend on "While My Guitar Gently Weeps." But George also like how Clapton's presence that day in the studio changed how the band members interacted with one another.
"I said, 'Eric's going to play on this one,' and it was good because that then made everyone act better," he said. "It's interesting to see how nicely people behave when you bring a guest in — because they don't really want everybody to know that they're so bitchy."
Later, during the Let It Be session, George tried the same tack when he brought Billy Preston aboard. (Preston also improved the band's sound and overall dynamic.)
But he needed to test the waters first in 1968. By asking Clapton to join him and getting the results he did, it boosted George's confidence and led to him making his hit solo records in the coming years.
Also see: The Beatles Album George Harrison Called a 'Full-Fledged Pothead' Record