The Comment Prince Charles Made to Princess Diana on Their First Date Broke Her Heart
We know that Prince Charles and Princess Diana's marriage wasn't a very happy one. Well turns out, the months and weeks leading up to their wedding weren't so great either.
The pair only met 12 times before Charles popped the question and Diana accepted. But Diana declared that even before tying the knot, Charles wasn't Prince Charming and left her heartbroken after he criticized her just before their first official date.
RELATED: Princess Diana Convinced Prince Charles That She Was a 'Perfect Fit' for Royal Life, Biographer Claims
Prince Charles criticized Princess Diana's outfit before first date
In March 1981, Prince Charles and Diana went on their first public date as an engaged couple.
The event was a black-tie affair at Goldsmith's Hall in aid of the Royal Opera House development appeal. In her secret audio recordings to biographer Andrew Morton, Diana stated that she was excited to go and picked out what she thought was a nice appropriate dress. But when she got ready and showed her fiancé the black taffeta number, he didn't share her enthusiasm.
"I remember walking into my husband-to-be's study and him saying, 'You're not going in that dress, are you?!'" Diana didn't know what was wrong with it and wanted to wear it but Charles told her, "It's black! Only people in mourning wear black!"
Diana was almost in tears but stood her ground telling the prince, "Yes, but I'm not part of your family yet." She added, "Black, to me, was the smartest color you could possibly have at the age of 19. It was a real grown-up dress."
RELATED: The Real Reason Princess Diana's Wedding Dress Designers Made a Secret Gown She Never Knew About
Diana learned that Charles was still seeing Camilla before their wedding
Diana also revealed that she made a devastating discovery a few weeks before her wedding.
"I walked into this man's office one day and I said, 'Ooh, what's in that parcel?' And he said 'Oh, you shouldn't look at that,'" the princess recalled. "So I opened it and there was [a] bracelet…I was devastated, and I said 'Well, he's going to give it to her tonight."
According to Morton, that bracelet was engraved with the letters "G" and "F," which stood for Gladys and Fred–the nicknames Charles and Camilla had given one another.
Diana said that she confronted Charles about it and that led to a huge fight. However, she decided to stay with him and admitted she did so because she was "immature."
Diana turned heads in another black dress after they separated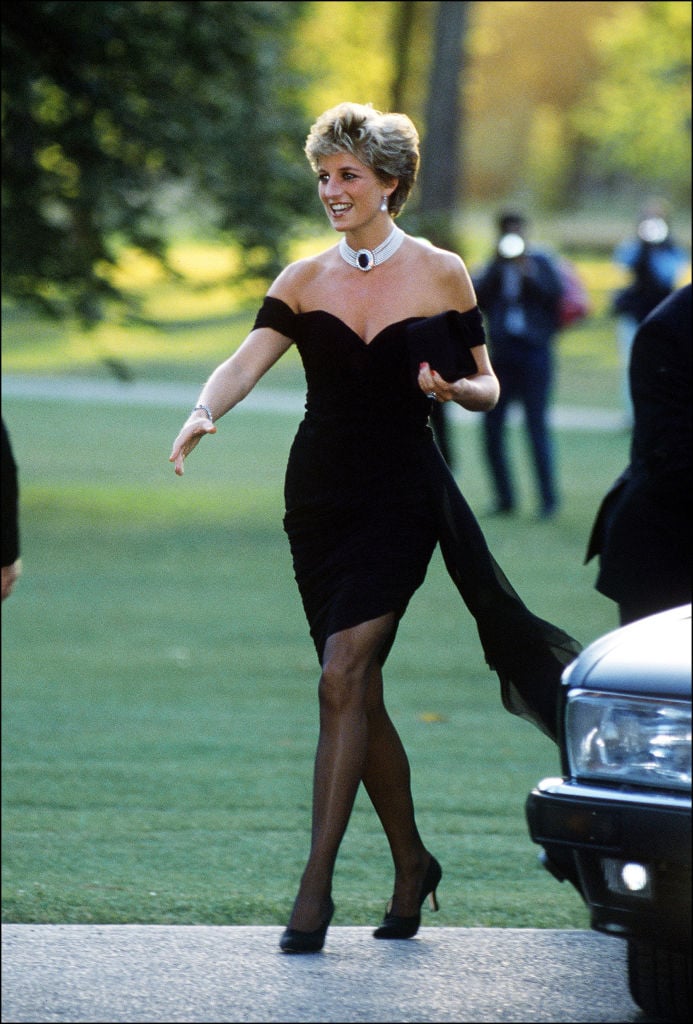 Years after Charles criticized Diana's black gown, the princess made a statement in another black dress that is now known as "the revenge dress."
The year was 1994 and Diana was attending a Vanity Fair party the same day Charles went on national TV and told broadcaster Jonathan Dimbleby that he cheated on her.
That night for the party, when she knew all eyes would be on her, Diana chose to wear a sexy little black dress by Christina Stambolian.
"While some would have been like, 'I can't face it this evening,' Diana went out in that dress looking drop dead gorgeous," Kerry Taylor, an employee at the auction house that sold the dress said via Women's Magazine. "She made a big statement right there."
RELATED: The Clever Trick Princess Diana Always Used To Avoid Having A Wardrobe Malfunction