'The Crown': Emmy Frontrunner Emma Corrin Admits She Is Happy To Hand Over the Role of Princess Diana for Season 5
The Crown had another great season and is therefore being recognized once again at the Emmys. This year, Emma Corrin is nominated, and she revealed how she really feels about someone else taking on the role of Princess Diana.
Emma Corrin is Emmy nominated for playing Princess Diana on 'The Crown'
RELATED: 'The Crown': Emma Corrin Says It Took 10 People To Help Dress Her in a Replica of Princess Diana's Wedding Dress
The Crown fans finally got to see Princess Diana's entrance into the Netflix show last season. Corrin played the very young Diana, who quickly got married to Prince Charles. After that, their marriage quickly takes a turn for the worse.
Corrin is nominated for Drama Actress at the Emmy Awards. She is up against Uzo Aduba for In Treatment, Olivia Colman for The Crown, Elisabeth Moss for The Handmaid's Tale, Mj Rodriguez for Pose, and Jurnee Smollett for Lovecraft Country.
This is a great send-off for Colman and Corrin because their characters are being recast. So Elizabeth Debicki will be playing Princess Diana, and Imelda Staunton is taking on Queen Elizabeth.
Emmy frontrunner Emma Corrin admits she is happy to hand over the role of Princess Diana
RELATED: 'The Crown': Emma Corrin Shares the Part of Playing Princess Diana That's 'Not Conducive To Good Work'
Actors can get very attached to their roles, so it can be heartbreaking for them to have someone less take it. But it sounds like Corrin is happy to pass the baton to Debicki.
"I feel so happy to have done the arc of her life that I did, but for me it feels like a very closed chapter," Corrin told The New York Times. "I went into it knowing I wouldn't continue."
The pictures of season 5's Diana and Charles have been released. So the reactions are starting including Corrin's.
"I saw the picture of Elizabeth [Debicki], and I just think she looks absolutely brilliant," the actor continued. "And then there were our photos side by side, and I felt really special — almost like a sort of sister feeling that there's this continued likeness."
She also hasn't given Debicki any tips on how to play the royal. But Corrin is open to talking to Debicki if she asks for any tips. "She knows I'm here," the nominee said.
The actor is moving on to movies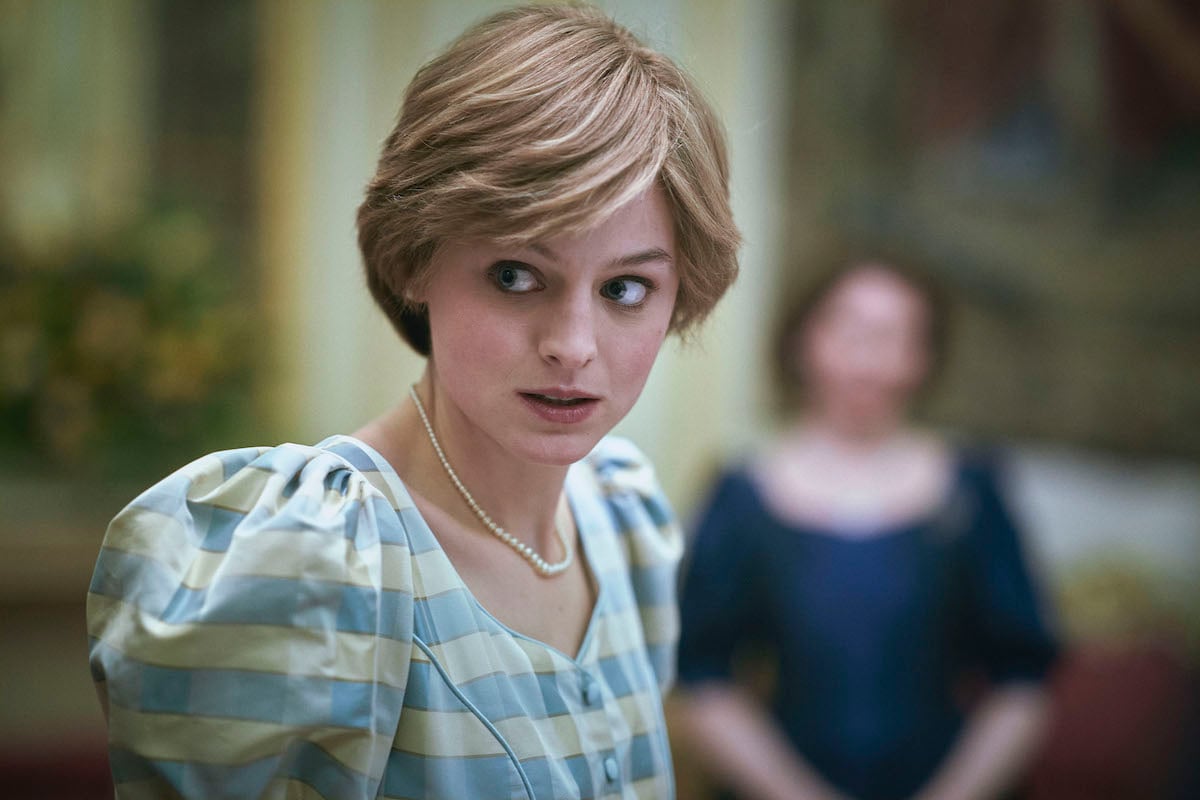 RELATED: 'The Crown': Prince Harry and Meghan Markle Admit They Have Watched the Show
Corrin is going back to making movies. She plays Marion Taylor in the drama called My Policeman. The description of the movie on IMDb reads, "The arrival of Patrick into Marion and Tom's home, triggers the exploration of seismic events from 40 years previous."
The actor is also filming for a movie called Lady Chatterley's Lover. It is an adaptation of a novel by D.H. Lawrence. If Corrin does win the Emmy for the role, she will join Claire Foy and John Lithgow as Emmy winners for The Crown.