'The Crown' Star Emma Corrin Says Princess Diana Was a 'Theme' in Her Life Long Before She Was Cast as the Princess of Wales
The 2021 Primetime Emmy Awards were filled with a few surprises during the broadcast. One of the biggest shockers was The Crown star Emma Corrin losing the Lead Actress Drama trophy. Corrin was the favorite to win the coveted award because of her portrayal of Princess Diana. Her performance as the late princess received praises from fans and TV critics. It's no surprise because Princess Diana was a constant theme in Corrin's life before The Crown.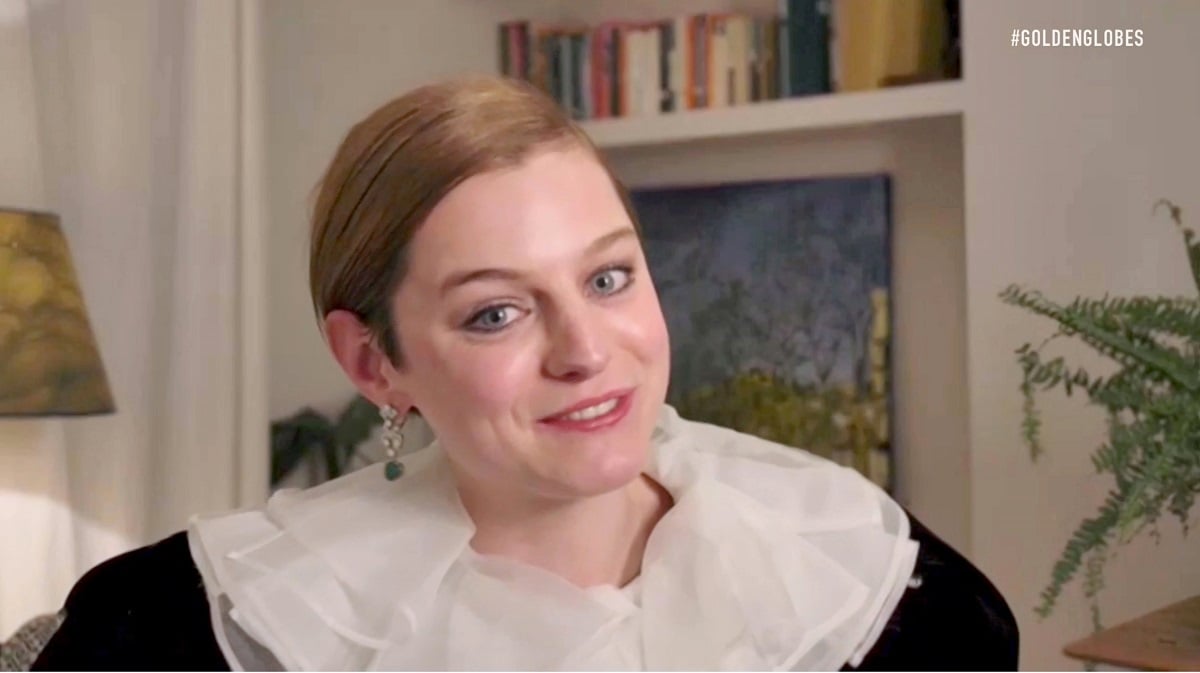 Princess Diana was a theme in Emma Corrin's life long before 'The Crown'
Princess Diana was beloved by millions of people, and she impacted many lives, including Corrin's. During a chat with Interview Magazine in November 2020, Corrin revealed her mother's striking resemblance to Princess Diana had people mistaking her for the royal figure. According to Corrin, one of those moments occurred hours after Diana's death when Corrin and her mother entered a cafe, causing customers to do a double-take.
"I hesitate to tell that story because it almost sounds too insane to be true. There's this theme throughout my life of Diana cropping up. It doesn't feel ordinary," the actor explained. The theme of Diana would continue in Corrin's early childhood. According to BuzzFeed, like Diana, Corrin also attended an all-girls boarding school. In 2011, Corrin was one of the spectators standing outside Buckingham Palace celebrating the wedding of Prince William and Catherine, Duchess of Cambridge.
Emma Corrin prepared vigorously for 'The Crown' audtion
In 2018, Corrin received the opportunity that would catapult her into stardom. When The Crown producers were casting for the role of Camilla Parker Bowles, Corrin was hired to read lines as Diana. Although she was told it wasn't an audition, that didn't stop Corrin from vigorously preparing for the part.
According to Interview Magazine, Corrin worked with her speech therapist mother and watched Diana: In Her Own Words. "There were things I tried to emulate, like Diana's head tilt and her voice," Corrin explained. Corrin's dedication to perfecting Diana's mannerisms impressed the producers. Six months later, Corrin returned for a chemistry read with The Crown co-star Josh O'Connor, who plays Diana's ex-husband, Prince Charles. Following the chemistry read, Corrin was offered the role of Diana.
Emma Corrin received critical acclaim for 'The Crown'
Corrin had big shoes to fill playing the beloved princess, but she won over The Crown fans with her performance. Aside from the love from viewers, Corrin also felt adoration from TV critics. Earlier this year, Corrin won a Golden Globe for Best Actress in a Drama.
Corrin was the top contender to take home the Lead Actress Emmy. However, she lost the award to her The Crown co-star Olivia Colman, who portrays Queen Elizabeth II. Corrin's loss and Colman's victory sparked mixed reactions from fans. In a Twitter, thread viewers discussed the events from the Emmy broadcast. "I wish Emma Corrin and Olivia Colman shared the Best Lead Actress Drama, " wrote one user. Meanwhile, another commenter chimed in with, "Would've liked Emma Corrin to have taken the Emmy, though."
Although Corrin didn't win the big award, she walked away with a bigger fan base. Thanks to her portrayal of Princess Diana, she'll undoubtedly be catching the eye of more producers and directors. The sky's the limit for this rising young star.