'The Crown': The Truth About The Love Triangles Between Prince Charles, Camilla Parker Bowles, Princess Anne, and Andrew Parker Bowles
The Crown Season 3 has arrived, and the series is spilling all of the British Royal Family's long-forgotten salacious tea. We all know about the sordid affair between Prince Charles and Duchess Camilla Parker Bowles. However, many of us had no idea that Parker Bowles' first husband, Andrew Parker Bowles, also dated Prince Charles' younger sister — Princess Anne. 
In a Season 3 episode of The Crown entitled "Imbroglio" — we learn that Prince Charles and Camilla Parker Bowles — had a much more complicated romance than we could have ever imagined.
A great deal of what The Crown depicts is exceptionally accurate. However, according to royal biographer Sally Bedell Smith —there are some sensationalized bits in the Netflix show's recounting of this twisted love triangle. 
Prince Charles and Camilla Parker Bowles' romance did overlap with the duchess' romance with Andrew Parker Bowles
When Prince Charles and Camilla Parker Bowles first began dating in the 1970s — Parker Bowles was in a five year long, on-again-off-again relationship with Andrew Parker Bowles. Parker Bowles was a naval officer, and he seemed reluctant to commit.
In contrast, Prince Charles was immediately smitten with the now-duchess. Unfortunately, she was not seen as a good match for the future Crowned King because she was more worldly and virginal. Parker Bowles' father and brother stepped in, telling the naval officer that he needed to commit by publishing an engagement announcement in the newspaper and forcing him to propose. Andrew and Camilla Parker Bowles' marriage left Prince Charles heartbroken.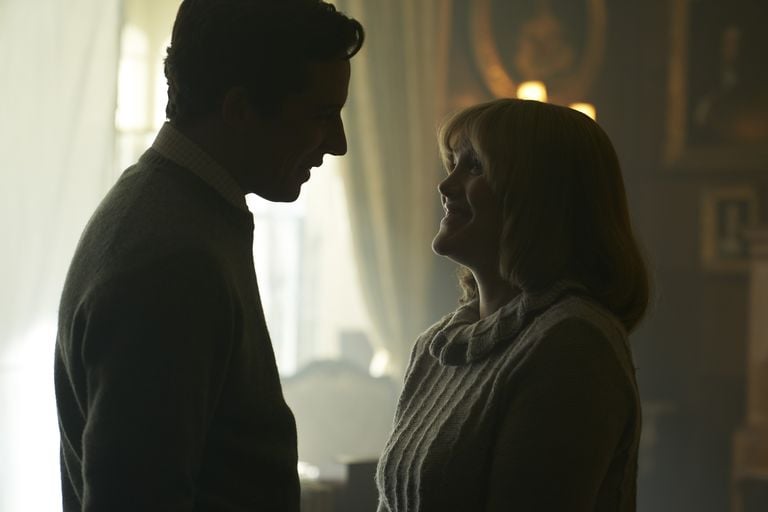 Princess Anne and Camilla Parker Bowles' relationships with Andrew Parker Bowles Never overlapped
Despite the overlap in The Crown —Smith explains that it's not 100% accurate. She revealed, "Anne and Andrew started dating in June 1970. Anne and Andrew enjoyed each other's company but they could never marry because he was a Catholic."
Meanwhile, Prince Charles and the duchess didn't strike up a romance until two years later. In  Prince Charles: The Passions and Paradoxes of an Improbable Life, — Smith explained, 
Charles did not meet Camilla until the summer of 1972—long after Andrew and Anne's romance was over. They were introduced by mutual friend Lucia Santa Cruz, who told me about inviting them over for a drink at her flat in London. Prince Charles also told Jonathan Dimbleby that Lucia introduced them in 1972. Charles fell madly in love with Camilla but, to her, it was a fling—he was the Prince of Wales. Meanwhile, Andrew was off in Ireland and Cyprus for six months.
There was never a secret sit down meeting with Queen Elizabeth
In The Crown –there is a secretive meeting between Queen Elizabeth, Prince Philip, the Queen Mother, and Princess Anne to emulate the "Camilla problem." However, Smith insists that never actually happened. She explained,
Interfering like that is something the queen would never do. It was highly unlikely that she even knew about Charles and Camilla. It was generally known that Camilla was in love with Andrew Parker Bowles and wanted to marry him. But no one took the romance between Charles and Camilla seriously. They were sort of under the radar. The only one who really knew about it was [Charles's uncle] Lord Mountbatten, and he promoted it. He invited them to Broadlands together. But the idea that the queen and Queen Mother would conspire like that is laughable.
The royals have had their share of scandals and love affairs but things weren't quite as eye-brow raising as The Crown suggests.