The 'Dance Moms' Cast Are Making Fun of Themselves on TikTok and Fans Are Living For It
The stars of Lifetime's Dance Moms are unsurprisingly big on TikTok. The girls from the show — now young women — like Maddie and Mackenzie Ziegler, Brooke and Paige Hyland, Nia Sioux, Kendall Vertes, and JoJo Siwa do their fair share of TikTok dances on the app, of course. But they've also tapped into the Dance Moms meta-universe, making fun of their own quotes — and their mothers' quotes — from the series. Several moments from the reality show became memes within the Dance Moms fandom — and for those fans, it's refreshing (and hilarious) to see how the former stars of the show are able to poke fun at themselves.
'Dance Mom's cast member Brooke Hyland makes her mom Kelly Hyland into a meme on TikTok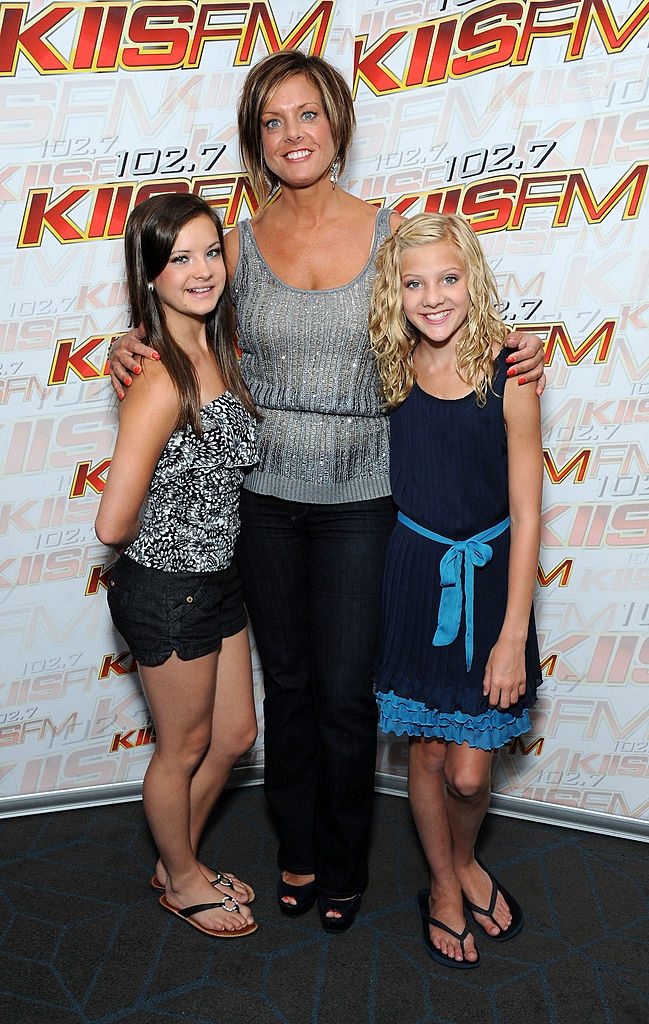 As an example of one of the Dance Moms TikTok videos, Brooke Hyland filmed her mother, Kelly Hyland lipsyncing to her own lines from the Lifetime series.
"I sit here all day making costumes for you while you're down the road eating!" we see the dance mom telling the camera. (On the show, Hyland said this to Abby Lee Miller). "Stop eating, that's why you're fat."
Brooke Hyland also used an audio clip that took the beat of Megan Thee Stallion's "Savage" (probably the biggest song on TikTok of the summer), and dubbed over some of Kelly Hyland's infamous Dance Moms lines. In this TikTok, Brooke lip-synced the words herself, using quotes like: "Well, I'm getting a boob job," followed by, "I don't think anybody has loved Abby back," and finally, a pull from Kelly Hyland's infamous Dance Moms fight: "get your finger out of my face."
RELATED: 'Dance Moms': Where Are The Original Cast Members Today?
'Dance Moms' fans comment their favorite quote from the Lifetime series under Nia Sioux's video
Sioux also used audio that another creator developed — a mash-up of some of her mother, Dr. Holly Hatcher-Frazier's, best lines from Dance Moms. The former Dance Moms star danced along to her mom's old audio clips, in very TikTok fashion.
"Shut your mouth," the audio of Dr. Hatcher-Frazier starts. Sioux grooves along to the words.
"There's no one else on the team!" we hear in another clip — a classic Dance Mom Holly throwback line. (This was the episode in which Miller gave Sioux a solo — which she pretty much got by default). "Empty chair, do a solo!"
Sioux encouraged her followers to "comment your favorite" quote from Dance Moms.
Vivi-Anne Stein's season 1 line was a top choice: "I cut my finger on my mom's ring. I hope I can still dance." Another Dr. Holly line was also a favorite in the comments: "You're entitled to your wrong opinion."
Nia Sioux and Kenzie Ziegler apparently planned to make a YouTube channel together called 'Celeb Secrets'
Sioux also jumped on a different TikTok trend from a few weeks ago — in which creators found the first video on their phone and posted it, no matter what it was.
In Sioux's case, it was a years-old clip from the early days at the Abby Lee Dance Company. She and Kenzie Ziegler are sitting in the dance studio, introducing themselves. The two girls both say the name of their would-be YouTube channel, which sadly never became a thing: "Celeb Secrets."
"This is our first video," the young Ziegler says in the adorable throwback clip.
Tagging Ziegler, Sioux captioned the video: "we literally were gonna make a YouTube channel called celeb secrets."
"Oh my god," Ziegler responded in the comments.
Jill Vertes recreates her 'my little Kendall' line in TikTok video
Vertes jumped in on the Dance Moms throwbacks, as well. Clearly, fans were begging for audio of her mother, Jill Vertes's most famous line.
In a TikTok video from March 2020, Vertes delivered, captioning the clip, "here you go."
"This is a perfect opportunity for my little Kendall," Jill says into the camera while Kendall laughs. Several commenters wrote that their dream had "come true" and that they'd been waiting for this TikTok.
While the Vertes mother-daughter team was arguably one of the most made-fun-of pairs on Dance Moms, it's nice to see that they can both take a joke — and make a hilarious throwback video.
Kenzie Ziegler did her part on TikTok by dueting fellow Dance Moms co-star JoJo Siwa, lip-syncing over her own lines. In the old clip, Ziegler defends her tap skills to Siwa after she laughs at the idea of Ziegler doing a tap solo.
"I'm really advanced," the young Ziegler tells Siwa. "I'm a tapper."
"I was such a brat," Ziegler wrote in the caption.
In another TikTok, Ziegler brought out one of the most famous dance moms from the Lifetime show: Melissa Ziegler.
"She wanted to be in it," the caption reads, over the video of Kenzie successfully hitting all the moves of a TikTok dance and her mom struggling to keep up. While 2.5 million views, the comments were incredibly supportive, many noting that Melissa Ziegler had somehow not aged a day since her time on Dance Moms.
JoJo Siwa makes fun of her famous 'Dance Moms' quote on TikTok
The most famous girl to come out of Dance Moms, JoJo Siwa, also got in on the TikTok fun earlier this year when she recreated her own legendary Dance Moms moment.
RELATED: JoJo Siwa and Her Mom Recreated Their Most Iconic 'Dance Moms' Scene
In the scene from an Abby Lee Miller pyramid (in which the dance teacher ranks the girls based on their performance the previous week), Miller gets into it with Siwa's mother. As Miller tends to do, she starts yelling, and Siwa tears up. Then the choreographer begins to criticize young Siwa for crying.
"Well, if you yell at me, I'm gonna cry," Siwa responds. In her Instagram post (a re-post of the TikTok video), Siwa calls it "the most iconic thing I've ever said."