'The Dark Knight': Heath Ledger Did His Own Makeup For His Joker Costume
Heath Ledger delivered one of the most memorable film performances in recent history when he played the Joker in 2008's The Dark Knight. The now-deceased actor pushed himself to his creative limits within the role, undergoing a complete transformation that impressed both critics and viewers alike. 
Ledger was very involved in the development of the Joker character and took many liberties that the crew was not expecting. One of the most impressive things he did was handling the character's makeup without the assistance of the film's makeup department.
Because Ledger opted to take this route with his character's appearance, he was able to give the Joker a more realistic look.
Heath Ledger applied the Joker's makeup by himself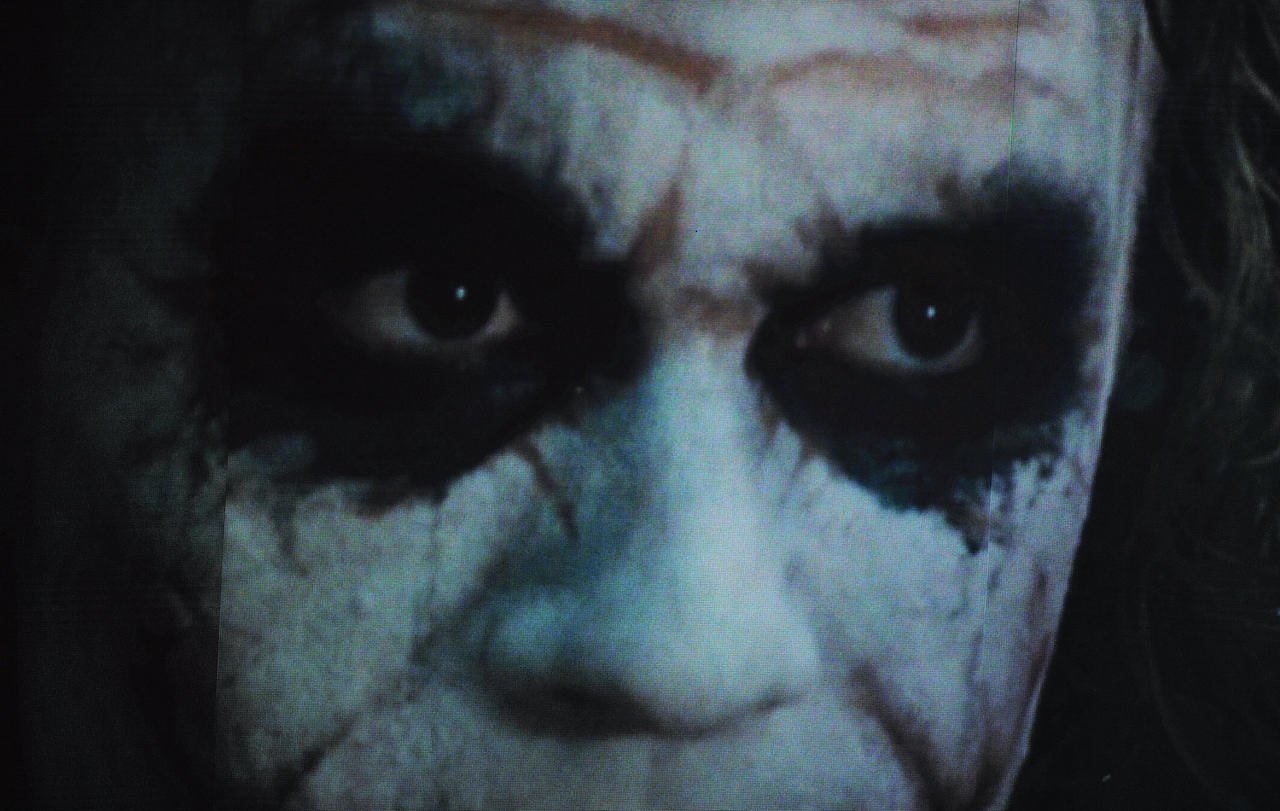 RELATED: Heath Ledger Improvised the Joker's Infamous Sarcastic Clap in Jail in 'The Dark Knight'
Director Christopher Nolan detailed Ledger's creative process during a recent interview on the Warner Brothers YouTube page.
"One thing Heath wanted to do was to apply makeup himself," Nolan said. "As an actor he said, 'Ok, this character would put his own makeup on in real-life, so what would that look like if I just got the makeup."
Because Ledger opted for a more personal touch with the Joker's makeup, this allowed him to achieve a more organic appearance on the big screen.
"The thing that stuck from that was that he always had makeup on his fingers and under his fingernails, and everything else he would have was from putting it on just with his hands," Nolan said.
He had a hands-on approach for developing the Joker character
After Ledger applied his makeup, he then did a series of screen tests so the crew could get a better idea of how the look would translate on screen.
"During the hair and makeup tests, we let him perform," Nolan said. "We let him talk, we let him walk around. We didn't record any sound, but we let him inhabit the character and use it as a bit of a test … to just sort of do it and use it in front of a few people and start to feel what that would be and move around."
Next, they added some of the essential Joker props, which included real knives. As Ledger began to experiment more with the character, the team started to visualize the finalized product.
"We had some props there, we had different knives and things for him to pick up and start moving with and seeing how that would work," Nolan said. "It was a really amazing experience to be a part of, to see him developing something in that way."
Heath Ledger gave his all with the Joker role
After The Dark Knight's release, critics, fans, and filmmakers alike were impressed by Ledger's performance. Director Guillermo Del Toro doesn't think his performance will be forgotten any time soon.
"It really is a performance that is done with no safety net," Del Toro said. "He really just goes for broke, and those are the performances that endure."
Ledger earned a posthumous Academy Award for his unforgettable performance in The Dark Knight.