The Devil You Know: Who is 'Sabrina' Actor Luke Cook?
The evolutionary sophistication of The Archie Comics universe going into darker territory has continued, now in the streaming universe.
When Chilling Adventures of Sabrina began on Netflix in 2018, it took the famous half-witch/half-mortal Sabrina Spellman character and spun her into the underworld. It also gave the talented Kiernan Shipka (from Mad Men) a starring vehicle.
While it's become successful, casting all the devilish characters Sabrina has to contend with became a real casting challenge. What makes the show unique is the ability to balance characters from Sabrina's earthly/normal life with those literally from the pits of Hell.
In Part 3 of the series, Sabrina's own father, Lucifer Morningstar, finally makes another appearance. He's played this time by Luke Cook, an actor who seemed to relish the role after Lucifer was seen in a different guise during the first season.
Cook playing Lucifer Morningstar is the biggest role of his career so far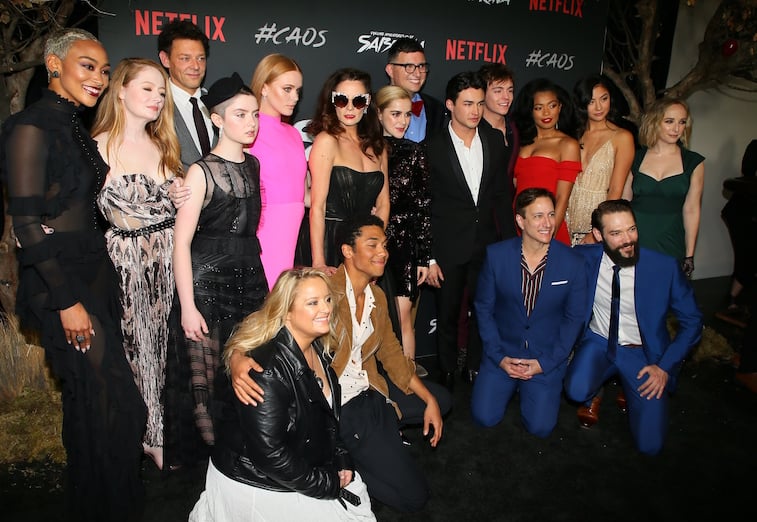 Luke Cook isn't a household name yet, but playing The Devil himself will probably be turning heads for more TV roles and movies. Cook has had numerous roles on TV for a while, though usually very small and considered mere guest shots.
Born in Sydney, Australia in 1986, he has a lot more TV and movie credits in Oz going back to 2004. It hasn't been until the mid-2010s when he started working more in America.
Some roles fans have probably seen him in include Faking It on MTV, plus one episode of The Librarians where he played Dorian Gray. This was around 2015, a time when he began popping up in quite a few U.S. TV productions.
He even showed up in an episode of Modern Family in 2016, possibly helping him land one unexpected parody role.
Playing Donald Trump in 'The Candidate'
In 2016, Cook was hired to play Donald Trump of all people for a short web series called The Candidate. With so many parodies of Trump since then, this one was (arguably) far from the best. Nevertheless, Cook's performance is still hilarious without exaggerating Trump's mannerisms.
It's too bad this brief web series was mostly ignored, especially since it was released before Trump officially became President. Few have seen it since, though it undoubtedly got Cook noticed further for more TV appearances.
Some might say there's an eerie meta connection between playing Trump and Lucifer within a span of three years. What it did do is help leapfrog him into territory he probably didn't expect, including taking on a small role in an MCU film.
Luke Cook in 'Guardians of the Galaxy Vol. 2'
Cook managed to land a role in GotG Vol. 2 playing "Zylak's frenemy." As one might guess, this involved putting on some significant makeup to look like an alien.
As small as that role was, he was still recognizable through the makeup. Even one line in an MCU movie can help jumpstart one's career into a lot of amazing things.
Sure enough, he was able to land the role of Lucifer Morningstar within a couple of years. Before going there, however, he had a recurring role as Luke on the web series Zach & Dennis: How it All Began.
Has Cook moved on from his Lucifer role?
There seemed to be somewhat of a conclusion for Cook's Lucifer role on Chilling Adventures of Sabrina recently. No one seems to know whether he'll be back to the role after hamming it up in the role for the last season.
Since Part 3 of the series received raved reviews, it's likely the show can't do without having Sabrina's father come back eventually. Perhaps like he was in Season 1, it'll be in different guises to allow different actors to take the role.
After all, Cook might be too busy later considering he's now making more movies here in America than he ever has.