'The Dr. Oz Show' Shuts Down Amid Coronavirus Outbreak
The Dr. Oz Show, the talk show hosted by Dr. Mehmet Oz, has been a leading source of information on the coronavirus pandemic. Recently, Dr. Oz wrote an article in which he argued that TV doctors have a unique opportunity to teach Americans about the COVID-19 crisis. He also promised to keep The Dr. Oz Show on the air for as long as possible. But now, his daytime talk show has shut down production, like many other TV series with a live audience.
Dr. Oz comments on the role of TV doctors during the coronavirus outbreak
Earlier this month, Dr. Oz wrote a column for Variety. to address fears surrounding the coronavirus, or COVID-19 pandemic.
"For the first time in modern memory, the entire planet is speaking about the same issue with the same perspective," he wrote. "Doctors on television need to help shape this script." Why do television physicians need to lead the conversation? Oz argued:
We have the ability to translate dense policy documents, scientific manuscripts and coronavirus mathematical modeling into accessible messaging, using our programs to distribute easy-to-digest recommendations and concerns.
Dr. Oz also commented on the fact that many television shows have stopped filming. He promised to keep The Dr. Oz Show in production as long as he could.
"I will keep on filming my show so we can focus on coronavirus coverage for as long as possible while keeping the safety of my staff and crew top of mind," Dr. Oz wrote.
'The Dr. Oz Show' staff member tests positive for COVID-19 amid global pandemic
Sadly, Variety recently reported that The Dr. Oz Show has halted filming. This is a reaction to the news that a staff member who works on the show tested positive for COVID-19.
Variety commented: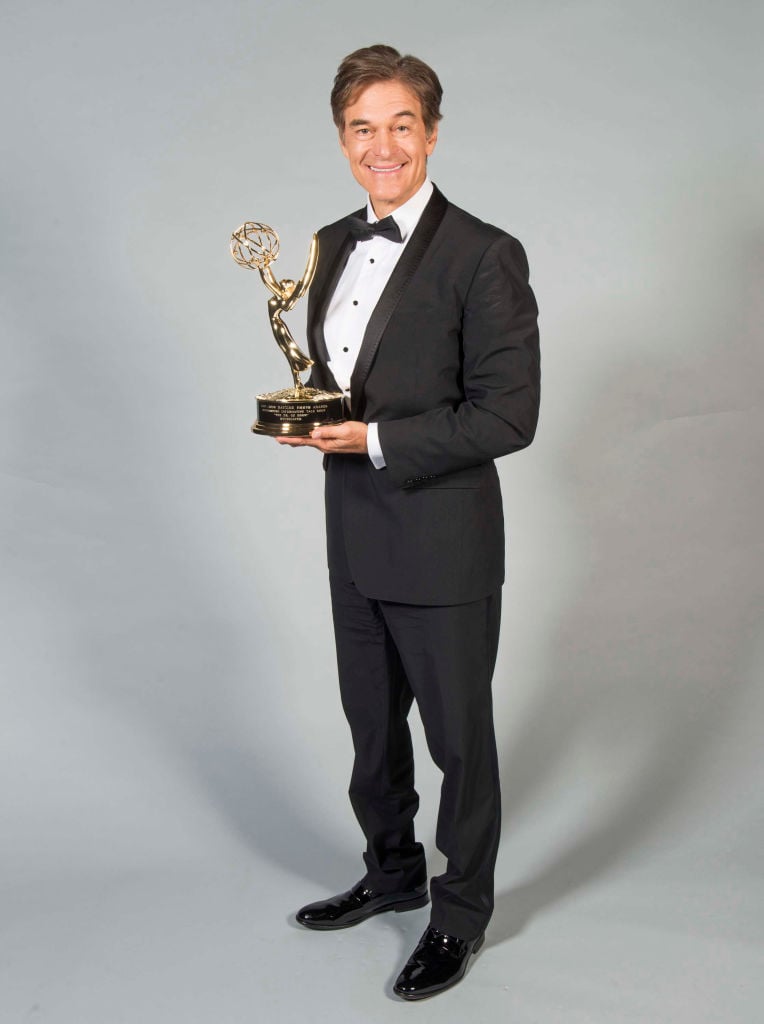 The daily syndicated show had its last day in-studio Wednesday, which is when the show found out the employee was diagnosed. The staffer has not been in the office for over a week, when he first began to display a minor symptoms of coughing.
The infected staff member works in a separate office building from the Dr. Oz Show studio, so there was no contact between him and the production employees.
"But as a precaution, production in the studio has been suspended," Variety reported.
A Dr. Oz Show insider told Variety that the employee who tested positive for coronavirus "doesn't deal directly with Dr. Oz, and he has not been in the office since last Thursday."
"Dr. Oz has not been in physical contact with the employee since February, though he has been in constant phone communication over the past week," the article continued.
Variety also reported that Dr. Oz will not stop spreading medical knowledge:
Dr. Oz has been one of the leading medical voices on television to inform the public about the global health crisis. He will continue to serve as an expert across broadcast, cable and local news, via satellite from his home studio.
Oz is one of many talk show hosts moving home
The television talk show is one of many that stopped filming amid the coronavirus outbreak. As Variety reported:
Most other daytime shows — from The Wendy Williams Show to Tamron Hall and E! News — have halted production and have been put on an indefinite hiatus during the pandemic. Late-night shows have effectively shut down, as well.
However, unlike many of the shows that Variety listed, The Dr. Oz Show was only a few weeks away from wrapping up production, anyway.
"According to Variety's source, the show was supposed to wrap in April, and they typically film six to nine shows per week, so the disruption won't be as significant as with other productions," they reported. That means they don't have to air re-runs.
"The Dr. Oz Show is in a unique situation and can continue to air new episodes because the show has back-logged new segments and episodes, which is typical for the daytime series," Variety wrote. This is due to The Dr. Oz Show's shooting schedule.
"Like many shows in syndication, the production schedule is set far in advance," the publication continued. The show "typically films six to nine shows per week." However, with so much new information coming in about COVID-19, some segments Dr. Oz will fill in from home.
Dr. Oz will still film segments for the show at home to keep up with coronavirus news
"In order to keep the shows updated with the most current coronavirus news, Dr. Oz will be filming top-of-show segments from a home studio where he is set up with Skype and satellite capabilities," Variety reported.
"Everything you'll see through the rest of March is all new shows and current information," Variety's source told the publication. "The show topper will be Dr. Oz either live from his house or taped earlier that day."
Luckily, Oz will still be able to spread vital health information to those who need it.