The Duffers Only Nixed 1 Move by Jamie Campbell Bower's Performance in 'Stranger Things 4'
'Stranger Things 4' star Jamie Campbell Bower tried to channel Pinhead for one of his scenes but the Duffers said no.
Stranger Things 4 showrunners Ross and Matt Duffer upped the horror this season. Plus, the cast repeatedly said this was the scariest season yet. The Duffers are also known for letting their actors incorporate some of their ideas into their performances. Jamie Campbell Bower, who plays Peter Ballard, did this with his inspiration for his role. However, there was one scene the Duffer Brothers nixed from his performance.
[WARNING: This article contains detailed plot spoilers from Stranger Things 4.]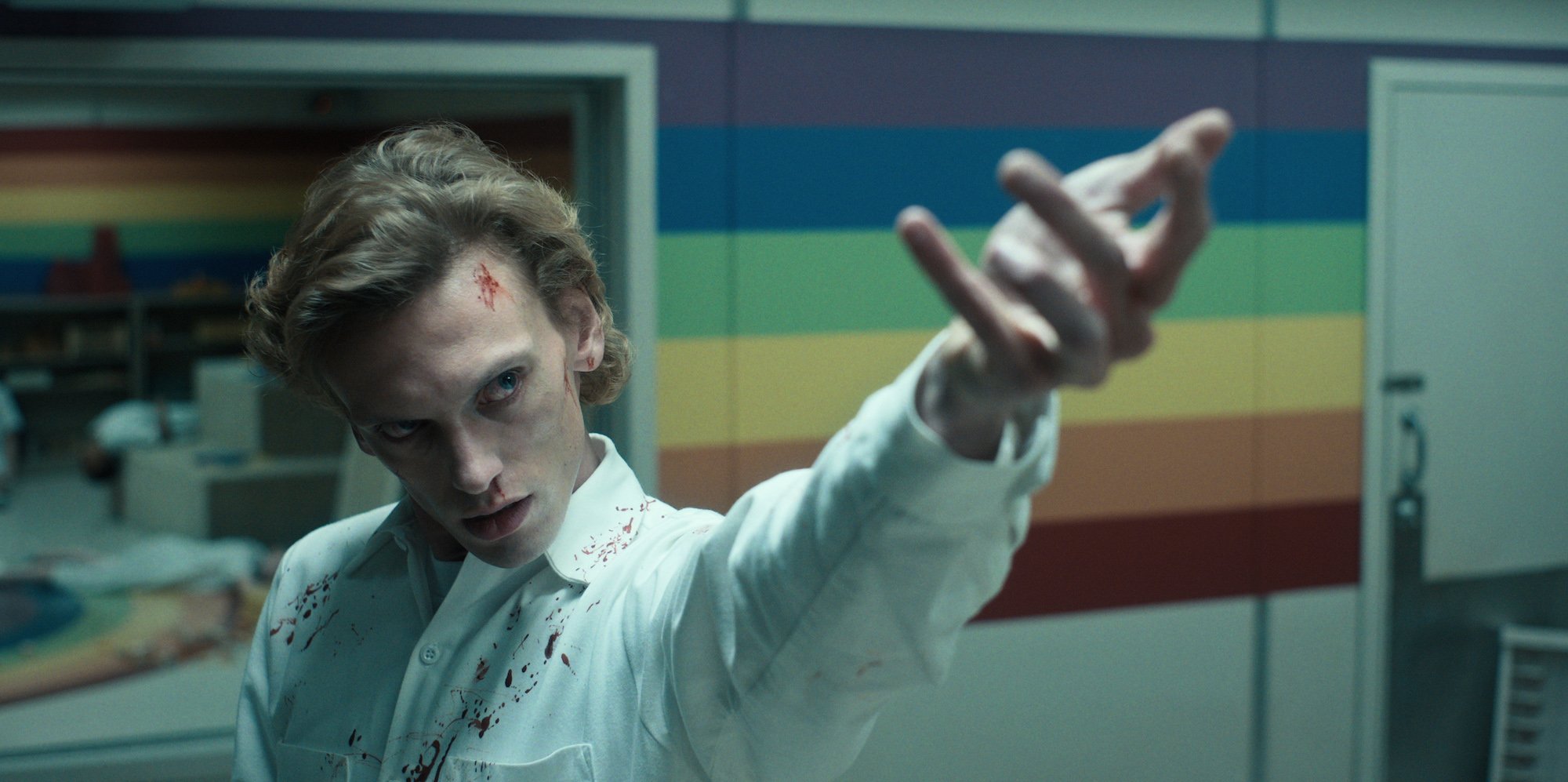 The Duffers used movies like 'Jaws' and 'A Nightmare on Elm Street' for 'Stranger Things' inspiration
In May, the Duffers broke down the Stranger Things 4 trailer. They mentioned both Pinhead from the Hellraiser franchise and Freddy Krueger from the Nightmare on Elm Street series. The full-length trailer features a voiceover from this season's villain, Vecna. Viewers hear him say, "Your suffering is almost at an end."
Stranger Things Season 1 heavily referenced the 1975 blockbuster Jaws with how the Demogorgon hunted its victims. Plus, from Hopper's Bronco to exact imitations of scenes from the famous shark flick, the Jaws inspiration is very apparent.
Stranger Things 4's Vecna takes his cues from famous boogeyman Freddy Krueger. Robert Englund's portrayal of Freddy throughout the franchise made him a pop culture icon. Englund even appears in Stranger Things 4. Vecna also uses a Mind Scape, similar to how Freddy invades his victim's dreams. Plenty of scenes hint at the Nightmare on Elm Street movies, like Chrissy's visions in the Mind Scape and her levitation before dying.
Jamie Campbell Bower used plenty of horror movie inspiration for his role in 'Stranger Things 4'
Bower recently sat down with Uproxx to discuss his role as Peter Ballard and Vecna. He told the publication about the Duffer Brothers' willingness to let the actors develop some of their own inspiration for their parts.
"There was never anything that came up that they said, 'Absolutely no, you're way off the mark there.' One of the great things about Matt and Ross is their inspiration and their references, if you want to and you are interested in doing this, you can very, very quickly pick up on them. One of the jobs that I had was to make sure that I really dug into a lot of those references," Bower said.
The Duffers said no to one move Jamie Campbell Bower wanted to incorporate into his performance
He continued, "I did go further than perhaps I needed to. There was one thing that we did on film that I … have you seen Hellraiser III? There's a scene where Doug Bradley, as Pinhead, walks into a church and he pulls out some pins from his head, puts them in his hands, and spreads his arms out and says, 'I am the way,' and then the windows blow out. I was like, 'Oh, I really want to reference that. I really want to put my arms out like this,' and I did it and it looked absolutely awful. So bad, and so we very quickly were like, 'Yeah, no, let's not do that.' But that was the only thing that we tried that didn't work, and I think that's me wearing the reference too much on the sleeve."
Stranger Things 4 Volume I is currently streaming on Netflix. Volume II arrives on July 1, 2022.