'The Dukes of Hazzard': OG Cast Members Were Not Fans of the Film: 'Like Watching My Ex-Wife Go Out on a Date'
When The Dukes of Hazzard began airing in 1979, CBS didn't expect the series to take off like it did.
The show ran for six years and made stars out of John Schneider, Tom Wopat, Catherine Bach, and the Dodge Charger nicknamed General Lee. Many fans became attached to the Duke cousins and their outlaw adventures as they outsmarted Boss Hogg.
Through the power of reruns, The Dukes of Hazzard has been kept alive for decades. It spawned a feature film in the 2000s that was meant to cash in on the nostalgia, but that plan didn't work out, and even the original cast members trashed the movie.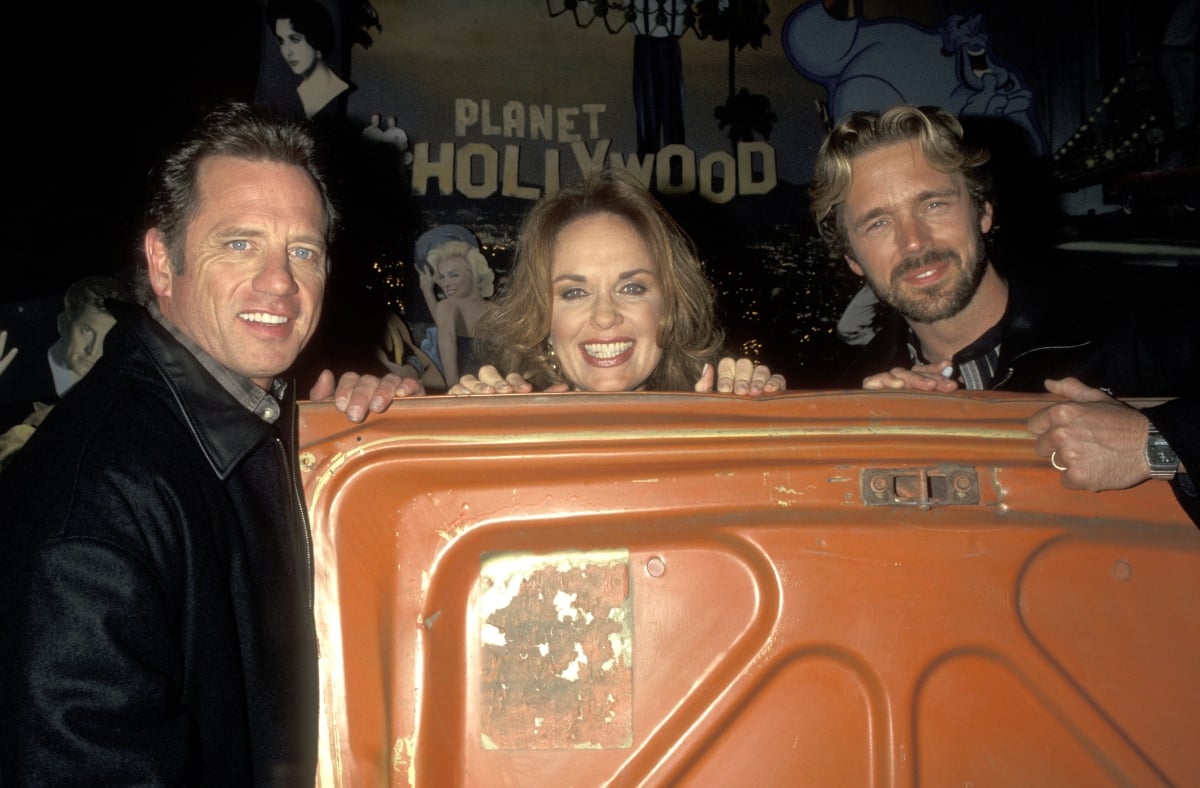 A 'Dukes of Hazzard' film dropped in 2005
Warner Bros. decided to resurrect the Dukes of Hazzard brand with the release of a reboot in 2005. The movie starred Jessica Simpson as Daisy, Johnny Knoxville as Luke, Seann William Scott as Bo, and Willie Nelson in the role of Uncle Jesse. Burt Reynolds and Lynda Carter also had major roles, but not even their presence could save the movie from critics' thrashing.
For this installment, Boss Hogg and Roscoe launched a plot to seize land from the Dukes and others in Hazzard County. Bo and Luke had to stop them. By the end of the movie, the guys rescued Uncle Jesse and Pauline, Daisy used her charms to curry favor from the governor, and Boss Hogg was defeated.
Rotten Tomatoes scored the film with a 14% and Roger Ebert gave it one measly star. It was widely known that Schneider, Wopat, and Bach were asked to do a cameo, but they refused to due to the script. In the years since, the three haven't been shy about telling people how they really felt about the movie.
'The Dukes of Hazzard' TV cast got candid about the movie
During an appearance at Salt Lake Comic-Con in 2016, Schneider, Bach, and Wopat did a fan Q&A segment. When asked for their thoughts about the 2005 film, Wopat and Schneider didn't hold back.
Wopat said, "I told people I didn't watch it because it would be like watching my ex-wife go out on a date." As they shared a laugh, Bach was more forgiving and called it an honor that someone would want to copy their work.
Schneider didn't mince words. "I thought it would have to get considerably better to suck," he said. Both Wopat and Schneider complimented the driving stunts, but they felt the movie missed the point of what the TV show was about.
1 thing really bothered John Schneider
While the cast picked a bone about the storyline and the Dukes acting like "slackers" in the film, one aspect was particularly irksome for Schneider. He praised Willie Nelson and showed him love, but he didn't care for the music legend's version of Uncle Jesse.
"The way Willie Nelson depicted Uncle Jesse as a pot-smoking ancient slacker I think was a disgrace to Denver Pyle's portrayal of Uncle Jesse," said Schneider. He really didn't care for Nelson's uncle being so high.