'The Ellen Degeneres Show': Fans Speak Out Against Degeneres Following Premiere— 'She Didn't Address Any of the Allegations'
'The Ellen Degeneres' show returned for season 18, but fans don't believe that Degeneres addressed any of the allegations against her and the show in the premiere.
Ellen Degeneres finally addressed the toxic work environment allegations against her and The Ellen Degeneres Show on the season 18 premiere. Fans have mixed feelings about what the talk show host said.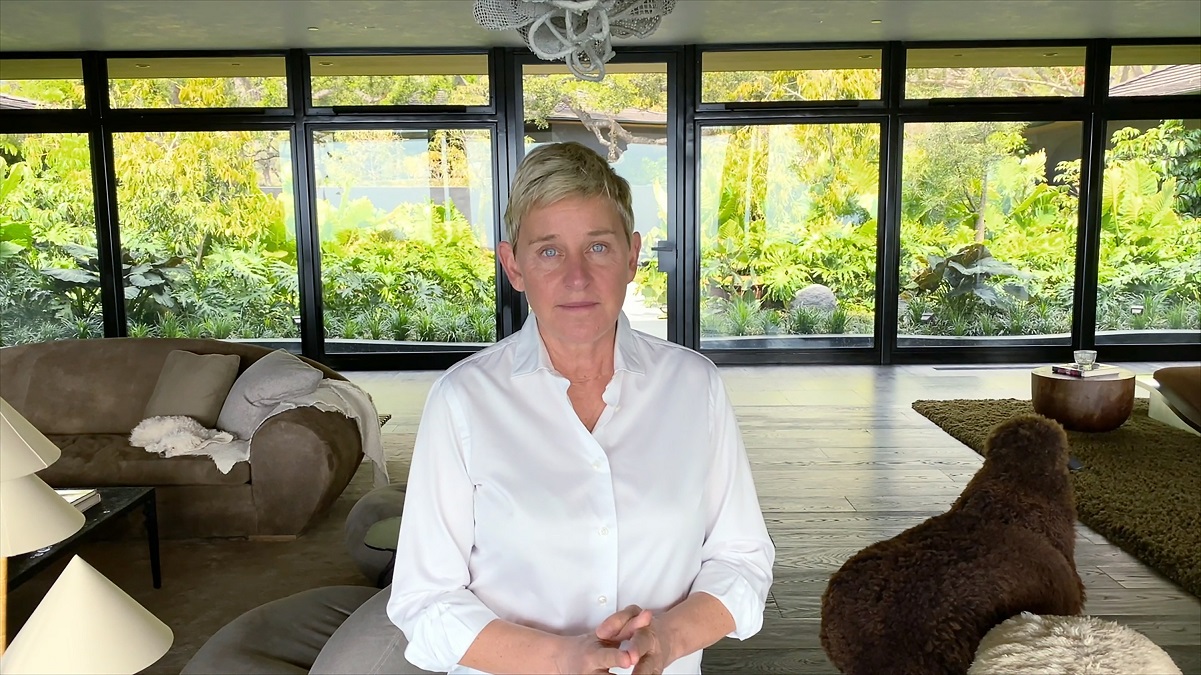 Ellen Degeneres apologizes on the season 18 opener of 'The Ellen Show'
On Sept. 21, 2020, The Ellen Degeneres Show returned to a virtual audience full of screens. The daytime talk show host didn't hesitate to address the allegations of a toxic work environment right away. She began with some sarcasm, saying that she had a "great" summer, and then got right to the apologies.
"I learned that things happened here that never should have happened," the host began. "I take that very seriously. And I want to say — I am so sorry to the people who were affected. I know that I'm in a position of privilege and power. I realized that with that comes responsibility, and I take responsibility for what happens at my show."
Degeneres acknowledged that the show has "made the necessary" changes, including the firing of three producers over the summer. They also upgraded their employee perks. 
"I am a work in progress," the host admitted. "I'm especially working on the impatience thing because — and it's not going well — because it's not happening fast enough." 
She admitted that she has acted, but could not come on the show every day for 17 years and pretend to be someone she is not.
"This is me," Degeneres insisted. "And my intention is to always be the best person I can be. And if I've ever let someone down, if I've ever hurt their feelings, I am so sorry for that. If that's ever the case, I have let myself down, and I've hurt myself as well because I always try to grow as a person. I look at everything that comes into my life as an opportunity to learn. I got into this business to make people laugh and feel good."
Fans were not impressed by Degeneres' apology
"This didn't seem very sincere with the added jokes, laughs and clapping," one fan wrote in the comments of the YouTube video.
Others agree that Ellen Degeneres did not sound very sincere with her apology.
"I get she's a comedian," another fan added. "She could have seriously addressed the allegation without joking. The sarcastic jokes in between just makes her sound unapologetic and phony."
Many viewers believe that the situation is more serious than Degeneres is making it out to be. 
"She didn't address any of the allegations?" another user questioned. "Didn't love this."
Other viewers point out that "It's difficult to trust what she's saying" after the number of employees that spoke out against Degeneres. 
It will be interesting to see how the rest of the season plays out. We will have to wait and see if fans will continue to watch the long-running daytime talk show.