'The Ellen Show': Fans Are Still Disturbed By the 1 Time Amy Schumer Awkwardly Dressed Up Like a Baby
Amy Schumer dressed up like a baby during her appearance on 'The Ellen Show' and then things got weird.
With Ellen DeGeneres facing scrutiny from all sides in 2020, many former fans are beginning to look back at some of her past actions with a critical eye. The award-winning talk show host built her reputation on her mantra "be kind." However, former employees and celebrity guests on The Ellen Show insist she's anything but.
This obsession with scrutinizing old episodes turned up one of the weirdest segments DeGeneres ever did on the show. In it, comedic actor Amy Schumer dressed as a baby for an extended length of time. The bit included oversized baby props like a diaper and bottle.
To this day, some fans are creeped out by the weird display.
Ellen DeGeneres has a history of rating babies on the show
It all started with another controversial segment of The Ellen Show when Ellen would be shown pictures of staff or fan babies and rate them on a 10 scale. The idea of ranking children according to a stranger's personal opinion — based on nothing but a photo — caused some fans to question who came up with such a potentially controversial idea.
Metro UK reported that viewers found the segment "cruel" and "mean," plus unintentionally awkward. And when DeGeneres invited an adult-sized baby onto the stage after one baby rating session things took a turn for the strange.
Amy Schumer appeared on 'The Ellen Show' dressed like a big baby
After sitting down for an interview in regular clothes, Schumer reappeared during a 2018 taping of The Ellen Show dressed in a baby costume complete with giant bonnet and an oversized bottle and bib. She even turned around at one point to reveal her diaper.
When the host questioned her outfit, Schumer says, "I'm sorry; I wanted to try something new. I'm a fashionista."
She continued, saying, "It's actually not about how I'm dressed, it's a full lifestyle change."
The comedian goes all in on acting like a baby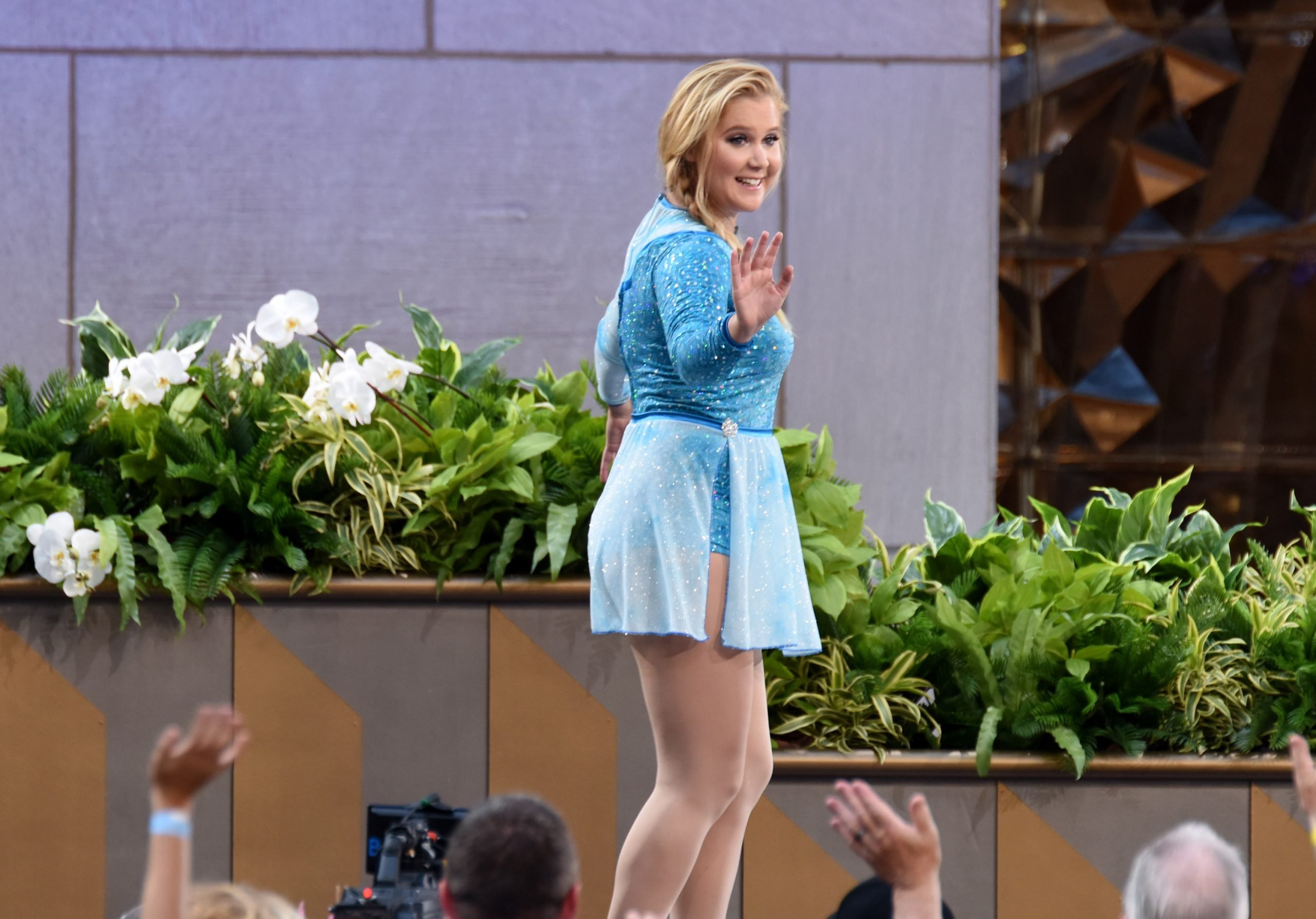 Schumer plays it off like she's dressed like a baby because Hollywood is obsessed with youth. Next, she pretends she's "doing a thing" where she can't feed herself and asks DeGeneres to feed her, even insinuating that she'd like to breastfeed if she could.
The show host feeds Schumer peas and carrots with the classic "choo choo train" and "airplane" method as the audience claps and laughs. Then she leans over and has DeGeneres burp her while exposing her comically oversized diaper.
During the interview she begins slowly taking off the baby outfit piece by piece and at one point does a mock striptease, which makes things even more awkward. All in all, the segment includes over seven minutes of Schumer acting like a baby for no discernible reason.
At the time, the segment went over well with the studio audience and most fans at home. It was never clear what the point of the whole baby thing was. Schumer scheduled the appearance to promote her film I Feel Pretty which she starred in alongside Emily Ratajkowski and Busy Philipps.
Still, it's not even close to the most controversial thing that ever happened on The Ellen Show.