The Eternals': Kumail Nanjiani Calls the Risky MCU Movie 'Epic'
By now, most every Marvel fan knows The Eternals is coming this November. However, this movie presents a challenge because it's based on characters that are not too widely known.
There's no doubt the movie will be a success. Just the knowledge that Marvel Studios made it is enough to pull in a huge built-in audience. 
Fans are curious about a band of superheroes who are celestial beings. That said, the Eternals are nowhere near as familiar as The X-Men, The Fantastic Four or certainly the Avengers. That's why the stars are pimping the movie early. 
Kumail Nanjiani got jacked to be in 'Eternals'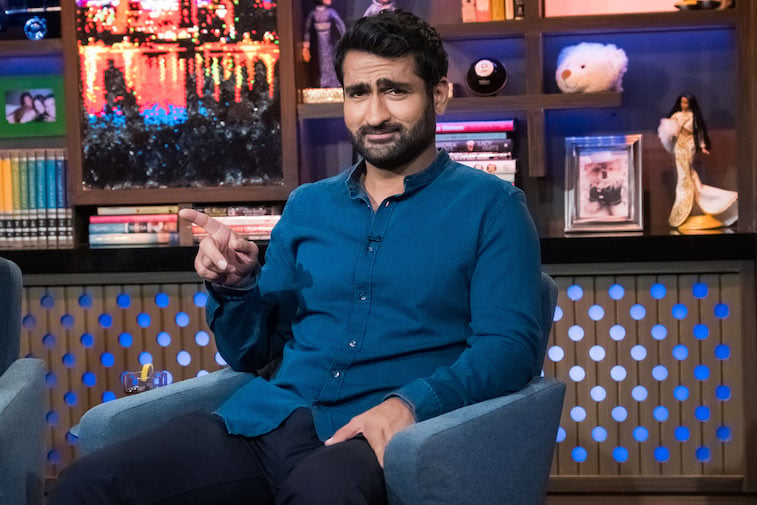 One of the most clever examples of promotion for the movie was Kumail Nanjiani surprising everyone with photos of his new physique. Marvel trainers had subjected the actor to a rigorous regimen, and the results were so surprising that fans wondered if maybe Marvel had really invented the super serum that transformed shrimpy Steve Rogers into bulky Captain America.
No one was more surprised than Nanjiani himself, who told EW, "I really was very surprised. I'd been shooting for a few months. I was in good shape. Christmas was coming and I was like, 'I should take some pictures, because who knows how I'm going to look after Christmas?' So I put those pictures up while I was shooting, and then I checked an hour later and there was some stuff and I was like, 'Okay, good.' Suddenly it started exploding, and it was just snowballing.
Eventually that snowball turned into an avalanche of OMG reactions. Whether Nanjiani's picture was directly meant to promote the movie or not, it worked because it got fans buzzing. 
What are the fans saying about 'The Eternals?'
On Reddit, fans reacted positively to Nanjiani's interview, with one saying, "As a person who wasn't familiar with the Eternals until this film was announced I am so pumped not only because this film sounds awesome but the cast is f—-incredible. I feel like Kumail is gonna steal the show.
It's not just Nanjiani and his rippling pectorals that have audiences curious. Nanjiani also told EW that this is the MCU movie that is closest to science fiction. Granted, superhero movies in general tend to get classified as sci-fi because they're about beings from other planets or they're about earthlings with otherworldly abilities. But The Eternals is different.
"It's a superhero story, but in some ways, it's the most sci-fi of all the Marvel movies and it's the most epic of all the Marvel movies. And the story spans thousands of years. So it's really not like any of the other Marvel movies … ' We all look so different. It's me and a huge buff guy from Korea [Ma Dong-seok] and Salma Hayek and Angelina Jolie and Gemma Chan and Lauren Ridloff. You don't ever get to see people like this together in the same room, let alone in awesome superhero costumes."
Marvel has taken risks and won
All of this sounds like a calculated risk for Marvel, which is starting to lean into more cosmic heroes. They made steps in this direction through Doctor Strange and Captain Marvel, which were both about regular people endowed with cosmic powers. Then there was that very strange end credits scene of Spider-Man: Far From Home that suggested Nick Fury was heading a new organization called SWORD that deals with intergalactic matters.
This sounds like a very different world for Marvel, which up to now has relied almost entirely on marquee heroes that audiences have known for decades. However, it's not like Marvel always sticks to the tried and true.
Guardians of the Galaxy looked straight-up bizarre, what with a talking raccoon and a talking tree with a three-word English vocabulary, but they became beloved just like the Avengers. Black Panther wasn't the biggest of Marvel's heroes, but his movie turned out to the biggest solo hero movie of them all.
Point being, don't dismiss The Eternals because they're not so well known. Marvel and Disney, who are masters of the sales pitch, are going to make sure we know who they are by the time November rolls around.