'The Eternals' Star Kumail Nanjiani Shares How Wife Emily Gordon Really Feels About His Ripped Body
Working out to look ripped seem to be a central goal for most actors, though far from all. Comedians are known for taking pride in always looking out of shape, something they've used to their advantage in movies/TV.
When someone like Kumail Nanjiani suddenly looks like a bodybuilder, it's going to bring some shocked reactions. Nanjiani has been fighting for years to land a part in a Marvel movie that wasn't just a secondary role. His patience paid off in landing the role of Kingo in The Eternals.
To land the part, though, he had to beef up his body in the gym. When he achieved this, the reaction of his wife was more than a little interesting. Her response may prove other things top out over body image.
What has Kumail Nanjiani said about his workout routine?
One recent interview Nanjiani did on Dax Shepard's Armchair Expert podcast had former saying some hilarious and insightful things about how he was able to get into shape for The Eternals. At one point in the interview, Nanjiani said he had 152 lbs. of muscle after hitting the peak of his workout routine.
Shepard did his podcast without a shirt on to get into the spirit of talking about men's fitness and getting in shape for Marvel Cinematic Universe (MCU) movies. During the interview (with fellow guest Rob McElhenney), Shepard noted all MCU actors are often "lean as f*ck."
Nanjiani agreed getting lean is the hardest part of working out for those roles. And yet, he managed to do just that, including posting pics of himself on Instagram looking completely buff this last fall. Those who've known Nanjiani for the last several years as a skinny comedian-actor couldn't believe how different he looked.
As he said on the Shepard podcast, Nanjiani's wife reacted in an unusual way. Initially, it was positive, until going in a different direction.
Kumail Nanjiani's comment about his body "having corners"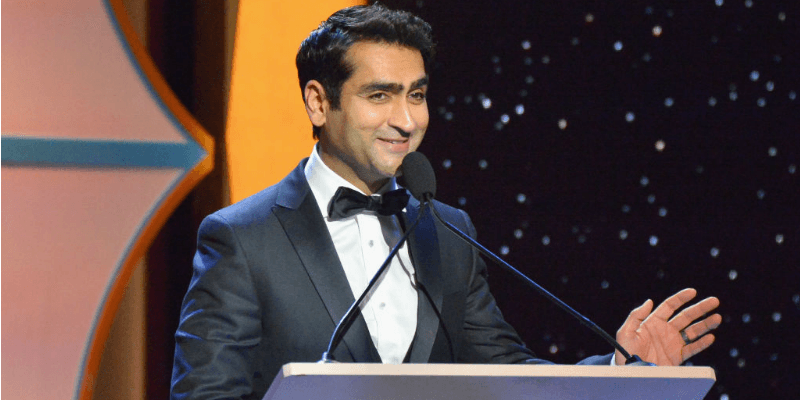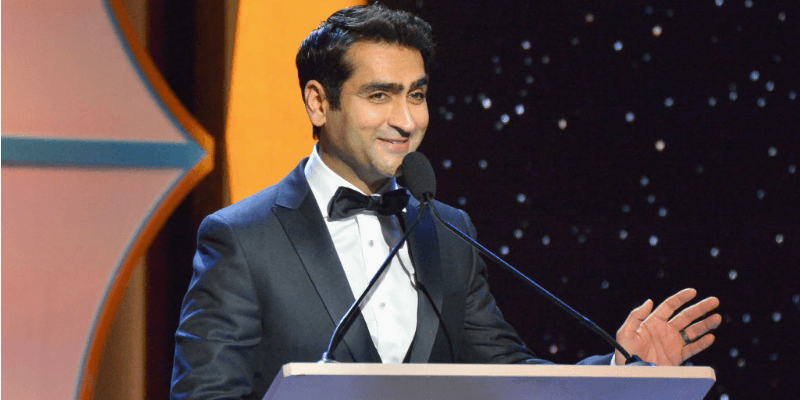 Yes, this comment during the Shepard podcast interview garnered a few laughs. Nanjiani's fellow comedians were likely envious seeing how ripped he'd become, including Shepard himself who apparently wasn't nearly as in shape.
The best part, of course, was Nanjiani describing how surprised his wife was for several weeks. Every time she saw him, she apparently went wild. After three weeks, however, she seemed to be over it.
His admittance of this during the podcast set up an unexpected, interesting discussion about how women really feel about men looking this way and whether it always brings instant attraction.
One thing Nanjiani noted is his wife told him he couldn't go anywhere without looking at himself in every reflective surface. For her, this appeared to turn into a turn-off.
Emily V. Gordon's reactions to her husband's body on social media
Those not familiar with Nanjiani's wife should know it's Emily V. Gordon, a popular TV writer. She took to her Twitter account to make some comments about her husband's body in recent months.
In one of her tweets, she noted Nanjiani was still the same person, despite his new muscular look. None of it would have happened had Marvel not paid to help Nanjiani have the best trainers and nutritionists in the world.
Not that Gordon was completely on board all the time with his new physique. In the latter part of the above Shepard podcast, Nanjiani noted: "She said to me very seriously, if you had this body when we hooked up, I would think something is very wrong with you. I would not go out with you again."
Seeing a comment like this seems to reveal Gordon was only attracted to Nanjiani for how he really was and not the way he looked physically. Some might suggest it's the best kind of marriage is not going by ab count and strictly personality first.