'The Eternals': Who Will Kumail Nanjiani Be In Marvel's New Movie?
When people think of the words "cut," "ripped," and "muscular," the name Kumail Nanjiani does not leap to mind. Sure, he's a funny guy, but you'd never see him looking like an Olympic weightlifter. That is until Marvel asked him to do it. 
Nanjiani, primarily known for his comic work on HBO's Silicon Valley and in movies like The Big Sick, seemed to surprise even himself when he posted pictures where he looked like he could credibly take on David Bautista in a fight. Apparently, anything can happen when you're in The Eternals. 
What is Kumail Nanjiani famous for?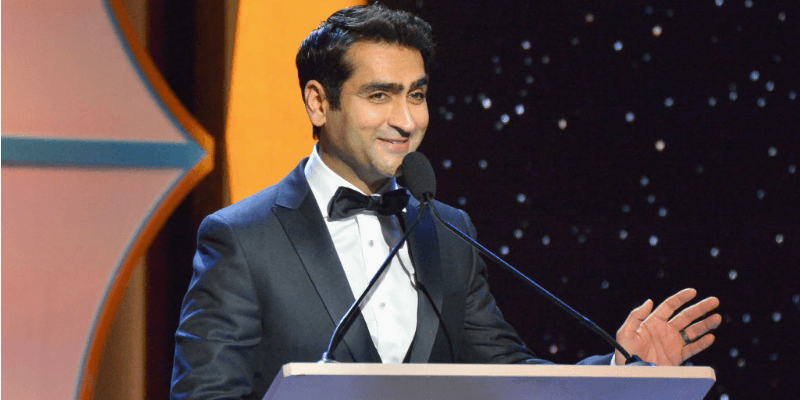 Nanjiani is a native of Pakistan who first became known for a video game podcast called The Indoor Kids. He honed his standup comedy skills and began landing roles on shows like Veep. His breakthrough came via Silicon Valley, where he plays Dinesh, a programmer who helps build a startup company.
Nanjiani's film career took off when he co-wrote and starred in The Big Sick, a very personal movie about how he met his wife, Emily Gordon — called Emily Gardner in the movie and played by Zoe Kazan. The couple forms an attraction after she heckles him at one of his comedy shows.
After a promising start, the couple breaks up, but then Emily is hospitalized with a serious illness, and it falls to Nanjiani to look after her. The Big Sick was a commercial and critical hit, becoming one of the top 10 films of that year as chosen by the American Film Institute.
Since then, Nanjiani has performed in movies including Stuber and Men in Black: International. 
Who does Kumail Nanjiani play in 'The Eternals?'
Nanjiani plays Kingo, who is one of the title characters. He is a master swordsman and oddly and appropriately enough, a film star and producer. He hails from a 16th-century Japanese settlement and now makes his living in the movie world. 
If that sounds bizarre, that's because, befitting their name, the Eternals are a race of super-beings who are immortal. After Captain Marvel, the MCU is becoming more interstellar with cosmic heroes who wield unusual powers. The movie also stars Angelina Jolie, Salma Hayek, Richard Madden, and Kit Harington.
When Nanjiani posted a photo of his new look on Instagram, even he didn't quite believe what he was seeing, and he more or less said this is only possible if Marvel trains you. His caption reads, in part: "I found out a year ago I was going to be in Marvel's Eternals and decided I wanted to transform how I looked. I would not have been able to do this if I didn't have a full year with the best trainers and nutritionists paid for by the biggest studio in the world. I'm glad I look like this, but I also understand why I never did before. It would have been impossible without these resources and time." 
What do fans think of his new physique?
On Reddit, you can almost hear the sound of people's jaws dropping to the ground in this thread about the pictures, with many comments being variations of "Damn. Wish I got paid to have trainers and chefs to make me that ripped. Jesus." Another said: "The Big Thick. For real though; it looks like his head is photoshopped on someone else's body."
Indeed, people were in such disbelief, they were sure healthy amounts of testosterone and steroids must be involved. Others countered it is possible, it just takes very
Buzzfeed reported that Chris Hemsworth's stunt double had to eat 35 times a day to achieve the same bulk as Hemsworth. Weight loss and muscle gain are laudable goals, especially around New Year's, but as the fine print on a lot of those weight loss products says: "Results not typical."