'The Falcon and the Winter Soldier': Final Scenes With Sam and Bucky Were 'Happy Accidents'
The Falcon and the Winter Soldier left fans a sweet picture of Sam Wilson (Anthony Mackie) and Bucky Barnes (Sebastian Stan). In their last scenes together, the superheroes enjoyed food, friendship, and family in a sunset dock party in Louisiana. 
It was the perfect ending to such an action-packed series. But according to director Kari Skogland, that final party scene wasn't planned as seen, and it came about as a happy accident.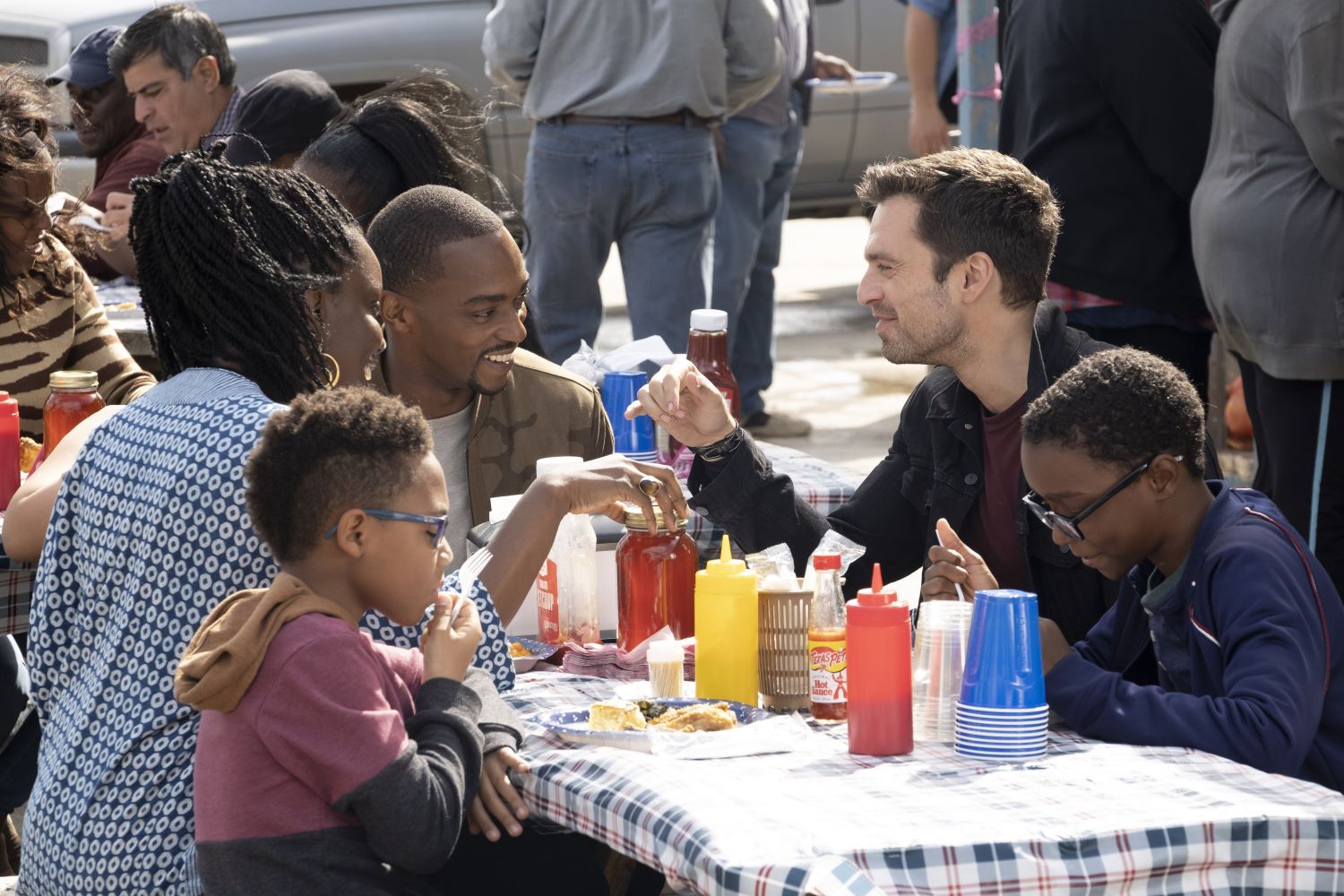 'The Falcon and the Winter Soldier' party scene was filmed first
Episode 6, the final installment of The Falcon and the Winter Soldier, ended with Sam and Bucky back in Louisiana, partying it out with Sam's friends and family. While it was one of the final shots of the series, Skogland noted that it was filmed early on, before production was halted due to the pandemic. 
"We probably shot that on day four," she told Collider. "That was actually in the first week of shooting back in October of 2019."
Kari Skogland says it was planned much differently
 Initially, Skogland and The Falcon and the Winter Soldier showrunners had a different plan for Sam and Bucky's final scene together. They imagined it would be a much bigger affair.
"It was sort of an impromptu thing," Skogland said in her chat with Collider. "We had planned a much bigger version of it, and then we sort of scaled it back a bit. And I thought, well, let's put a community together and kind of jazz it up a bit."
Skogland noted that the scene was shot very organically. And she incorporated little details as they popped up.  
"It was so great because there [were] probably 50 or 60 people there," she said. "But each one of them had… actually one guy could play the thing. Like 'I can play the spoons,' one guy said. So it actually was exactly what you see, sort of an impromptu party, which is what it needed to feel like."
The finale party scene in 'The Falcon and the Winter Soldier' was a happy accident 
With the glistening water and gorgeous sunset, the final party scene in The Falcon and the Winter Soldier was picture perfect. And Skogland revealed that most of it was actually inspired in the moment. 
 "I saw this great sunset, and there we were in this great setting," she told Collider. "And I thought, 'Let's grab this.' But I didn't know whether it would stick because it was quite early on to be shooting the end shot of the show."
"I typically come into any project knowing what the opening shot is and what the end shot is," she continued. "That one, funny enough, stuck, and it was never planned for. It was just me going, 'Oh, let's just do this. It looks great. And it might be an interesting moment.'"
Skogland noted that the showrunners fell in love with the scene because of how genuine it felt. And in hindsight, she called it a happy accident.
"It truly was more of us kicking off the adventure in the moment than finalizing it, and I fully expected to shoot something else," she added. "But those are the lovely, happy accidents of production. It's always a path of discovery."