'The Falcon and the Winter Soldier' Set Photos Reveal Some Bizarre Wardrobe Choices
Marvel fans have plenty of upcoming adventures with their favorite superheroes and villains to enjoy. With the latest installment on the big screen with Black Widow and promise of MCU expansion in television with The Falcon and the Winter Soldier next fall, it's as if enthusiasts will have a constant flow of Marvel tales.
Recently, JustJared.com released several set pictures from The Falcon and the Winter Soldier. As excited as fans are to have their beloved Sam Wilson and Bucky Barnes weave new adventures together, one thing has some fans scratching their heads about these photos. What's with the bizarre wardrobe choices, and what on earth could be happening in the sequence?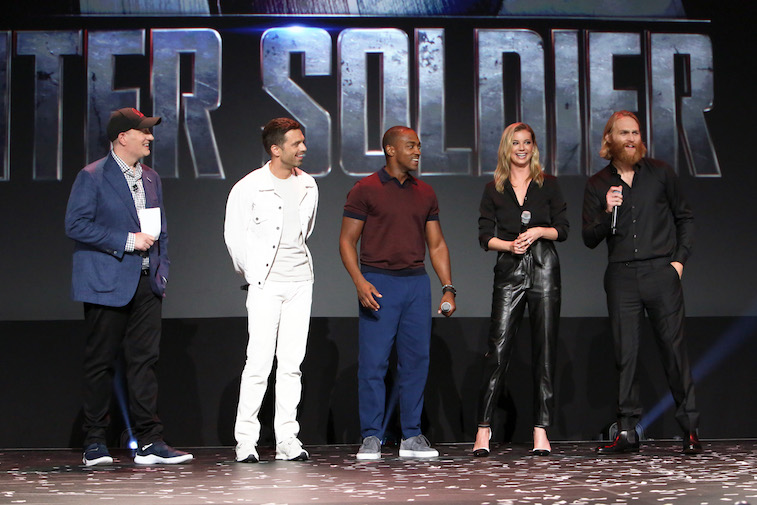 Everything we know about 'The Falcon and the Winter Soldier'
Disney+ is filming this web television miniseries under the direction of Kari Skogland in Atlanta, GA. Created by Malcolm Spellman (Empire) with help from Derek Kolstad (John Wick), this six-episode series takes place in the Marvel Cinematic Universe (MCU) and plans to expand on the storytelling of the films in the franchise.
Both Anthony Mackie and Sebastian Stan have reprised their superhero roles and are joined on set with top talent including, Emily VanCamp and Daniel Brühl.
What we learned from the set photos
At first glance, the series of photos JustJared.com shared show some serious action sequences. So, it is safe to assume there will be plenty of superhero fight scenes.
One shot depicts Falcon and Winter Soldier running for what appears to be their lives and having a simultaneous conversation. Another picture shows Falcon attempting to hold himself off the ground, seemingly to rebound from a hit of some kind.
There are several images that appear to be of the actors standing around in between takes as well. It may be those photos that brought attention to the bizarre attire Falcon was sporting.
What's Sam Wilson wearing?
Anthony Mackie's Falcon character is wearing a snazzy and fashionable suit in these freshly released set pictures. He stood out from the crowd of extras around him with his dark red suit pants, matching vest, and jacket.
Zooming in on the images reveals there are also golden circles sewn into the suit jacket and pants. A curious black symbol in the middle of each of those circles has some wondering the relevance of the detail.
Speculation and explanations for the wardrobe
Obviously, without seeing the scene in action, it's hard to determine what's going on and why Falcon is dressed to the nines. The still photos can only provide a glimpse into the scene, allowing fans only to speculate what the wardrobe and attire selections mean.
Winter Soldier is dressed completely opposite his superhero partner, with what appears to be his traditional all-black configuration. One article suggests that maybe Falcon was sent into a situation undercover, and not in his Falcon gear. Although, trying to blend in with that fancy suit might have been what blew his cover.
Maybe the all-red suit with circles and symbols has meaning to Sam Wilson in some kind of historical relevance or superpower kind of way. Or maybe Sam just likes the way it looks on him. It's hard to predict with any certainty for now.
Fans can expect to enjoy The Falcon and the Winter Soldier in the Fall of 2020. Until then, MCU fans will just have to wait and find out later just what the wacky wardrobe choices are all about in the scene.
For most, what Falcon wears won't be the primary concern as everyone wonders how he plans to carry the torch, or should we say shield, formerly of Captain America legend.