'The Family Chantel': Why Chantel and Winter Get Into a Huge Argument
The Family Chantel is back for an all-new season, and things are already heating up. Chantel Everett and Pedro Jimeno are still going strong, but there's drama surrounding them at every turn. This week, Chantel and her sister, Winter, get into an argument that only ends when Winter walks off. What starts the problems? And will the sisters be able to work things out?
Chantel and her mother uncovered the truth about Winter's boyfriend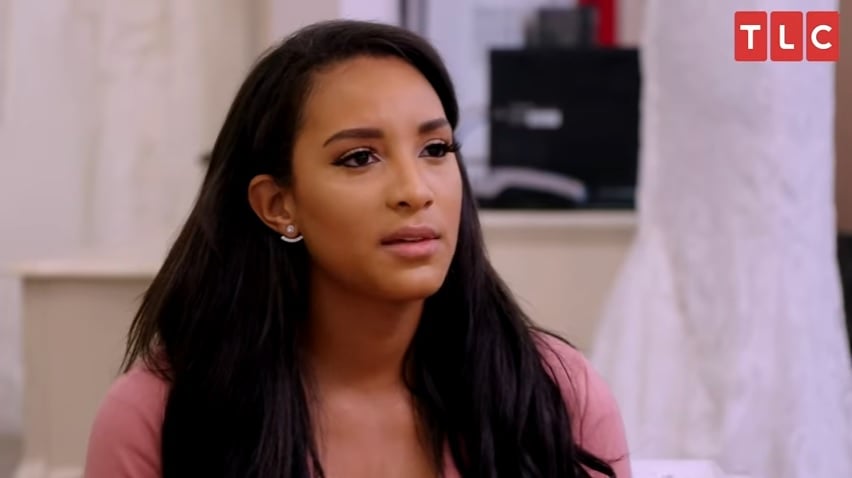 Previously, Chantel and her mother, Karen, actually hired a private investigator to get more information about Winter's boyfriend, Jah, who makes the mistake of telling Chantel that he is thinking about proposing. The private investigator discovers that Jah has another child, a son, that Winter knows nothing about. He even pays child support for this child without Winter having any inkling at all.
Chantel and Karen come over to the place Winter and Jah share and they reveal the news. At first, Jah says, "This is crazy." He also adds, "I'm flabbergasted. I can't believe this."
With Chantel and Karen leading the conversation, Jah says he wanted to talk to Winter about it. Then, he says he doesn't "have anything to say." Winter gets up and walks to a room, and Jah tries to talk to her behind closed doors. But Karen gets involved, and then Chantel enters the room too. It all prompts Jah to walk outside to get away.
Winter eventually finds him outside, and Jah says he was going to tell her. He says he doesn't "know what to say." He actually leaves, and all this information is a devastating blow for Winter, who moves back in with her parents after learning the truth of the matter.
In the most recent episode, Winter reveals that she is trying to work things out with Jah. It's clearly a source of tension for the family, who are of course concerned about Winter and her next steps.
Chantel and Winter get into a huge argument
This week, the family all gets together for a family photo shoot involving ugly sweaters, but a fight breaks out. Winter says that she didn't know the pictures were with ugly Christmas sweaters, and she reminds everyone that she doesn't celebrate the holiday.
"I don't celebrate Christmas," Winter explains. Chantel reminds her that she celebrated it for "her whole life," and that they even sat on Santa's lap.
But Winter no longer celebrates Christmas. She tells the cameras that she "doesn't understand" the holiday, and that it's about commercialism and buying.
Chantel tries to continue on with the conversation, but Winter makes it clear she doesn't want it to continue.
"Winter, I don't want to say what I want to say," Chantel says. "But I feel like you're a hypocrite."
Things start to heat up, and Winter mentions, "Every time I start talking, she starts cutting me off," she explains. She also says Chantel is being "rude."
Chantel admits that she is being rude, and says it's because she wants to "get this through" her head. "I am being rude because I need to get this through your head. I feel like you're going down the wrong path," Chantel explains. "And don't let me get started with Jah, Winter."
Why the sisters get into an argument
The sisters argue over Winter not celebrating Christmas anymore. Jah gets brought into it, since he's already a source of tension in the family. Some members of the family seem to think Winter no longer celebrates Christmas because of Jah. Chantel thinks he's "changed" Winter and they aren't even together right now, and she's voicing her concern in a rather vocal way. Chantel has admitted in the past that she doesn't think the couple should be together.
On the other side of things, Winter feels like Chantel wants her to be a "cookie-cutter version" of her and "change" her.
"When my sister didn't want to wear the holiday sweater, I did make it about Jah because even though she's not even with him, he has changed my sister so much," Chantel explains to producers. "And he's been keeping her from celebrating holidays with us, and seeing her extended family."
Winter is is clearly "tired" of Chantel, and she tells her so. "And I really am tired of you dragging me around, treating me like I'm a f****** doormat," Winter says. Chantel says that Jah is the one treating her that way.
Winter leaves the room, and Chantel says, "All because of Christmas."
"All because you're a f****** dumb*** b****," Winter screams back from the hallway.
Will the sisters be able to reconcile? One can only hope, but it's safe to say they'll probably make up, as is known for sisters to do.