The First Lennon-McCartney Song That Reached No. 1 on the Charts
After getting the offer for their first recording contract in 1962, The Beatles made a personnel change. They decided to drop Pete Best and bring in Ringo Starr, who occasionally sat in with the band, as the full-time drummer.
It wasn't a rash decision. George Martin, who'd go on to produce nearly all of The Beatles' hits, said Best wasn't good enough to record in the studio. Ringo completed the band as a legitimate player. And then it became time to get down to business.
Once they started recording, The Beatles tried to convince Martin to record one of their own tunes as the band's single. But Martin wanted the group to play "How Do You Do It" instead. Eventually, the producer agreed to release John Lennon and Paul McCartney's "Love Me Do" as the first Beatles single.
By 1964, with their eyes on a debut U.S. tour, Paul believed the only way to arrive in America was with a No. 1 hit. With "I Want to Hold Your Hand," a Lennon-McCartney tune recorded in late '63, they had their ticket to ride.
John and Paul wrote 'I Want to Hold Your Hand' in the duo's 'eyeball to eyeball' way.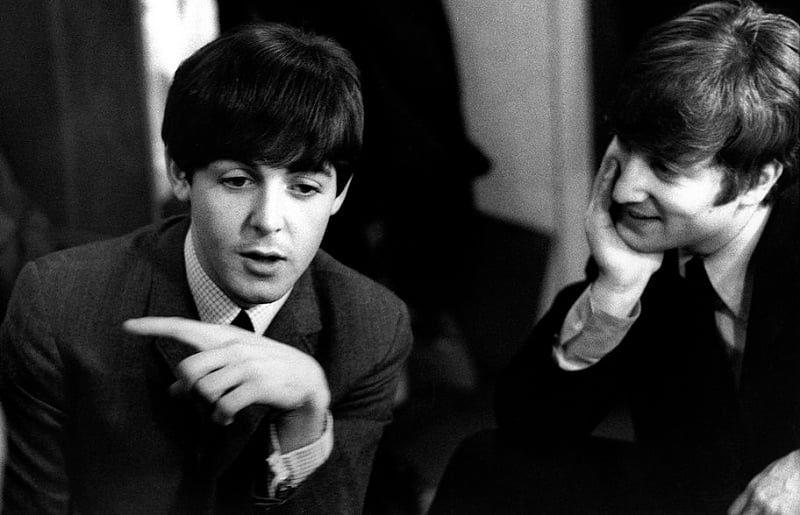 Who wrote which parts of the early Lennon-McCartney songs? In John and Paul's eyes, the individual contributions were hard to isolate. John called it "playing into each other's nose" in All We Are Saying. "We wrote a lot of stuff together, one-on-one, eyeball to eyeball."
The two songwriters composed "I Want To Hold Your Hand" in this way. Compared to "From Me to You," a Lennon-McCartney tune that didn't catch on as well in the U.S. market, "I Want to Hold Your Hand" hit like wildfire.
The single first arrived in U.S. record stores late in '63. By January '64, it began rapidly climbing the Billboard Hot 100 chart. On February 1, it grabbed the top spot and held on tight. When the Fab Four arrived at JFK on February 7, they waltzed into America with their tune at No. 1.
Compared to some of the biggest Beatles successes, "I Want to Hold Your Hand" had an incredible run. It stayed on top of the charts for seven weeks and ended up as the band's third biggest hit.
The Lennon-McCartney run had its last great moment with 'I've Got a Feeling.'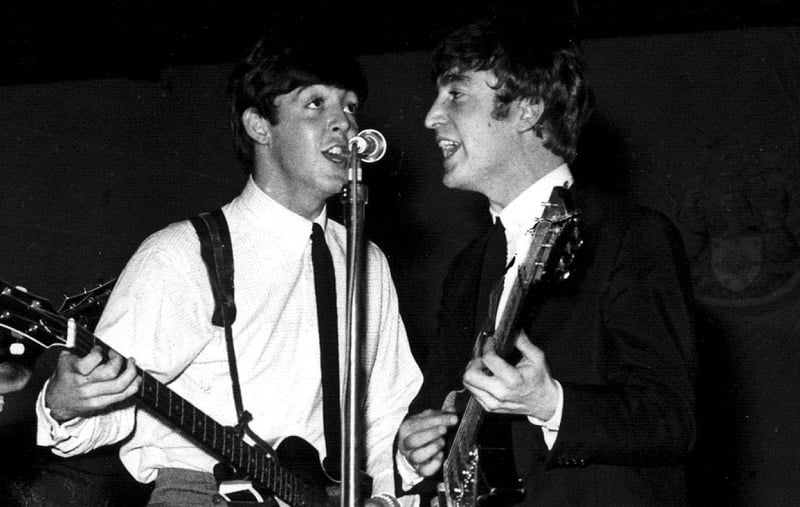 While the early Lennon-McCartney hits were of the "into each other's nose" variety, John and Paul grew apart over the years. By 1967, the pair had been writing "either Paul or John" songs for some time.
When the band was recording the sessions used for Let It Be, the only way to get a true Lennon-McCartney song was to have songs from each Beatle mashed together.
That's what they did with "I've Got a Feeling," the last great collaboration between John and Paul. As for the copyrights and publishing matters, those issues would drag on into the 1980s, when Paul found himself battling Michael Jackson to get rights to the Lennon-McCartney songbook. Paul lost.
Check out The Cheat Sheet on Facebook!