'The Five-Year Engagement': Why Jason Segel Wrote the Role of Violet for Emily Blunt
The romantic comedy, The Five-Year Engagement shows a couple struggling to make it down the aisle. The main characters are Tom (Jason Segel) and Violet (Emily Blunt). Segel said he wrote the role for Blunt for multiple reasons.
'The Five-Year Engagement' followed Tom and Violet
RELATED: 'The Devil Wears Prada': Emily Blunt Stole One of Her Most Iconic Lines From a Mean Mom in a Grocery Store
The 2012 romantic comedy shows Tom proposing to Violet on New Year's Eve. But their wedding plans keep getting pushed back. It all starts with Violet getting a job at University of Michigan. They make the big move and Tom isn't exactly thrilled about it.
Segel talked about the message behind the couple's dilemma. "Their problem is that once they get engaged, they decide they're going to wait for the perfect moment for the actual wedding," he told Salon. "The movie's about how that perfect moment is never going to come — if you wait for perfection, you're going to be waiting for the rest of your life. 
He continued, "It's about choosing a partner who's going to wait through the complicated times." The movie also includes Chris Pratt and Alison Brie. But Segel co-wrote the movie knowing who he wanted to play Violet.
Jason Segel wrote the role for Emily Blunt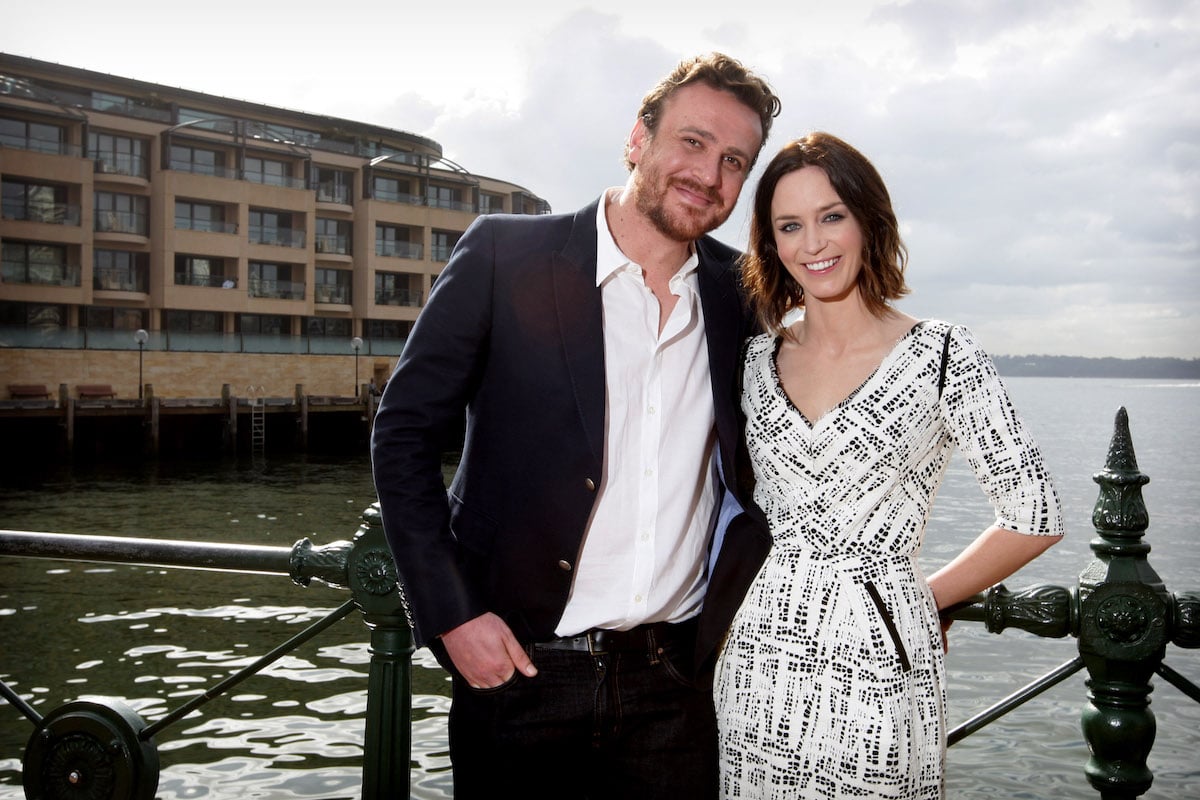 RELATED: 'A Quiet Place': How Emily Blunt Push John Krasinski To Direct and Act in the Movie
Segel not only starred in the movie, but co-wrote it with Nicholas Stoller. He said he wrote the role of Violet with Blunt in mind. They were friends before doing the movie.
"She can be funny, she can be dramatic, and all that's going to be required if I think this movie is what it's going to be," he told The Hollywood Reporter. "It's very hard to find someone that you feel can believably pull it off as a couple onscreen, because it needs to feel like they are best friends."
Violet was developed even further with Blunt's help after she was cast. "My favorite processes on films are when it's really collaborative," Blunt said. "What these guys did is every new actor that signed on, they would do a complete rewrite just with that character in mind, and that's why all the characters feel kind of juicy and rich."
Blunt has been married to John Krasinski since 2010. Her friendship with Segel started through her husband. But that made the fact she would have love scenes with Segel pretty weird for her.
"[Segel is] really good friends with my husband, so it's always quite strange," Blunt told the Today show. "The good thing was the scenes were never really romantic. They were either awkward or rather sad, and so in that way we had a laugh. I think it helped that we were friends because I think that warmth and rapport we have off set kind of makes it onto the screen in some way." It sounds like their friendship was a big help to making the movie.