'The Flash': Arrowverse Stars React to Grant Gustin's Massive Hiatus Beard
'The Flash' star Grant Gustin is sporting an impressive beard, and his fellow Arrowverse stars have had plenty to say about his new look, seen on Instagram.
On The Flash, Grant Gustin sports a clean-shaven look as the Scarlet Speedster, Barry Allen. But now that the show is on a shooting hiatus, the actor is showing off a more rugged bearded style, and his Arrowverse cohorts have plenty to say about it.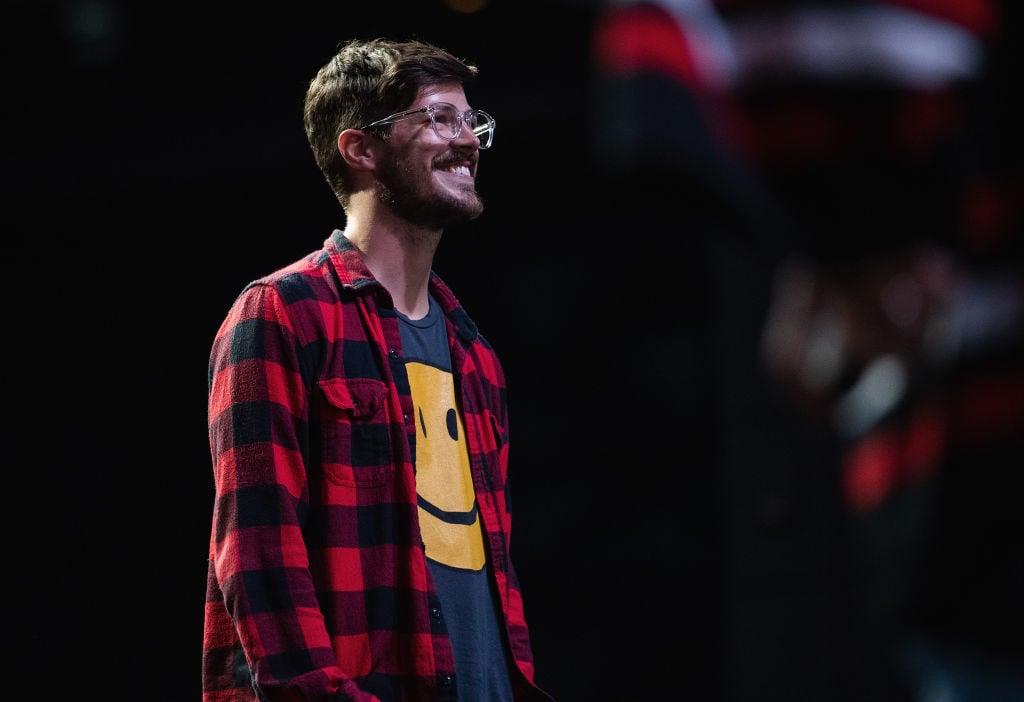 Grant Gustin shared a pandemic portrait after 'The Flash' halted production
During the coronavirus COVID-19 pandemic, Gustin has remained engaged with his followers, posting throwback photos, selfies, and even a sneak peek video of The Flash Season 7.  
Fans' first look at Gustin's latest look came in a family photo taken as a part of photographer, Storm Santos' pandemic portrait series. The Flash star posted the picture to Instagram with a caption saying, "Finally did a super official shoot with [Storm Santos]! Can't wait to do another one once we can leave the house."
Gustin's Memoji looks nothing like his Flash alter ego, but his co-stars still dig it
With his new appearance in mind, Gustin chose to update his Memoji — personalized emoji — which he shared with his Instagram followers along with a selfie. The graphic bared a striking resemblance to Gustin, right down to the round-shaped eyeglasses, red cap, facial fuzz, and thumbs up.
"Made a new Memoji for quarantine," wrote Gustin in the caption. In his selfie, he sat, grinning in front of a backdrop filled with The Flash memorabilia, which only emphasized the difference in appearance between Barry Allen and the actor who plays him.
Andy Mientus, who plays Hartley Rathaway, aka Pied Piper, on The Flash commented: "Nailed it." Co-stars, Sendhil Ramamurthy, who fans know as Bloodwork and LaMonica Garrett, who plays Monitor and Anti-Monitor both called Gustin's post "Dope."
Gustin isn't the only 'Flash' star who will have to shave when filming resumes
In a later post, Gustin posted a selfie featuring his lustrous beard, writing, "And here's a picture of me thinking about having to shave my beard once we return to filming eventually (just to spice up my page)."
"Quit showing off," quipped The Flash's Hartley Sawyer in the comments. Sawyer's character, Ralph Dibney, or Elongated Man has been a loyal member of Team Flash since season 4. Like Gustin, he has shown off a fair share of facial stubble while on hiatus from filming. Presumably, Sawyer will also have a date with a pair of clippers when The Flash Season 7 production begins.
Arrowverse stars are buzzing about Gustin's fuzzing
Gustin's latest post displays an even more impressive beard than previous Instagram snaps, along with a tousled mane that seems to scream, "Barry Allen has left the building!" Gustin opted out of including a caption, but his fellow Arrowverse stars had plenty to say in the comments.
Danielle Nicolet, who plays Cecile Horton, exclaimed, "We still need to talk about this beard!"
"The beard game is seriously on point bruh," wrote Ramamurthy.
Paul Blackthorne, who was Arrow's Quentin Lance, joked, "Wilson!!!"
"Barry Allen meets Island Oliver Queen," quipped one-time Flash writer and Roswell, New Mexico creator Carina Adly Mackenzie.
However, Supergirl's Martian Manhunter portrayer, David Harewood, may have summed up the comments in the best possible way. The actor simply replied with two fire emojis. Nuff said.