'The Flash': Hartley Sawyer's Instagram Dog Photos Gave Us a Case of the Warm and Fuzzies
Viewers are anxiously awaiting the next new episode of The Flash. Alas, the season 6 thrill ride has been put on pause since the coronavirus (COVID-19) pandemic caused production delays. Unfortunately, viewers won't get a new adventure with Team Flash for a while. But in the meantime, thanks to Instagram, The Flash's Hartley Sawyer and his adorable dogs are helping to fill the void for fans who miss their favorite super crew.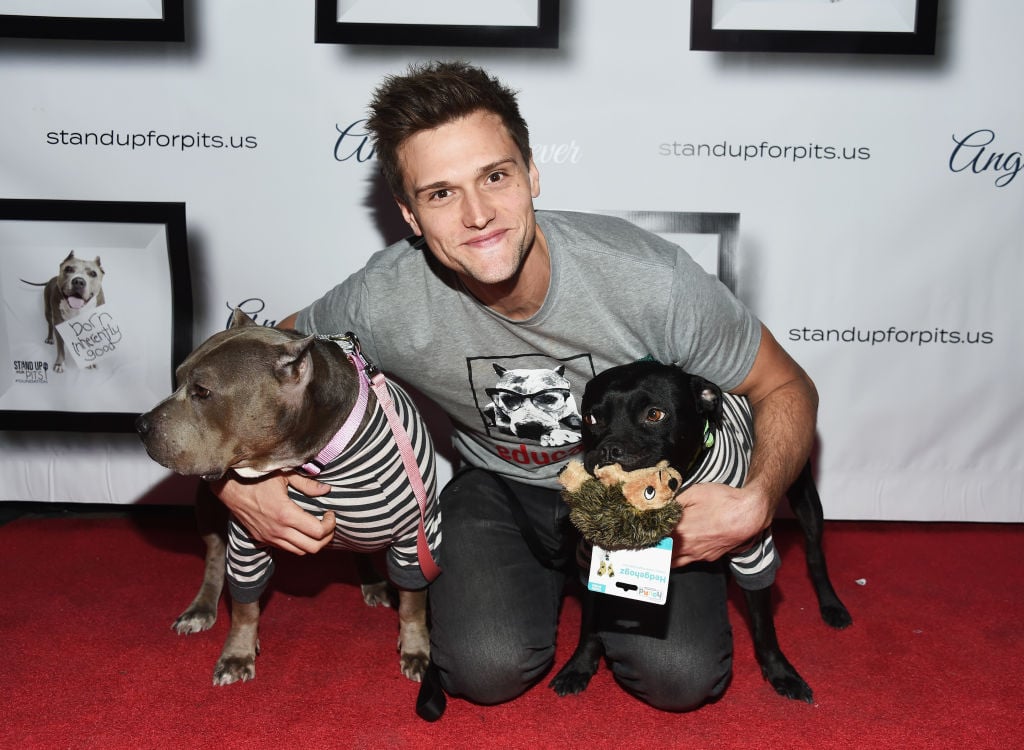 Hartley Sawyer's flexible character
During The Flash Season 4, Sawyer joined the show in the recurring role of Ralph Dibny, a private investigator. Ralph was an ex-cop with a spotty record and a grudge against Barry Allen. In a miraculous event, the detective gained the metahuman ability of elasticity and shapeshifting.
Barry and Ralph briefly reignited their feud, but eventually buried the hatchet. It wasn't long before Barry revealed his secret identity of The Flash to Ralph, and the two men bonded over their mutual connection to dark matter, the stuff that gives metahumans their superpowers.
Sawyer was promoted to a series regular in season 5 and his character, Ralph, is an official member of Team Flash. As Elongated Man, he protects the citizens of Central City alongside the Flash. The gumshoe is currently hot on the trail of a jewel thief who stole a rare gem and, seemingly, Ralph's heart. Considering the halt in production due to the outbreak, it remains to be seen if that story thread will be resolved by the end of The Flash Season 6.
Hartley Sawyer's social distancing-themed snapshots
To the delight of his Instagram followers, Sawyer has posted photos that truly uplift, inspire, and amuse while practicing social distancing at home during the COVID-19 pandemic. The actor has captured several priceless snapshots of his precious pooches and shared them along with witty captions.
"They are just awful at social distancing, and I love it," wrote Sawyer about an image of his dogs cuddling with each other.
In another lighthearted post, Sawyer shared a photo of one of his dogs eyeing a plate of banana bread. The caption read, "When Maggie Met Banana Bread…"
Hartley Sawyer's friendly advice
In addition to his pup portraits that gave us all the feels, Sawyer also took the opportunity to encourage fans to help flatten the curve on the highly contagious coronavirus. The star posed with his furry companions and offered this advice, which colorfully echoes health experts' recommendations to self-isolate:
WE WANT YOU! to control what you can. COVID-19 does not discriminate. Don't run around like a damn clown and then risk your grandma's life at Easter dinner 'cause you had to party. You are not immune if you are in a certain age bracket — and we cannot risk those who are immunocompromised! 

The sooner we overcome, the sooner we can get back to work. If you're worried about the economy, focus on the solution, and flatten the curve NOW. So many live paycheck-to-paycheck (and I have been there) and are facing enormous stress and fear right now. The human animal is capable of amazing things when we come together.

I am very blessed. I have a great job that I love. We are able to donate to support local food banks. Today we gave to Van Food Bank, L.A. Food Bank, and Project Angel Food. But if you're cash strapped, you can still:

— Stay home and practice social distancing!

— Call family, friends, neighbors – check in! Especially if they are elderly or live alone.

@hartleysawyer via Instagram
Read more: 'The Flash': Grant Gustin's Cute Instagram Family Portrait