'The Flash' Season 7 Release Date, Cast, and Villain Announced
To the dismay of fans, The Flash season 6 was cut short as a result of the coronavirus COVID-19 pandemic. Fortunately, the show will return for a seventh season to pick up where the action left off. Until then, here is a rundown of what we know so far about season 7, including when it will premiere, which stars will return, and who Team Flash will battle. [Spoiler warning: This article contains spoilers for The Flash Seasons 6 and 7]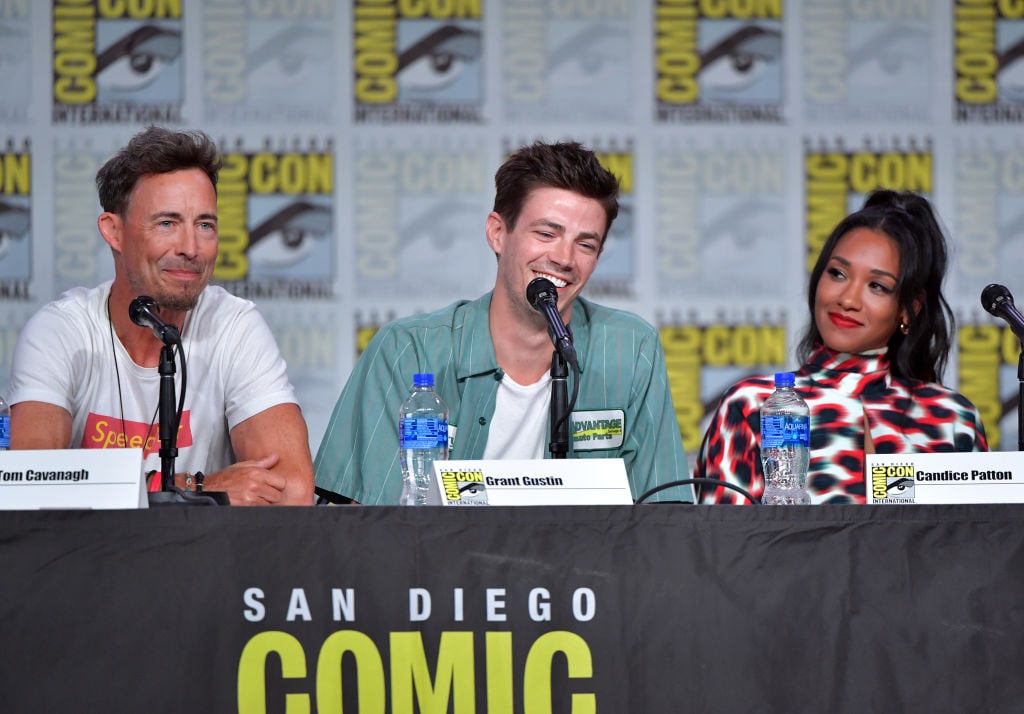 'The Flash' Season 7 will be delayed (along with the rest of the DC shows)
The Flash Season 6 finale left fans with a few questions and clues to mull over until the show returns. Unfortunately for fans, the wait for new episodes will be much longer than the usual summer hiatus.
USA Today reported that The CW has moved season premieres for many high-profile shows, including The Flash, from the fall of 2020 to January 2021. Three other DC series, Black Lightning, Batwoman, and Superman and Lois, will join The Flash in The CW's delayed rollout in January. The CW will push DC's Legends of Tomorrow and Supergirl even later.
RELATED: 'The Flash': Why Fans Think Grant Gustin is Feuding With On-Screen Love Interest Candice Patton
According to USA Today, the DC Comics-based properties are not the only shows that will be deferred. High-profile series, including Riverdale, Nancy Drew, Legacies, Dynasty, and Charmed, that were initially scheduled to release new episodes in 2020 will launch them in 2021 instead. To fill the void, The CW fall schedule will include titles such as Two Sentence Horror Stories, Penn & Teller: Fool Us, and CBS All-Access show, Tell Me a Story.
About the postponed rollout of shows, USA today quoted The CW Chairman and CEO, Mark Pedowitz as saying this: "By moving our new season to January, we are stocking our fall with a balance of original and acquired scripted series and alternative programming that fits The CW brand and provides fresh programming through the fourth quarter."
'The Flash' cast will be different in season 7
RELATED: 'There Will Be Tears' in 'The Flash' Season 7 Premiere, Says Showrunner
Although The Flash Season 6 left viewers with plenty of questions, one thing is certain: The core members of Team Flash will return for at least one more season, according to Grant Gustin.
Digital Spy quoted the star as saying, "I mean, we're all contracted right now [for] seven seasons — this is the sixth, so it's definitely in the back of my mind that next year, even, could be potentially the last season. Who knows?"
In other casting news, the roster will expand beyond the current main stars. According to Deadline, Brandon McKnight, who plays tech whiz Chester P. Runk, has been bumped up to series regular status for The Flash Season 7. Kyla Compton was also promoted to series regular in the role of Allegra Garcia, as reported by Deadline.
A fan-favorite villain will be back for another showdown
RELATED: 'The Flash': Fans Expect Bloodwork to Return in a Surprising Way
In an interview with CBR, 'The Flash' showrunner, Eric Wallace, dished about the season 6 finale cliffhanger and teased what's to come in season 7, including the return of a particular character.
Wallace told the news outlet that Eobard Thawne, aka Reverse-Flash, was supposed to make a comeback at the end of season 6. However, due to the production shutdown, that story will be delayed until season 7. CBR quoted Wallace as saying this:
Now we've gotten Thawne to his next stage. He's out there Voldemorting. We're now no longer able to do [our original plan] in the last two episodes of the season. But don't worry! No fear! That gets rolled into next season. So, we'll have to finish the Black Hole storyline and find a different way to weave in the Thawne stuff.

Eric Wallace to CBR
RELATED: Arrowverse Stars React to Grant Gustin's Black Flash Suit Instagram Photo