'The Flash': Why Fans Think Grant Gustin is Feuding With On-Screen Love Interest Candice Patton
Barry and Iris have overcome some pretty wild obstacles on their path to happily ever after, and The Flash Season 6 has thrown even more adversity at the West-Allen relationship. In the aftermath of Crisis and amid the Mirrorverse predicament, S.T.A.R. Labs' favorite couple has spent less and less time together. Because there have been fewer scenes featuring the twosome, fans are beginning to wonder if there is on-set beef between The Flash stars Candice Patton and Grant Gustin. Patton took to Twitter to set the record straight.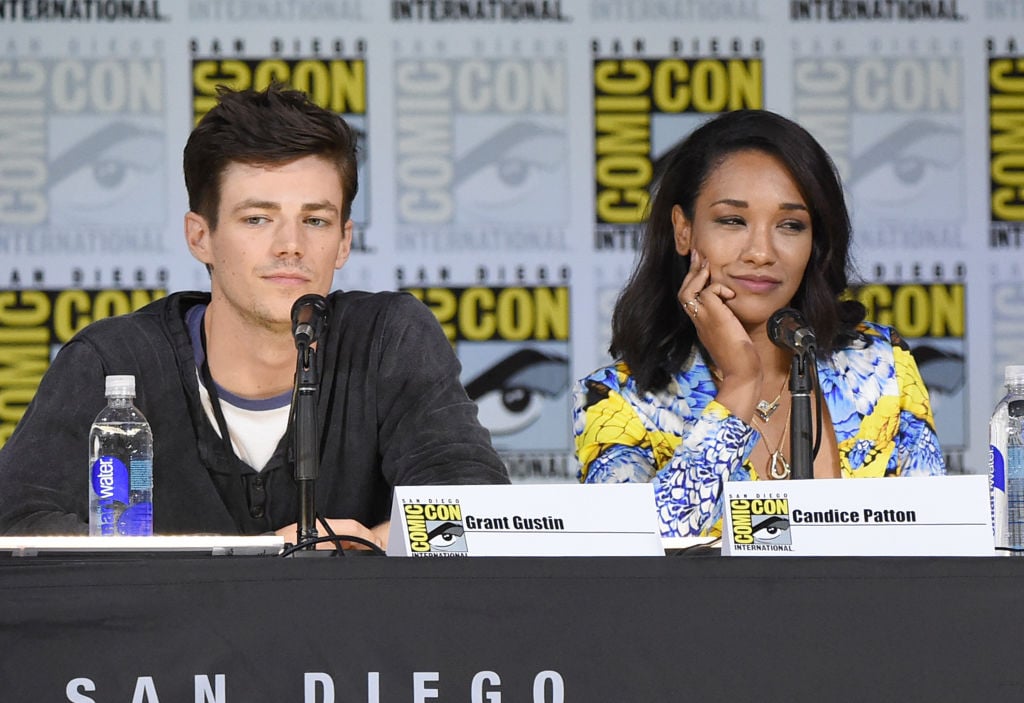 Iris and Barry have deep history on 'The Flash'
In the first episode of The Flash, Barry intended to tell Iris he had feelings for her. But before he could make the leap, the S.T.A.R. Labs particle accelerator exploded, and Barry was knocked into a coma by lightning. When he woke up, Iris was romantically involved with a police detective named Eddie Thawne, so Barry moved on and began dating as well.
After a few missed connections, devastating losses, and deep heartbreaks, Barry and Iris realized they were meant for each other and eventually tied the knot. Unfortunately, with deadly threats continually arising, the couple could never seem to catch a break.
Some low points the couple faced were: Flashpoint caused unfavorable ripple effects, Barry became trapped in the Speed Force, the couple's future daughter perished before their eyes, and Crisis wiped out the multiverse.
Now, in the back half of The Flash Season 6, the West-Allen couple seems to be more disconnected than ever before. The characters have spent minimal time together, especially since Iris has been trapped in the Mirrorverse for several weeks. With Barry and Iris spending more time apart, the lack of shared screen time between the actors has fans speculating about their professional relationship.
Twitter fans wonder if Candice Patton and Grant Gustin are fighting
Viewers are tweeting about why they think Patton and Gustin spend so little time together on screen even though they play a married couple on The Flash. Fans are questioning if the actors who play Barry and Iris are getting along.
One fan tweeted, "Seriously, are @candicepatton and #GrantGustin fighting? Iris and Barry have spent nearly the whole season apart. Iris has spent more time in that damn mirror than Barry spent in #Flashpoint and in the Speed Force…episode-wise that is. #The Flash"
Another fan agreed by commenting, "Omg I thought so too. The tension on screen.."
And yet another user questioned the on-camera chemistry of the actors by noting, "they don't even kiss though. Not most of the time. I'm not looking for makeout sessions, but not even a peck in moments where they should. Just 'hugging' like buddies. I miss #WestAllen acting like a couple!"
Patton sets the record straight
Patton addressed the question about her working relationship with Gustin on Twitter. She squashed any speculation that she and her scene partner are fighting.
"LoL. Absolutely not," Patton tweeted.  
The actress's answer leaves no room for conjecture. And considering Gustin's statements over the years, the stars seem to have mutual respect.
In one Instagram post defending Patton against Internet trolls, Gustin says, "She is Black. She is beautiful. And She is our Iris." He goes on to say this about Iris, "She is Barry's end game, and Candice Patton plays her." With those words in mind, it sounds like fans can expect more West-Allen screen time in the future.
Read more: 'The Flash' Season 6: Showrunner Teases 'Tragic Consequences'