'The Flight Attendant' Season 2: Release Date and Where Cassie's Story Is Headed
The Flight Attendant will return to HBO Max in April 2022 with season 2. Find out what to expect from the sophomore season of the Kaley Cuoco-led series, including the release date and how many episodes The Flight Attendant Season 2 will have. Plus, details about where Cassie's story is headed.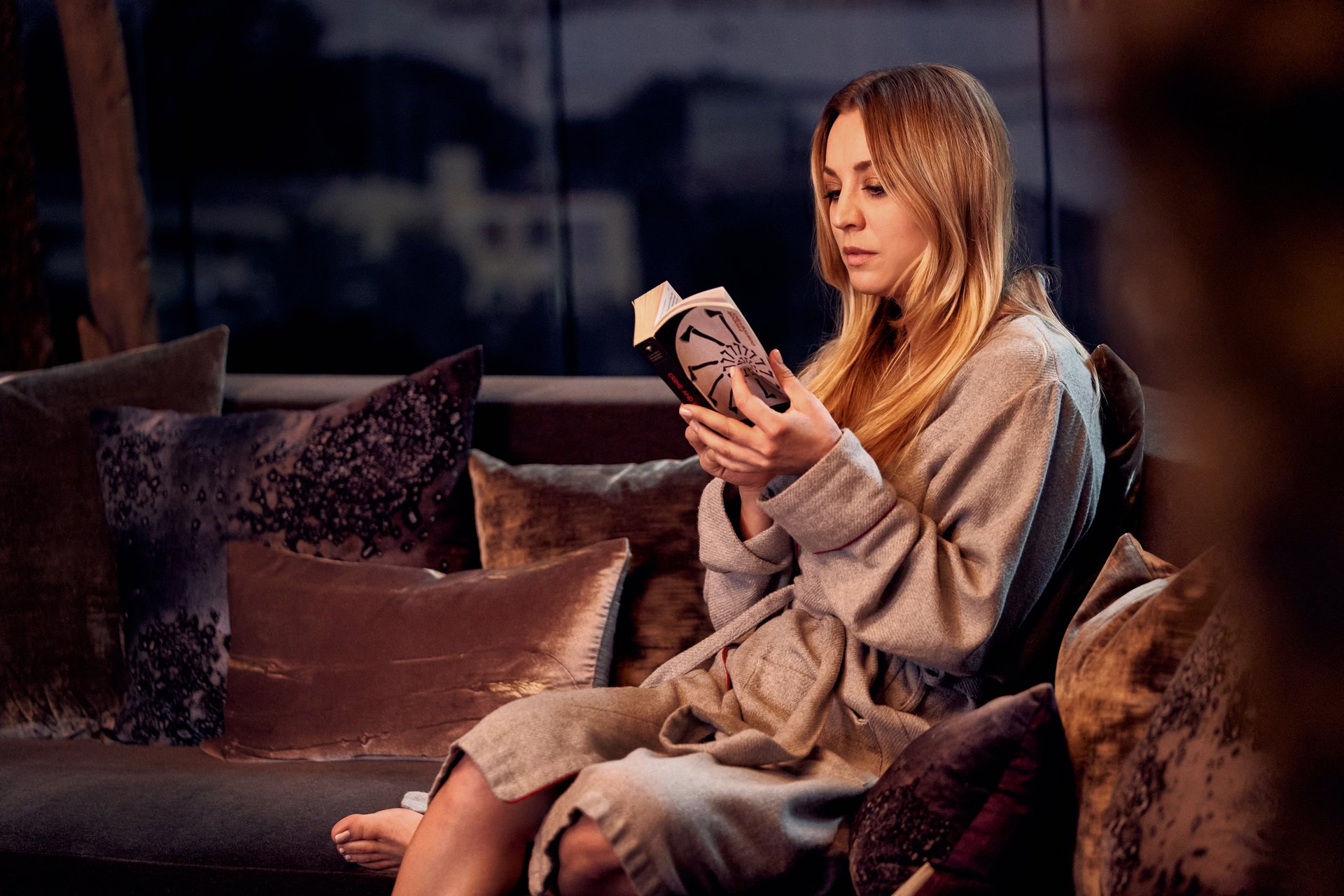 'The Flight Attendant' Season 1 ended with a cliffhanger
Cassie (Kaley Cuoco) spends season 1 trying to uncover the truth about Alex's (Michael Huisman) death. She befriends Miranda (Michelle Gomez) — despite suspecting her as Alex's killer — and the two become allies.
In the season 1 finale titled "Arrivals and Departures," Cassie learns Miranda's colleague Buckley, AKA Feliks (Colin Woodell), is the real culprit. When he tries to kill Miranda, she goes to gather intel from their boss, Victor (Ritchie Coster). He is fearful of his money laundering scheme being exposed.
Meanwhile, Cassie sets off for Rome to confront Felix herself. He tries to kill her in a hotel room, but she's saved by her coworker Shane (Griffin Matthews), who bursts in and shoots Felix. 
In the end, Shane reveals he's a CIA agent monitoring Megan (Rosie Perez) for corporate espionage against her husband, Bill (Terry Serpico). Buckley/Feliks makes it out alive, as Cassie only shot him in the leg. 
Miranda's whereabouts are unknown at the end of The Flight Attendant Season 1. She leaves Cassie a note in a copy of Crime and Punishment. It reads: "Took the page and the money, but you should have the book. See you soon — Miranda." 
Cassie becomes a CIA asset in 'The Flight Attendant' Season 2
According to an exclusive interview with Entertainment Weekly, The Flight Attendant Season 2 picks up one year after season 1. Cassie is living a sober life in California and dating a new guy. 
"Cassie thinks she's completely changed," Cuoco told the outlet. "Turned over a new leaf and is a whole new person. We find out rather quickly that's not the case and sobriety is a lot harder than she likes to admit." 
Cassie remains a flight attendant, but she's also an asset to the CIA, which will prove useful. Of course, Cassie witnesses a murder in the new season. This time, her CIA handler, Benjamin Berry (Mo McRae), is responsible for Cassie. 
"She loves her new side gig, but sometimes goes too far," added Cuoco. "She's an asset, not an agent, which she constantly needs to be reminded of."
Cassie's alcohol addiction still plays a role in season 2
After one too many negative encounters with alcohol — including waking up to Alex's corpse — Cassie achieves sobriety in season 1 of The Flight Attendant. But just because she's sober doesn't mean her addiction won't impact the narrative in season 2. 
Co-showrunner Natalie Chaidez said: "We wanted to be really respectful to the recovery community, just really show that sobriety is a process, and making amends, and patching up relationships." 
Working with the CIA helps fulfill "some of the excitement that she felt she had when she was drinking," Chaidez explained. "It's going to take her into some dangerous new territory, both personally and physically, and be the jump-off [point] for the season's adventure."
Season 2 will also feature Cassie's mind-palace, but this time with a darker and meaner version of her consciousness. The HBO series will unpack Cassie's family life, including her relationship with her deceased alcoholic father and estranged mother, Lisa (Sharon Stone). 
Season 2 of 'The Flight Attendant' releases April 21
The first two episodes of The Flight Attendant will be released on HBO and HBO Max on April 21. Episodes will release weekly until the May 26 finale — there will be seven in total.
Watch season 1 of The Flight Attendant on HBO Max. 
RELATED: 'The Flight Attendant' Quitely Foreshadowed a Major Finale Shocker Earlier in the Season
Related post url: