'The Flight Attendant' Star Rosie Perez Reveals How Kaley Cuoco Begged Her to Be on the Series
The Flight Attendant stars Kaley Cuoco and Rosie Perez as colleagues who find themselves in the middle of a deadly international scheme. Initially, Perez wasn't keen on joining the cast. But after a little begging from Cuoco, she couldn't say no. 
[Spoiler alert: this article contains spoilers for The Flight Attendant, episodes 1 to 7.]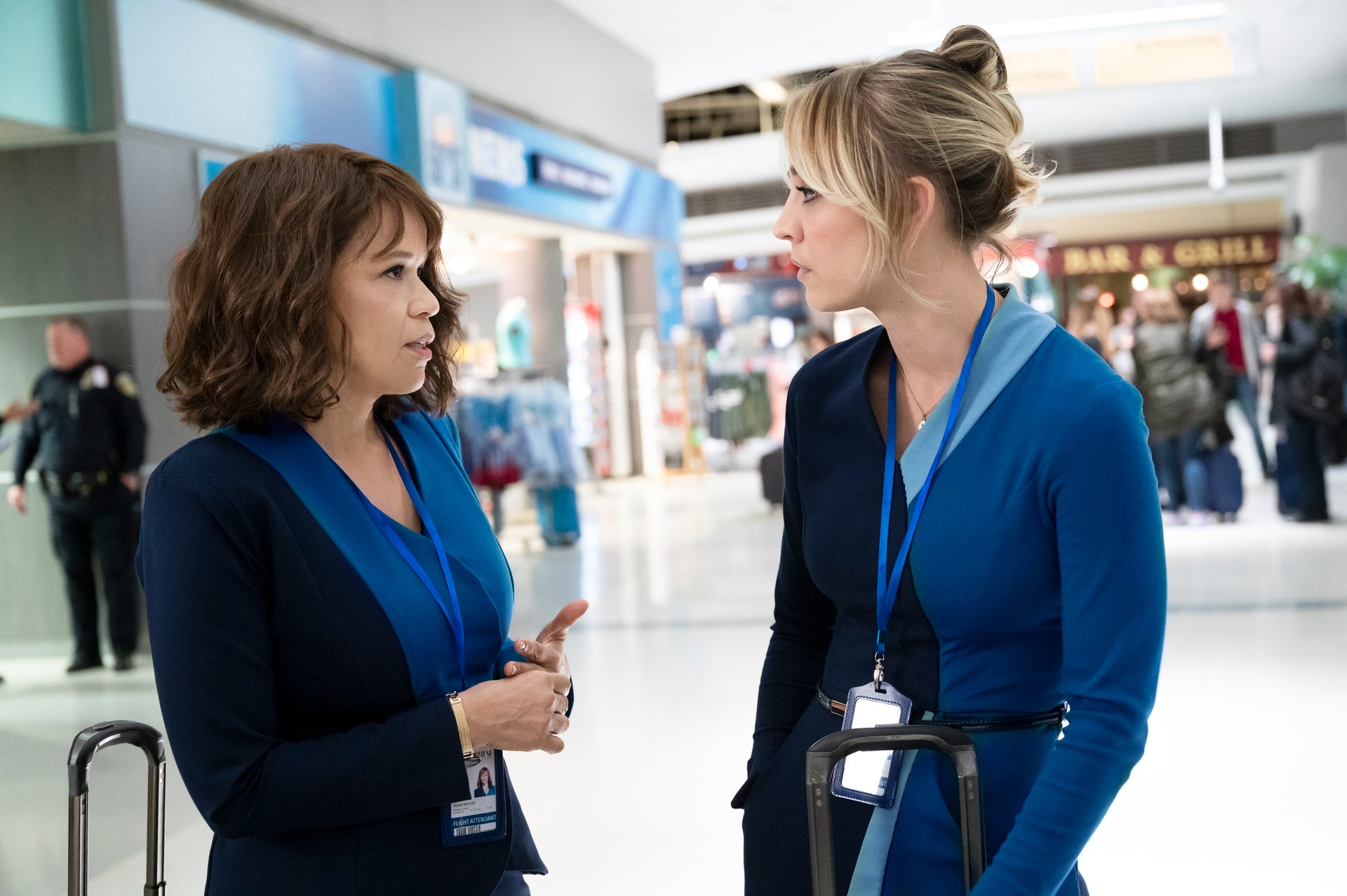 'The Flight Attendant' is a murder mystery
Adapted from Chris Bohjalian's 2018 book of the same name, The Flight Attendant tells the story of Cassandra "Cassie" Bowden (Kaley Cuoco), a New york-based flight attendant who goes out for drinks in Bangkok with one of her passengers, only to wake up next to his dead body. 
Hungover, Cassie is unable to recall the events of the night.  So she flies back to the U.S. with her colleague Megan (Rosie Perez) and pretends nothing happened. 
While Cassie gets entangled in an FBI investigation and a larger murder plot, Megan is playing spy with the North Koreans. Thinking she's only committing corporate espionage, she unwittingly hands government secrets over to the North Korean spies who are paying her. 
Kaley Cuoco is executive producer
After leaving The Big Bang Theory, Cuoco started her own production studio called Yes, Norman Productions. And upon hearing Bohjalian's story, she felt like it would be a great project to pick up for her new company.   
"I had not read the book, but something had told me we should jump on this," Cuoco told the press during the Television Critics Association panel for The Flight Attendant. "Once they started getting into that stuff, I read it really fast. Thank God, I loved it as much as I thought. There was a bidding war, and I won the rights."
Along with starring in the leading role, Cuoco is also the series' executive producer. 
Kaley Cuoco begged Rosie Perez to be in 'The Flight Attendant'
When Cuoco was casting the part of Megan, she had only one actor in mind — Rosie Perez. In an interview with Collider, Perez revealed that she initially passed up the role because she feared flying. But after meeting with Cuoco and seeing her beg, Perez couldn't refuse. 
"She (Cuoco) goes, 'Please do this,'" Perez recalled.  "I go, 'Kaley, I'll call you.' She goes, 'Please call me. Please. Just do it and say yes.' I called my manager and said, 'Oh, my god, I'm in love with this girl.' He goes, 'I told you.' I said, 'I've gotta do this. I have to do this. I've gotta get over my anxiety of flying.' And I'm glad I did."
The series finale of The Flight Attendant airs on Dec. 17 on HBO Max.