'The Fresh Prince of Bel-Air' Reunion: Tatyana Ali Reveals She Had Her First Kiss on the Show
'The Fresh Prince of Bel-Air' star Tatyana Ali talks her first kiss on set.
Will Smith surprised fans with the early drop of The Fresh Prince of Bel-Air reunion on Nov. 18, one day ahead of schedule. Many fans were looking forward to seeing the OG Aunt Viv, Janet Hubert, emerge on the scene to reconnect and reconcile with Smith. Others were ready for a tribute to the late James Avery.
Those moments did not disappoint, but there were a few other highlights worthy of making the audience say, "Wow, I didn't know that!" Even the cast learned some new things about each other.
Feeling nostalgic and "full," Tatyana Ali described her experience working on the show as a child actor and in one way, she went through a certain rite of passage: her first kiss.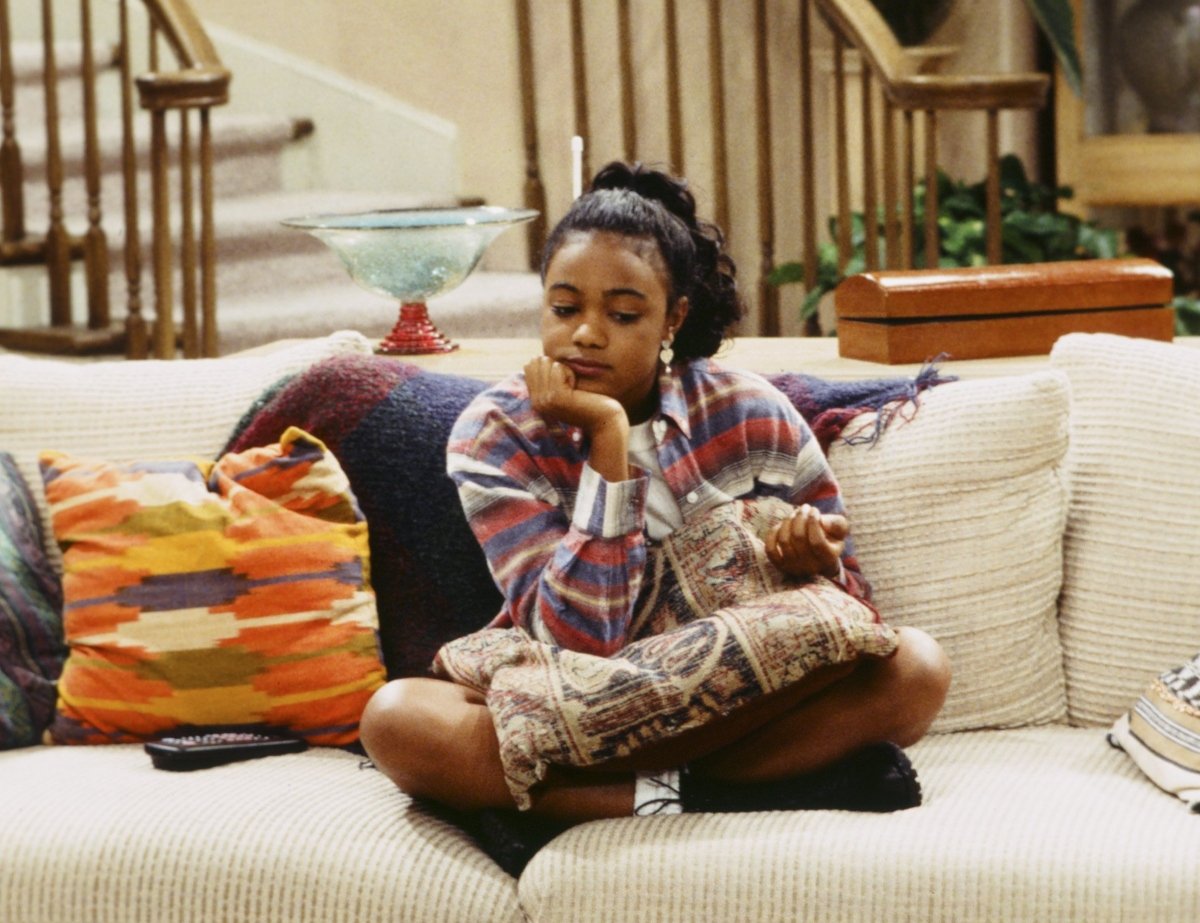 Tatyana Ali was 11 when she started on 'The Fresh Prince'
Ali was only 11 years old when she started playing the youngest Banks daughter on the sitcom, and when it wrapped after six seasons, she was 17.
Ali once told VladTV that when things picked up with the show and it was clear she'd be Ashley Banks for an indefinite amount of time, her entire family relocated to Los Angeles.
In a 2018 interview with Access, Ali said they nurtured her and kept her safe, and she pretty much was "a dork" on set. She had her scripts and textbooks with her all the time.  
She's always spoken fondly of her time on the show, and during the HBO Max reunion special, recalled how she grew up surrounded by people she considered family.
Ali had her first ever kiss on set
Young teens know what it's like to have a first kiss, and Ali shared that hers was awkward because it was on the show. What made it awkward? When your family and friends watch it unfold and they tease, cheer, or gush about it.
In this case, art dictated life. "I had my first kiss on the show. Like my actual first kiss," Ali said on the reunion. "I was so nervous and we're about to do the scene, and I swear to you I see Alfonso, Will, and Karyn peek out from behind the camera like 'Ooo hoo.'"
She joked that she was freaking out because she was only about 11 years old. Fans may remember that episode from season 2 when Ashley had a puppy love romance with a boy named Kevin.
Her family fawned over them as they hung out, did homework, or had regular conversations. At one point, the Banks clan grinned and cooed "Aww!" at Ashley when she walked Kevin to the door.
Ali is now married with 2 children
Ali hit Instagram to remind us it's been 30 years since The Fresh Prince of Bel-Air premiered. So much has happened with the cast in the past few decades, and although some fans still call her Ashley, Ali is all grown up with her own family now. In 2016, she married Vaughn Rasberry, and the couple have two children: Alejandro and Aszard.
Viewers can stream The Fresh Prince of Bel-Air reunion on HBO Max now and binge-watch every episode of the series on the platform.