The Funky Led Zeppelin Song That Was Zep's Salute to James Brown
How could a band ever follow Led Zeppelin IV (1971)? Considering the album had "Black Dog," "Rock and Roll," and "Stairway to Heaven" on just its first side, it was a daunting task — even for the band that made it.
But by the time Zep got to work on its fifth album, fans probably had no idea what to expect. The only thing that was certain was that Jimmy Page and the band were unlikely to repeat themselves. And that's what happened with Houses of the Holy (1973).
From the opener "The Song Remains the Same" to "No Quarter" and the Jamaican-influenced "D'Yer Mak'er," Zep went in so many new directions it again confused fans and critics. (Everyone wondered what happened to the blues thrashers — and where the next "Stairway" was.)
"The Crunge," the track that closed out the first side of Houses of the Holy, also led to some head-scratching. That's what a 9/8 rhythm, a funk sound, and carefree lyrics will do for you. To Led Zeppelin, it was a salute to the Godfather of Soul.
Led Zeppelin tipped its hat to James Brown on 'The Crunge'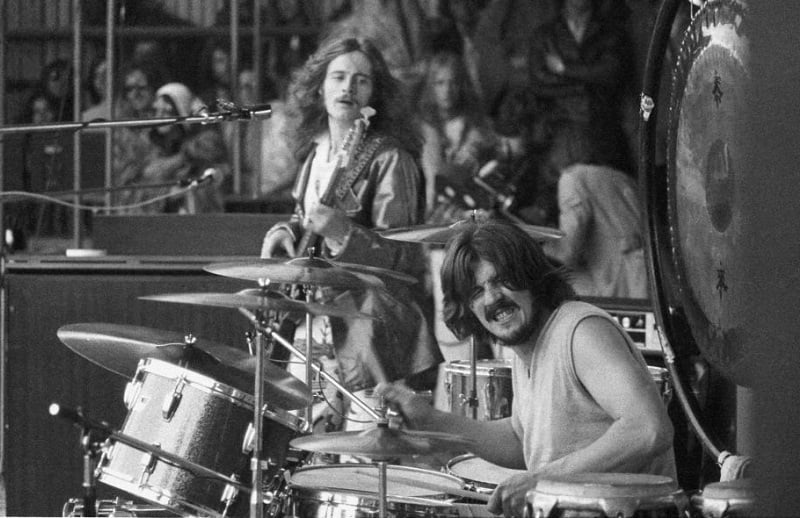 Just before the start of "The Crunge," listeners hear the mesmerizing fade-out of "Over the Hills and Far Away." Then, suddenly, you get a signature John Bonham drum part on a funky, completely different track. Soon after, John Paul Jones joins in with a grooving bass line.
Then Page leaps into the mix with the sort of strumming listeners weren't used to hearing from him. Speaking to Guitar World in 1993, Page made it clear what he was trying to do. "I played a Strat[ocaster] on that one — I wanted to get that tight James Brown feel," he said.
Last but not least, Robert Plant joins in, and he's clearly having fun with the lyrics. "I wanna tell you 'bout my good thing," he sings. "I ain't disclosing no names, buuuuuuuuut…" If it sounds like an improvisation, that's because it was.
The track started out as a jam begun by Bonzo (another fan of the Godfather of Soul in the group). But while you might consider the song a tribute to Brown anyway, Plant makes it explicit with his lyrics.
Like Brown, Robert Plant wanted to take his listeners 'to the bridge'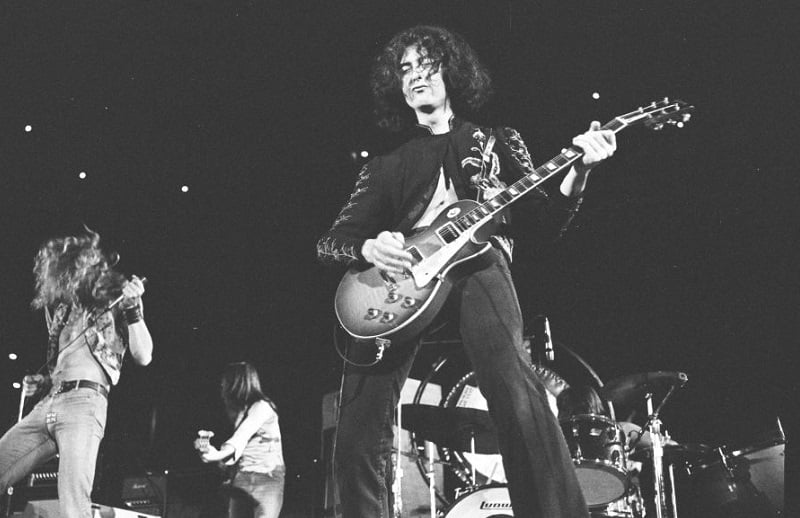 After the first verse, Plant's lyrics don't get any more complicated. "Now let me tell you 'bout my girl," he sings. "And when she walks, sheeeee waaaalks. And when she talks, let me tell you, sheeeeee taaaaalks."
From there, Plant starts referencing some great soul singers of the day. First comes Otis Redding. "Ain't gonna call me Mr. Pitiful," Plant sings. "I don't need no respect from nobody, no." Toward the end, he gets to the inspiration for the song.
"Excuse me, oh will you excuse me," Plant sings. "I'm just trying to find the bridge. Has anyone seen the bridge?" Every James Brown fan will get that reference right away — Brown famously asks about getting to the bridge on "Get Up (I Feel Like Being a) Sex Machine."
However, with "The Crunge," Zep never really developed the song beyond the opening riff and a few variations. So Plant is left looking. "Where's that confounded bridge?" he sings as the music cuts out.
Also see: The Zeppelin Song Jimmy Page Said Really Showcased His Guitar 'Swagger'